"While everyone is out there trying to replace agents, we're going to gamble on the opposite."

Most tech startups revolve around the idea of replacement — take something outdated, replace it with something new. In the real estate industry, companies like Zillow and Homie have built software platforms around this concept, seeking to minimize or eliminate the role of real estate agents in housing transactions.
Brody Saunders, founder of IdealEstate, is taking the opposite route. Rather than trying to replace, Saunders is building a platform that empowers real estate agents with the software tools they need.
"We want to be the place where people connect with pros," said Saunders. "We want to be a beacon of hope for this huge industry, where there's a lot of fear out there of being replaced. While everyone is out there trying to replace agents, we're going to gamble on the opposite. We want to help agents and other people make better connections with partners and clients — that's the goal moving forward."
IdealEstate marks startup venture #2 for Saunders, having launched the professional networking platform Wynbi to great success — Wynbi is currently posting 250,000 jobs per day and used by every college in Utah.
IdealEstate follows a similar pattern, concentrating on a real estate network rather than a marketplace. Saunders realized the need during the course of his own home buying and selling, where his realtor played a vital role.
"Zillow allows anyone to pay and use the listing agent's intellectual property — the listing itself — and pay to be next to it," said Saunders. "So people think they're clicking on the listing agent, but they're clicking on an advertiser and getting shifted off to somebody else, essentially poaching a potential client. So I started thinking about how this whole process really works and what I realized is a marketplace is not the right structure for this industry…If you don't have a realtor, the first thing you do is ask someone you trust if they know a good realtor. And from that point, you have a relationship that spreads off into a broader network of people. Looking at some of the shortcomings of Zillow, I wanted to create a different setup that mimics how things happen in the real world."
Using IdealEstate, agents sign up and connect with their professional network. The platform is catered towards their needs — agents pick their partners and no one can pay to get on top of their listing. And much like Pinterest, realtors can create curated boards for interested home buyers or sellers.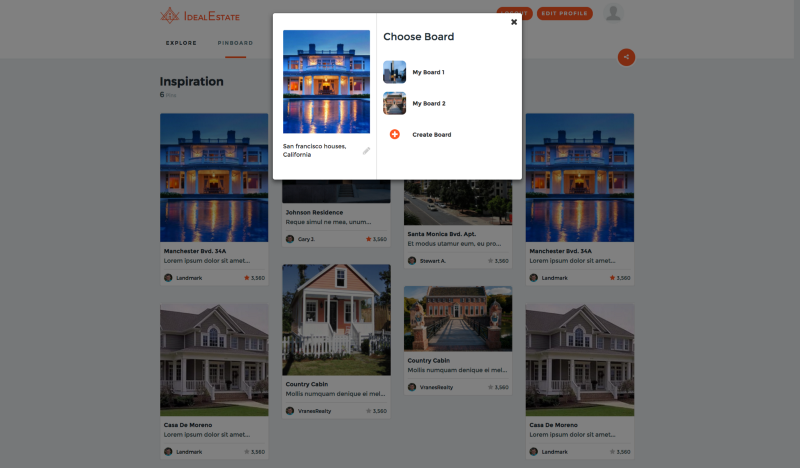 "There's this huge network of professionals — it's not just your real estate agent, you have lenders, appraisers, inspectors, decorators, moving companies, all these pieces of a huge network," said Saunders. "And it all starts with the agent."
With official launch planned for the next few weeks, Saunders is already experiencing high levels of interest in the platform — since opening pre-registration, IdealEstate has had close to 10,000 sign-ups per day. Empowerment can go a long way and Saunders is banking that for real estate professionals, IdealEstate is the tool they need.
"I'm looking at the Zillows of the world trying to replace agents, why don't we create something that makes agents better instead of trying to replace them?" said Saunders. "We've taken Pinterest's design, created something that looks really nice for consumers, that helps real estate professionals and consumers better connect with partners and clients across this huge network."