We walked away like how did that just happen?
If you're the Seattle Seahawks, losers of a Super Bowl that featured the most confounding play call in the history of the world, taking second place is the absolute worst. If you're PlanGrade, second-place participants in StartSLC's pitch competition and winners of $50,000, it's not so bad.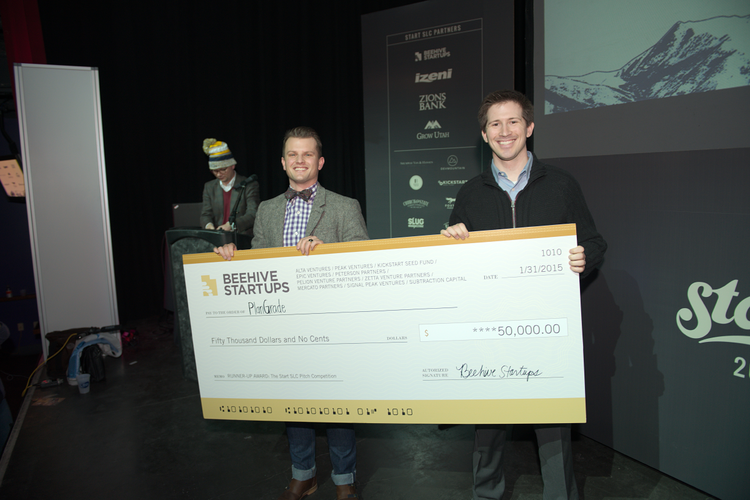 "We walked away like how did that just happen?" PlanGrade co-founder Riley Bingham said in an interview with Beehive Startups today. "It was very surprising, the competition was so tough and there were so many good presenters out there, we were just honored. We felt we did the best we could given the product that we have and the problem that we solve."
On a night where ViDi took home $200,000, both Bingham and PlanGrade's other co-founder, Christopher Reynoso, weren't ashamed to claim second place. Because finishing second has its perks too.
"We were excited that we were in discussion with a couple of investors and now we have a couple more that are interested in us," Reynoso said. "To us, that was already a victory. Seeing that we took second place and got $50,000 on top of that was just icing on the cake."
PlanGrade — a health/benefits compliance platform — might exist in an un-sexy part of the entrepreneurial community, which poses a major hurdle for Bingham and Reynoso: getting everybody, not just employers, to understand the benefit of using their software. In front of a packed house at StartSLC, both were concerned about being received positively.
"I was a little bit nervous as to whether or not a crowd that large would get it and care about it," Reynoso said. "I was refreshed afterwards to see that investors and audience members alike seemed to get it and were glad that we had it. We had a lot of people come up from the crowd and say they enjoyed the pitch, understand the problem, and are excited to see the solution."
What's the problem? Relieving employers of the painful, miniscule details that are super-important come tax time. And that's something everybody can understand.
"It takes care of all the requirements from the IRS and DOL related to their health care plan," Bingham said. "When they get audited, they can just pull up a report from our program, say here's our audit report, we've done everything over the last 12–24 months, good seeing you. It essentially just dots all i's and crosses all the t's, all the tedious compliance issues for a healthcare plan."
"We don't love the ACA or ERISA, but we love making sure it's not a problem for employers," Reynoso added. "That's really what PlanGrade's vision is, to allow employers to focus on the business and the actual health and welfare of their employees."
Just as PlanGrade was able to enlighten the audience in regards to health/benefits compliance, StartSLC was able to show the entire entrepreneurial community just how quickly things are picking up in Utah. The amount of support, buzz, and excitement generated at StartSLC speaks to this. The Utah startup community is not a fad — it's a unique, blossoming culture that everyone should be proud to be a part of. And it begins with showing support through events like StartSLC.
"The support system here for entrepreneurs is phenomenal," Reynoso said. "I was really surprised and glad to see the type of support we got throughout the weekend. We have a great community here that is encouraging us and helping us lift this thing up from the bootstraps that we're trying to pull it up from."
Bingham echoed the same sentiments.
"We're so excited that we live in a place not only where there are so many talented people, but a place where people celebrate the talent of others."
Published 2/3/2015