Owlet baby monitors raises $190,000 by winning 10 competitions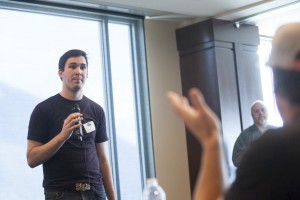 By Joey Ferguson
Jordan Monroe, VP of sales for Owlet, presenting at Todd Pederson's Top Ten, a UVEF event.
PROVO — Owlet has raised $190,000 for its wireless baby monitors. Their preferred funding source: winning competitions, 10 of them so far.
The Provo company's winnings come from university and startup challenges across the country at places like Harvard, BYU and Rice University in Texas.
Owlet makes a sock that monitors a baby's heart rate and blood oxygen levels wirelessly, delivering results to a mobile device in realtime. The app also helps parents track sleeping patterns and feeding times.
Owlet already has 250 reservations for its product and plans to sell them at between $150 and $200 per unit. The product will launch in the U.S. and doesn't require approval from the U.S. Food & Drug Administration, said Jordan Monroe, vice president of sales for Owlet.
"There's been so much pull from the market," Monroe said in a telephone interview. "Its really a different feeling to have customers pulling at you rather than everything else I've done where you're having to push a product."
Now the company is seeking funding beyond contests, Monroe said. It plans to crowdfund and reach out to VCs for between $1.5 million to $2 million.
Here is a list of all the contests Owlet has won:
Nov 8, 2012 — Won 1st and $6,000 at Student Innovator of the Year
Dec 20, 2012 — Company is officially created
Jan 25, 2013 — Won 1st and $3,000 at the BYU Business Model Competition
Mar 5, 2013 — Won 2nd and $10,000 in the Grow America Competition
Mar 13, 2013 — Won 1st and $5,000 at the Nebraska Venture Challenge
Apr 5, 2013 — Won 1st at BYU New Venture Challenge and $30,000 Cash
Apr 9, 2013 — Won 1st at Utah Entrepreneur Challenge and $40,000 Cash and $15,000 in kind
Apr 13, 2013 — Won 4th and $5,000 at Rice Business Plan Competition
April 25, 2013 — Won 2nd and $50,000 at the California Dreaming competition at Chapman University
May 4, 2013 — Took 1st and $25,000 at the International Business Model Competition
May 10, 2013 — Placed 2–10th and got $500 from UVEF Todds Top Ten
[gchart id="3″]
Here is a photo journey through the spoils of all of Owlet's victories.