This Is The Story Of Relic
"Ad agencies today have gotten lost in what we call vanity metrics — likes, clicks, impressions, views, all of those types of metrics that don't necessarily correlate with sales. We feel like we're somewhat of a throwback to the original advertising agencies, we are focused specifically on driving sales for our clients."
Relic Agency co-founders Adam Stoker and Jordan Barker

In 2011, Adam Stoker answered a Craigslist ad from Sorenson Advertising asking for an account man to oversee existing accounts and bring on new business.
I know what you must be thinking: Oh no, this is one of those horrific Craigslist stories where Adam is lured to an empty office in search of a fake job, then chained up and fed bits of bread for three weeks by a cult of devil worshipers. He escapes by gnawing through his twine shackles, bares his soul in a tell-all story to Silicon Slopes, then retreats from the public eye to a cabin in the woods, where he lives as a shell-shocked hermit for the remainder of his years.
Fear not, good reader, this is not a horrific Craigslist story. Rather, Stoker's accepting of Sorenson's job offer was the first step in a chain of events that led to his current standing as CEO of Relic — a good old fashioned startup story. Let's dig in.
By the power of Craigslist, Stoker began work in 2011 in St. George, Utah, an account man at Sorenson Advertising. He quickly showed his value, helping grow the company from $1.5 million in 2011 to $8+ million in 2015. Sensing the opportunity for more growth, Stoker began conversing with Sorenson's owner about what would help enable this.
"We had a conversation about whether we want to be a small town agency or do we want to really grow," said Stoker. "We both agreed that we wanted to grow and we realized we had to open up a northern Utah presence. For some reason, we had a really hard time getting good, quality talent to relocate in St. George."
There's a lot of great places to open shop in northern Utah, but Stoker settled on one place in particular: Provo, the home of Brigham Young University and unofficial dirty soda capital of the world. Encouraged by the success he experienced after opening the Provo office, Stoker started exploring the option of purchasing Sorenson Advertising outright and moving all operations to Provo. And when he realized this was becoming reality, his first call was to a very specific person: Jordan Barker, digital marketer at Pluralsight, friend and former co-worker of Adam.
Together, Stoker and Barker purchased Sorenson Advertising in September of 2016, Stoker installed as CEO, Barker as Chief Digital Officer. They began shaping the company in their vision, refining the business plan and (in January 2017) starting fresh under a new name: Relic.
"The reason we call ourselves Relic is because when ad agencies were originally created, the whole idea was to drive sales," said Barker. "Ad agencies today have gotten lost in what we call vanity metrics — likes, clicks, impressions, views, all of those types of metrics that don't necessarily correlate with sales. We feel like we're somewhat of a throwback to the original advertising agencies, we are focused specifically on driving sales for our clients. The way we calculate our success with a client: did the cash register ring? When you go to our website and see our work, the first thing we show is the results from that work, then we show you the creative. Without the results, creative is actually irrelevant. I don't care how beautiful or amazing it is, if it doesn't convert, it doesn't matter. That's the approach and attitude we take as an agency."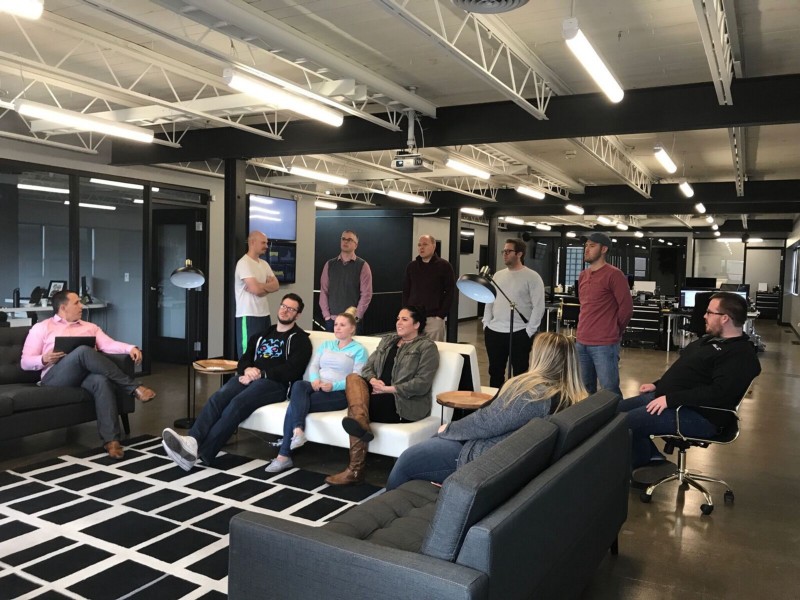 Provo-based office of Relic Agency
These days, marketing is split into two categories: traditional and digital. Stoker's focus had been on the former, Barker on the latter, and the idea behind Relic moving forward was to blend these two approaches. Essentially, a hybrid traditional/digital marketing agency that didn't have to rely on an existing set of systems and processes to do business.
"In the agency world, you either do traditional well or digital well — there's not really a perfect blend of those two worlds," said Barker.
Relic hopes to be that perfect blend. Their initial strongpoint with clients touched on the tourism and telecommunication industries. Since changing from Sorenson to Relic, the majority of growth has happened in a very familiar area to Utah's startup scene: tech companies, with a concentration on business-to-business marketing.
"One of the reasons agencies that already exist have a hard time doing digital and traditional well, they were originally founded with their systems and processes based on traditional media and the analysis thereof," said Stoker. "In most cases, this is not conducive to what digital marketing is and the analytics that come along with it — the ability to pivot, change, and optimize a campaign. A lot of agencies tried to plug digital into the old business model and it just doesn't fit well."
21 employees now call Relic's Provo office home, charged with carrying out the Stoker/Barker vision of an ad agency that concentrates exclusively on improving a company's bottom line. Both owners bring unique skillsets (Stoker in traditional marketing, Barker in digital) and together, they believe Relic's blend of approaches can make waves for any client willing to give them a chance. The lesson? It pays to have a business partner you know and trust.
"It's always good to recognize you don't always have all the answers," said Barker. "Fortunately, it's been nice between Adam and I because we've known each other and have that relationship. It's easy for us to bounce ideas off one another or ask whether the direction we're headed makes sense."