This article was published in the Fall 2020 issue
by: Jason Winkler, Co-Founder and CEO and Ellen Winkler, Co-Founder and CCO, INDUSTRY
The truth is, we never set out to be in the commercial real estate and design industries. Like many of the technology disruptors we see emerging from Utah's silicon slopes – we like to think of ourselves as real estate development and design disruptors. The fact that we are now "real" developers and are currently working to develop over 30 acres of land within Salt Lake City and beyond has genuinely been happenstance paired with hard work.
Upon entering the tech/real estate/design world, our goal was merely to provide a need and fill a gap we saw missing for our team. Office space had holistically not seen any real update or change in decades. This lack of evolution was affecting our people, profit margins, and growth potential. We needed a space where ourselves and our employees could get work done and live up to our lifestyle needs. We wanted a space where you could bring your dog to work, grab a drink with coworkers, or take a few turns on the slopes before heading into the office. We knew we had to spend some time at the office, but why couldn't we make it fun?
Beginning with a 30,000 square foot abandoned industrial building, we started our journey in one of Denver's worst areas. Though certainly not linear and with plenty of hurdles, we dove into learning commercial real estate, architecture, banking, leasing, and property management.  This is how the INDUSTRY modern office was born.
As a workspace, INDUSTRY projects provide tenants of all sizes custom office solutions with the benefit of shared amenities such as common kitchens, conference & huddle rooms, an event space, café, outdoor spaces, city proximity, dog-friendly environments, and more. Once established in a neighborhood, INDUSTRY spurs additional, thoughtful development to take place. INDUSTRY projects excite a community to grow.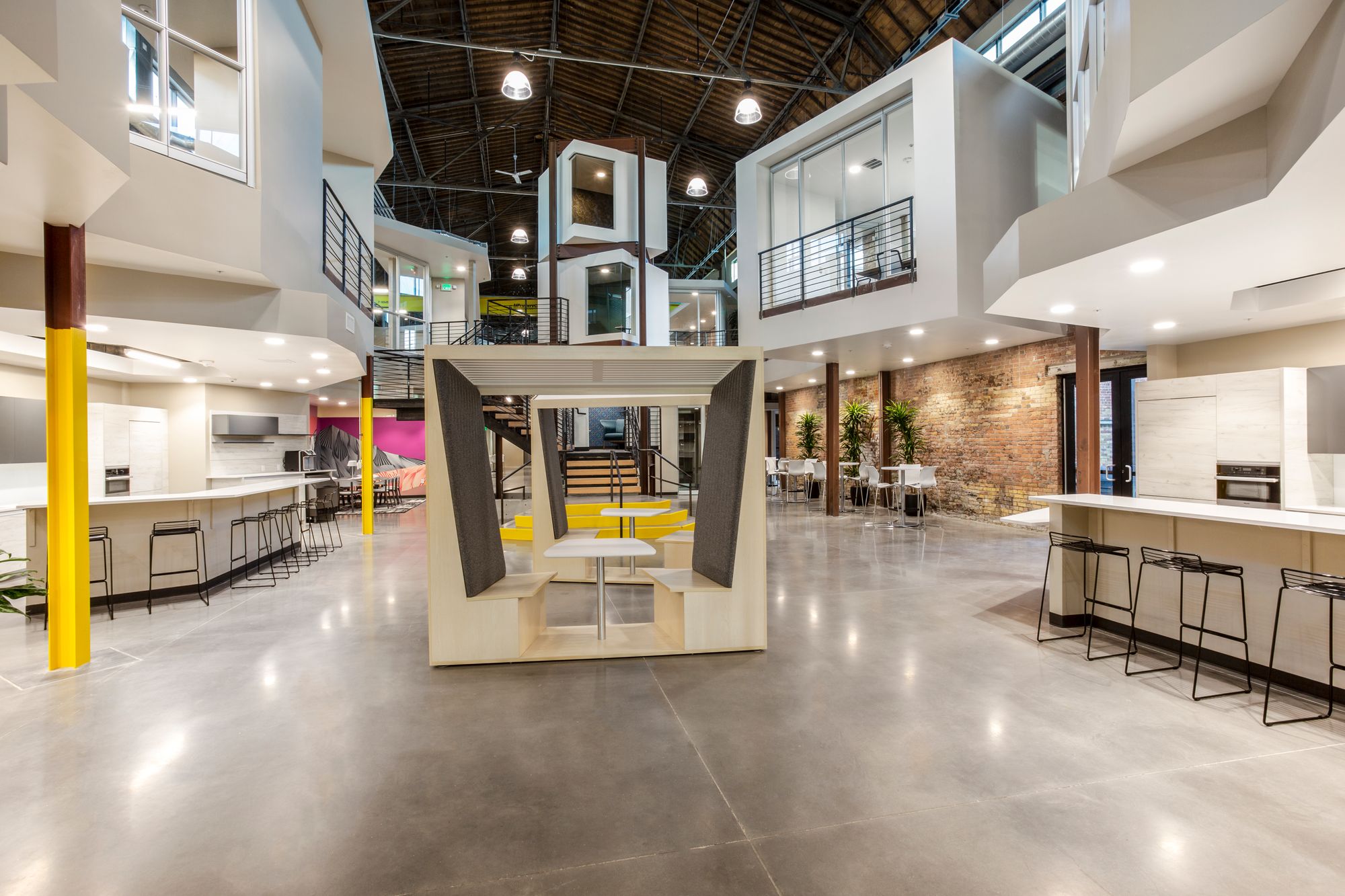 After completing two successful INDUSTRY projects in Denver, each over 150,000 square feet and housing over fifty companies and several hundred employees, we began to see the city change in a way that was no longer a fit for our needs. Put simply, Denver got expensive and expensive quickly. It was beginning to lose its smaller town feel. The proximity to lifestyle advantages, like driving to the mountains, was inundated with traffic jams and full parking lots. Looking to our western neighbors, we immediately fixated on Utah and specifically Salt Lake City for a multitude of reasons, one very important being the thriving Utah tech industry.
When first arriving, SLC was in need of inventive, functional, and modern office and workplace solutions. Our answer, INDUSTRY Salt Lake City. We fell in love with the Granary District and its multitude of industrial spaces and wide city streets. As the gateway and entrance into the city, the Granary District has a unique opportunity to captivate and showcase a new approach to urban life. We made the easy decision and purchased one of its old warehouses. This particular warehouse dated back to the early 1900s and was built as a steel and iron foundry by one of SLC's earliest settlers. Quickly getting to work, we opened the first stage, approximately 110,000 square feet, in March 2020.
The options we provide are unheard of in the Utah office market. As an ecosystem of diverse people, industries, and needs, INDUSTRY SLC delivers. It's always been about thinking differently and solving a problem where others stay complacent. Even with the many challenges 2020 has brought, we have seen tremendous excitement and success in providing efficient workspaces for today's companies. We are thrilled to announce current tenants such as Sarcos, Nexus IT, Intellivision, General Assembly, and more filling this beautiful building's ranks. INDUSTRY SLC is encouraging the resurgence of the tech sector in Salt Lake City and many of our tenants are relocating to be back or for the first time within the city proper.
The next stages of INDUSTRY SLC will provide over 300,000 square feet of modern office space in just one building. On the neighborhood side, we are currently developing restaurants, retail, and multiple living options. By providing these next steps in development, we will meet the needs of the modern urban dweller. These are the folks our community is attracting and retaining. INDUSTRY SLC is a rounded response to neighborhood placemaking and city building initiatives. It is assisting in propelling this region to an even more prosperous future.
Salt Lake City has and will always be the right place for us and business leaders everywhere. The city's actions and leaders help foster SLC as a tech and entrepreneurial powerhouse with a small-town feel. Being a part of this community has brought us immense joy and creative ability to see and enact change on both a small and large scale. We can't wait to share in what's next for Salt Lake City.
---
Hi! The Silicon Slopes team is interested in your feedback. We are asking for a couple minutes to quickly provide feedback on our Silicon Slopes quarterly magazine publication. Click HERE and share your thoughts with us. Your responses will help us improve. Thanks!
---
*Read the latest issue of Silicon Slopes Magazine, Fall 2020