We kind of started this with no business savvy or background. We were naive enough to go for it.
Melissa Sevy, co-founder of Musana, has a problem with how African women are commonly portrayed on TV. Sevy speaks of the commercials we've all seen, with closeups of hungry children and their seemingly hopeless mothers, with big, teary eyes, needed your donation of $5.00 a month. "I think it's so unfair to portray people like that," Sevy says, then offers an alternative description of the Ugandan women she employs: "They're happy, they're beautiful, and they're strong. That's who they are." It's the strength of these women, and the vision of Sevy and her co-founders, that has made Musana the thriving company it is today.
After spending time in Uganda with Help International, Sevy learned that most women are the sole providers for their families, but most available jobs are "men's work," leaving these capable mothers without a way to feed, clothe, or educate their children. Sevy realized that by employing Ugandan mothers, she could help break the cycle of poverty and "create brighter futures for their children."
And so, Sevy, along with her co-founders Kristen Wade and Rebecca Burgon, pulled together their modest student budgets to launch a handmade jewelry line that employed Ugandan artisans, using local materials, to make pieces that appealed to Western fashion sensibilities. "We kind of started this with no business savvy or background," Sevy says, "We were naive enough to go for it." In the beginning Musana employed seven artisans, and at times when sales were low, Sevy and her cofounders would pay salaries out of pocket. Musana now employs 20 full-time artisans, and 44 contract artisans that are brought in to complete large orders. The original 7 employees have advanced to middle-management positions and train new artisans, and some employees are looking to start their own business that will employ other Ugandan women and continue to empower mothers of their nation. One woman is the process of starting her own bakery, another hopes to become a hairdresser, and a third is training to offer counseling. These women can continue working part-time for Musana until they are prepared and financially stable enough to pursue their own ventures full time. "It's really fun to be able to see them pursue their dreams," Sevy says.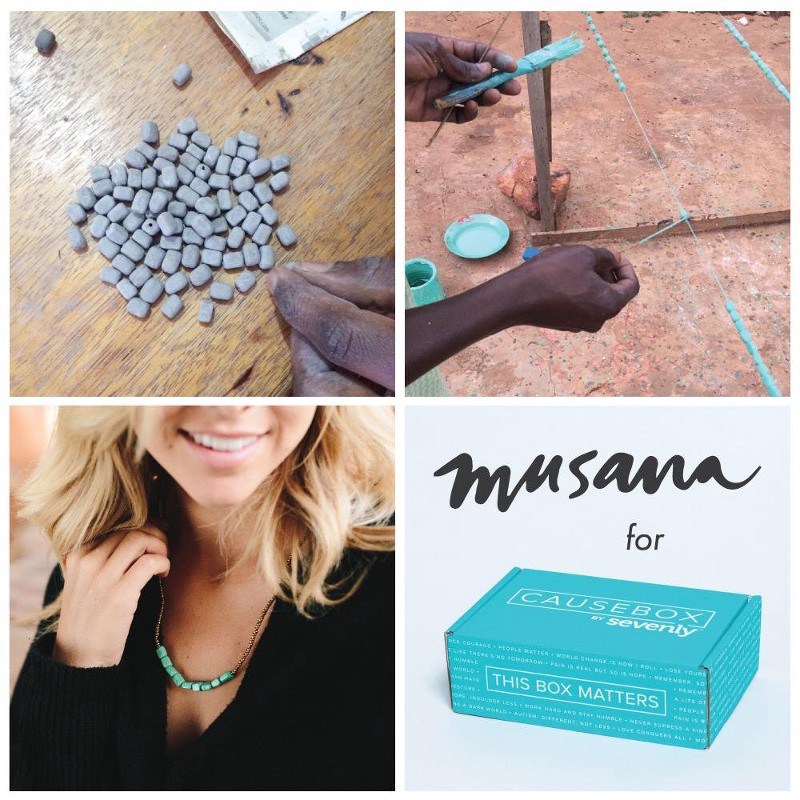 In addition to offering their artisans jobs, Musana also offers their employees education and healthcare. Artisans can take English, health, and business classes, as well as financial training. Musana requires any children of Artisans to be enrolled in school, and uses the School Fees Matching Program to help cover the cost. The School Fees Matching Program allows artisans to pay only half the cost of their children's school fees while Musana pays the other half. By subsidizing medical costs, artisans have access to quality healthcare for themselves and their children. The company also subsidizes the cost of mosquito nets, care for HIV+ artisans, and offers HIV testing and health classes.
For a while Musana was a part time project for Sevy and her team, but in the last couple of years they've experienced remarkable growth. This growth can be attributed not just to their charitable mission, but to the products as well. "People are buying it because they want to wear it. Knowing the story is just an added bonus," Sevy says. Musana jewelry appeals to the high-end market by using interesting, locally-sourced materials that manage to appeal to the consumers of the west. Materials include everything from seeds, clay, and cow horns, all meticulously manipulated, polished, and perfected until the end result is worthy of its own Vogue cover.
The empowerment Musana offers is sure to spread, with plans to expand their product lines to include household and lifestyle goods, as well as take their employment model to the capable mothers of other countries in need. As for us (the consumers) and how we can help, I'd be lying if I said that I wasn't relieved to learn that the best way for me to break the cycle of poverty is buy some beautiful jewelry. If you want to do even more, however, Musana has a number of ways you can help.
Published 11/12/2015