Podium Announces New HQ In Lehi, Move In Date Set For August 2018

By my calculations, there are four phases of startup housing.
Phase 1: Your startup is literally housed inside a house.
Example: Co-founders Eric Rea and Dennis Steele started Podium roughly three years ago inside Rea's home, working out of a spare bedroom and enjoying Little Caeser's pizza in their spare time.
Phase 2: Your startup is housed above a bicycle shop.
Example: After growing the company to a size that demanded more space (let's call it 15 employees), Podium moved into a Provo-based office located directly above a bicycle shop.
Phase 3: Your startup is housed inside a legit office.
Example: Podium grew like crazy in 2016, completing Y Combinator and raising $3.5M in funding, finishing the year with 100+ employees. They bid a sad farewell to the bicycle shop and moved into a much larger office at Thanksgiving Point, the next door neighbors of a beloved non-profit called Silicon Slopes.
Phase 4: Your startup is housed inside a legit office that you built.
Example: After growing to over 200 employees and raising a $32M Series A round from Accel, Summit Partners, GV, and Y Combinator, Podium broke ground in an empty Lehi plot that will serve as their headquarters in August 2018. Shovels of dirt were tossed high in the air and Podium hard hats were worn by many in attendance.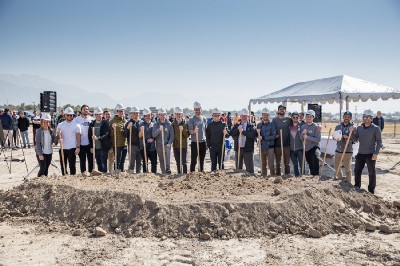 Podium plans on adding 400+ jobs in the next five years, a goal that obviously requires more office space. Here's Rea on the announcement:
"It's an awesome time to be part of Podium and the Utah business community. We know the talented people who live and work in the Silicon Slopes played a huge role in our success, and we are excited to lay down roots in the community."
If you care to learn more about Podium, we profiled their meteoric rise earlier this year. Read and enjoy.
If you don't care to learn more about Podium, shame on you. I suggest you put on a Podium hard hat, fill out three online reviews for small businesses, and contemplate the changes that need to happen in your life. Then read and enjoy.