If you thought Tanner Mangum was the only person overcome with a giving spirit this Christmas season, think again.
Unlike the first 10 minutes of the Vegas Bowl, the Startup Santa book drive has left Utah's children with something of lasting value — nearly 13,000 books that can be used to reduce the ratio of books per child in low-income neighborhoods (right now estimated at 1:300). Together with the Start Foundation and United Way, Beehive Startups launched this drive at the beginning of December hoping Utah's startup community would rise to the challenge. Well, we have our answer.
Startup Santa has raised more than $60K equalling 12,330 books. I'm amazed, humbled, and thankful to be a part of Utah's startup community.
*— Clint Betts (@clintbetts) *December 19, 2015
"It's crazy to think we first thought of Startup Santa just one month ago," said Start Foundation Executive Director and Beehive Startups founder Clint Betts. "To have the community rally around this initiative in such a big way in such a short amount of time is just incredible. We made a real difference in the lives of Utah children living in low-income families with this book drive. We're looking forward to making next year and the years after that even bigger."
Early last week, United Way volunteers gave out 4,500 books as part of this program — that alone is two books for every first grader in all Title 1 schools in Utah County!
The kids were ecstatic. "My kids all wanted to give the volunteer who came in a hug as she gave them each their books, so she received 20 hugs," shared one teacher. "The children were excited to have their very own books, either to read themselves or to have read to them by a parent or sibling."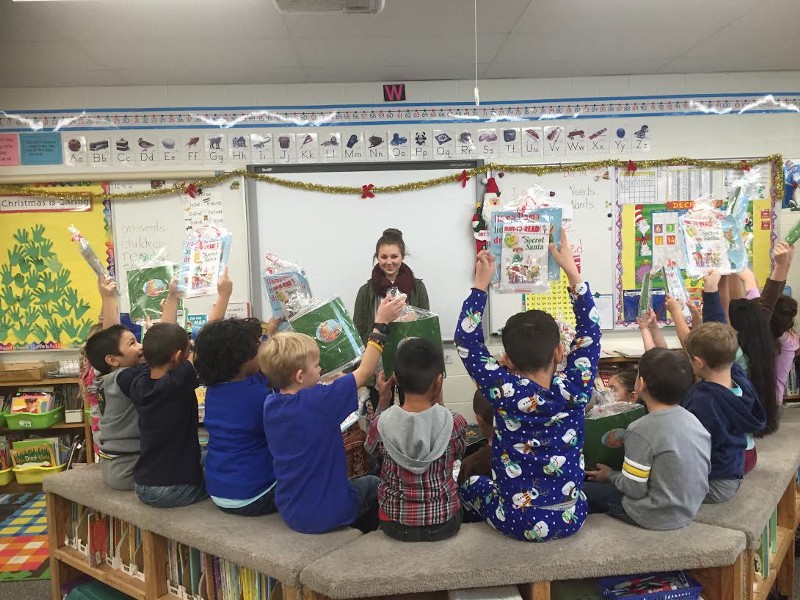 Startup Santa wouldn't have been possible without the support of Utah's startup community and some of its brightest leaders. More than 40 companies donated books or money to the cause, and even more individuals got involved in helping promote the drive by appearing on local news stations, supporting the cause through social media, or prompting others to get involved and helping to raise awareness around this issue.
No local company stepped up bigger than Pluralsight, who won the inaugural Startup Santa by donating 4,814 books — more than double the next closest company. Pluralsight CEO and Start Foundation chairman Aaron Skonnard played an instrumental role in this book drive's success.
"Aaron is someone every entrepreneur in this state looks up to and tries to emulate. He's beloved in this community and has in many ways become our most important spokesman," said Betts. "You couldn't find a better person to carry the Utah tech banner if you tried. The first year of Startup Santa was a tremendous success because of his leadership. It's rare to have someone of his stature be so willing to give back by reaching out, getting involved, and lifting up everyone else around him. It's an honor to be able to work with such a humble, community-driven entrepreneur."
If you thought Tanner Mangum was the only person overcome with a giving spirit this Christmas season, think again. Here are the Top 5 companies in total book donations:
1. Pluralsight — 4814 books donated
2. Instructure — 2473 books donated
3. 97th Floor — 1052 books donated
4. Lendio — 856 books donated
5. Smart Rhino Labs — 553 books donated
#StartupSanta* is in full force at @pluralsight! Let's do this! *https://t.co/RUfx1Apgvx@StartOrgpic.twitter.com/lVflmjmWCM
*— Aaron Skonnard (@skonnard) *December 11, 2015
Here are the Top 5 companies in books per employee donations:
1. Beckley & Company — 118 books per employee
2. Bookroo — 66 books per employee
3. Smart Rhino Labs — 61 books per employee
4. SimpleCitizen — 56 books per employee
5. RelateTheNews — 26 books per employee
Much love and a big thank you to all the companies that participated. To see the complete list, visit the Startup Santa homepage.
Published 12/24/2015