By Jerilyn Stowe, Chief Marketing and Engagement Officer, United Way of Salt Lake.
This article was originally published in the Spring 2018 edition of Silicon Slopes Magazine.
United Way of Salt Lake has been collaborating with organizations, small businesses, and large corporations to help facilitate easy ways for employees to give back to the community since the 1940's. Companies have generously allowed employees to give donations of both time and money by partnering with United Way to host "workplace campaigns."
These workplace campaigns have fostered organizational team building while educating tens of thousands of Utahns about the needs in our communities and the impact individuals can make through their giving. Thousands of hours of volunteer service and millions of dollars have been donated through these campaigns that have helped build a culture of compassion and giving back along the Wasatch Front.
The New Philanthropic Marketplace
Over the last decade, there has been a dramatic shift in how employees connect, interact and give back. Digital platforms, social media and global issues and needs have become an important part of the philanthropic landscape. Employees want options, choice and flexibility to choose how they give their time and money to help important causes they care about. In response, corporations are successfully aligning their business and philanthropic missions to create a corporate culture that encourages giving back.
These savvy organizations understand such a shift increases employee retention and engagement. It's imperative that the business sector engage in philanthropic endeavors, which build more cohesive and inclusive communities where all people have the same opportunities to live their best lives.
Introducing Salesforce Philanthropy Cloud — Powered by United Way
In response to this changing landscape, and building upon more 70 years of experience serving as philanthropic advisors, United Ways in 34 communities across the country, including United Way of Salt Lake, have teamed up with Salesforce.org to launch the Philanthropy Cloud. United Way is the world's leader in workplace philanthropy, serving more than 115,000 workplace campaigns that reach more than 47.5 million employees across the country. Salesforce Philanthropy Cloud will let companies tap into the combined power of both Salesforce and United Way to connect with local giving opportunities, volunteer options, campaigns and bigger movements such as the UN Sustainable Development Goals in order to drive personalized social impact.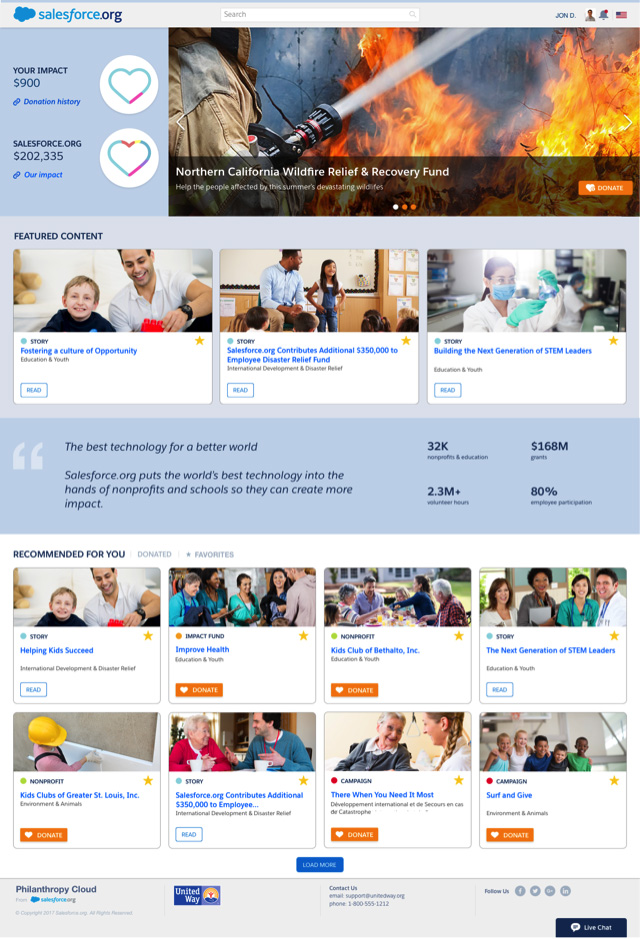 Beyond Charitable Giving
With Philanthropy Cloud, you can find, learn about and support causes in a way that is simple and impactful. Philanthropy Cloud uses Salesforce Einstein artificial intelligence to connect you with causes and opportunities to engage in your community that are personally meaningful. It also links you with your colleagues on the most important initiatives happening right now. Philanthropy Cloud powered by United Way:
Engages employees: it offers companies a beautiful, intelligent and intuitive employee giving app, campaign management and real time dashboards to assess personal, corporate, and community impact.
Puts donors at the center: provides thousands of giving options to choose from. Using the power of artificial intelligence as a personal trail guide, the tool leads donors to deeper, more meaningful ways to engage with the community and drive impact for the causes the donor is passionate about.
Builds a movement: Salesforce Philanthropy Cloud provides the platform to easily spearhead community fundraisers, mobilize volunteers, read inspiring content, and engage likeminded changemakers.
Tells the story of social impact: Inspires people to act by sharing impactful stories about campaigns, nonprofits, causes, and impact funds.
Getting Started
Philanthropy Cloud will be implemented in the community through United Way of Salt Lake. An employer will work with United Way to further develop their corporate social responsibility goals and activities and implement the technology. United Way will populate the tool with all the content for giving and volunteer options available and will co-create impact funds and stories with a company to make it simple. Together, United Way and its corporate partners will help develop and track CSR metrics and create communications plans to report back to employers and donors about how their gifts to the community are making a huge impact.
You can sign up now at uw.org
Creating Change and Charity
United Way of Salt Lake has evolved to become a results-driven organization that builds powerful partnerships to solve some of our most complex community issues — poverty, poor health, lagging educational achievement, among others. United Way of Salt Lake's partnerships are made up of community, business, religious, and nonprofit leaders coordinating with schools, community centers, teachers, parents and students in neighborhoods and communities with high needs. Our place-based collaborative approach is yielding results and Philanthropy Cloud has the capacity to build upon those outcomes.
By bringing together United Way of Salt Lake's innovative community change work and Salesforce.org's innovative technology, thousands of new donors, potential donors and volunteers will get connected to work that is impacting people's lives, building stronger communities, and developing pathways out of poverty.
In this new environment, when a company or an individual aligns their missions and goals with United Way of Salt Lake and uses Philanthropy Cloud, they are committing to becoming more than a charitable organization or person. They are changing our community and changing the world with one click.