Well the day has finally arrived.
After months of planning and copious amounts of tweeting, Silicon Slopes Tech Summit is underway. I like to think of today as entrepreneur Christmas, where everyone sits around the Salt Palace and opens presents filled with flat-brim hats and pieces of Stewart Butterfield's wisdom. Next year we're going to take it one step further and create personalized stockings for every attendee, stuffed and overflowing with the entrepreneurial necessities: sweat-wicking polos, 59 different slack channels, and individual strands of Elon Musk's hair.
Enough about next year, though — this year is fine and dandy in its own right. As of this writing, we've had over 14,000 people sign up for Tech Summit, coming from far and wide to partake of a world-class, Utah-based tech event. Hooray, Silicon Slopes. Hooray, tech. Hooray, 14,000 people.
For those that weren't part of the 14,000, shame on you, this is a mistake that will haunt you until the day you're lowered into a cold grave. I'll do my best to describe the sights and sounds of Silicon Slopes Tech Summit, but I'll never forgive those of you who didn't attend. NEVER.
Now, to the highlights:
Clint Betts opened Silicon Slopes Tech Summit 2018 with a speech that was mainly about Utah rising, but also touched on minivans and the BYU Creamery. He then proceed to examine the state of Silicon Slopes through a series of individual interviews with members of the Silicon Slopes executive board. For reasons that I can't fully explain, the interviews were done in a late-night format — Betts as the worst JC Penney-clothed David Lettermen impersonator ever, toting a t-shirt gun, accompanied by a live band. It was nuts. All in all, eight members took the stage in short three minute bursts — Banyan CEO Carine Clark, Domo CEO Josh James, Qualtrics CEO Ryan Smith, Pluralsight CEO Aaron Skonnard, Entrata CEO Dave Bateman, Insidesales CEO Dave Elkington, Sorenson Media CEO Marcus Liassides, and Vivint Smart Home CEO Todd Pedersen. All remarked on the incredible happenings in Silicon Slopes, with Elkington noting, "This is a thing, this is not a trend," before announcing big news from his company: Insidesales has secured a $35 million investment from Microsoft. Hooray, Insidesales. Skonnard also announced big news, promising to build a brand-new Pluralsight campus in Utah that will create thousands of jobs. In homage to the decision and also to the most famous podcast currently on iTunes, Skonnard declared, "It was clear that this is the place." Liassides echoed these sentiments, noting that he has built companies in three separate countries and no other place was like this. PEOPLE, THIS IS THE PLACE. Smith, who in a stunning twist took the stage without a hat, estimated that 4 IPOs could be happening this year in Utah, a key ingredient to building a sustainable, long-term business environment.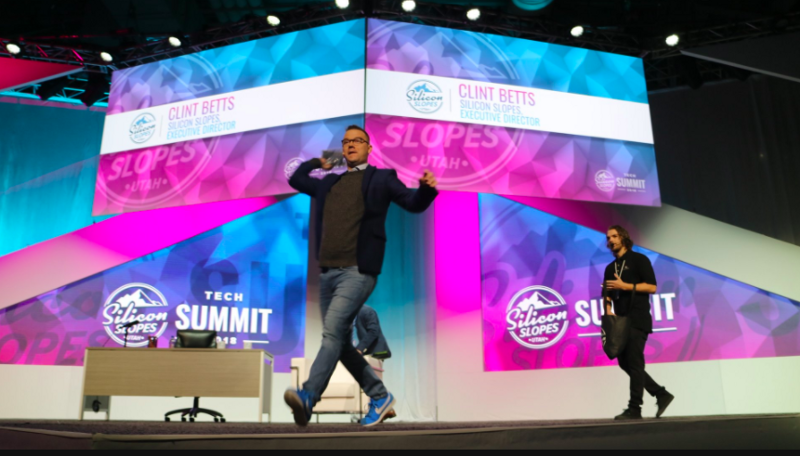 This is the guy who opened SSTS18. Seriously.
Shameless plug of the day: we released the latest version of Silicon Slopes Magazine at Tech Summit. It has articles on a wide range of topics including 5 For The Fight, Collective Medical, and the recent UTC Hall of Fame inductees. You can view the digital version here or pick up a hard copy at the Silicon Slopes booth in the Sponsor Pavilion. If you ask nicely, our softest and warmest intern will give you a hand-signed copy and whisper sweet nothings in your ear.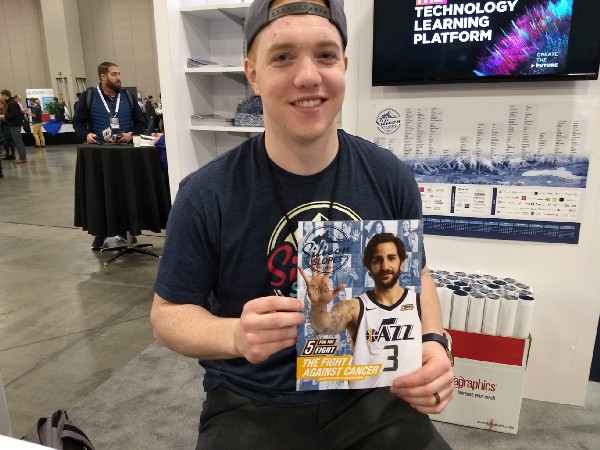 I'm going to be honest, after listening to former Beats By Dre CMO Omar Johnson, I'm now an expert marketer. I'm not joking, I was so into his presentation that I think I absorbed every bit of information on a molecular level. It's called business osmosis, where a presentation is so good that everybody immediately updates their Linkedin page with 24 new skills. That's seriously what happened, you can check out my Linkedin page and browse through my newfound expertise. Introduced by Ryan Smith as one of the greatest marketers of our time, Johnson explained a lot of the tactics used to create groundbreaking campaigns during his time at Beats By Dre. Boiled down to the bare bones: brand equals product, people, and storytelling. He touted the importance of diversity when building a team, how different perspectives increases the ability to innovate, saying, "Storytelling is important, but who tells the story? People. Product is important but who builds the product? People." One of Beats By Dre's most notable marketing campaigns revolved around the idea of athletes using Beats to block out noise and focus on the task at hand. They paid a few famous athletes — Kevin Garnett, Richard Sherman, Colin Kaepernick — to film commercials implanting that idea in the public's head and it caught on like wildfire. Before long, Beats By Dre headphones were synonymous with athletes. In Johnson's words, "We saw the world of sports pick up those headphones and then the news respond." Every athlete was wearing the headphones, proselytizing for them, the vast majority unpaid. That's what I call a great marketing campaign — worldwide impact, without paying the majority of product evangelicals. Before leaving the stage, Johnson echoed his earlier thoughts on diversity: "Think of how you bring great people to this state, in addition to the great people that are already here."
"My reaction to fear when I was a kid was to oversimplify, but fear has now become my superpower as a marketer." –@OmarJohnson #SSTS18 pic.twitter.com/qWCuKV3Tp7

— Silicon Slopes (@siliconslopes) January 18, 2018
Steve Young came on stage to throw laser beams at the crowd, which was great until we remembered an unfortunate truth of life — Tech Summit attendees lack the ability to catch a football. It's true, Young threw four footballs into the crowd to disastrous results, as a crowd presumably suffering from carpal tunnel refused to catch even one football. It was sad and grim, honestly. On the bright side, one football was completed to a nice young lady, but only after Young threw her two passes that she dropped. He said she couldn't leave until she caught it and frankly, there was a brief moment where I thought both days of Tech Summit were suddenly going to be Steve Young throwing dropped passes for 48 straight hours. Luckily, third time was the charm and we moved onto his speech. My main takeaway from his remarks: avoid toxic tension, embrace creative tension. Young spoke about his time sitting behind Joe Montana while on the 49ers, acknowledged the creative tension from the situation, and how he used it to become one of the most successful quarterbacks in NFL history. And his thoughts on Tech Summit? "This is our Silicon Slopes moment."
"What can I do today to be better than yesterday?" -Steve Young, @NFL legend and investor #SSTS18 pic.twitter.com/AIBad9gB1o

— Silicon Slopes (@siliconslopes) January 18, 2018
It sounds basic, but many of the early keynotes preached the importance of product. Todd Pedersen, CEO of Vivint Smart Home and an entrepreneur for 26 years, said it can't be about money: "It's got to be customer focused first — you have to be in it to build the best product." Caitlin Kalinowski, Head of Product Design at Facebook/Oculus, spoke of the importance in finding a balance between caution and speed in product development. Omar Johnson declared, "Product is king," sharing a story about how Beats By Dre always made sure their headphones were never given inside a gift bag so the product was always visible. Slack CEO Stewart Butterfield, recognized as one of the greatest product minds in the business, said that in product development, ego-stroking is death: "The most important point is to put the customer first." He also explained Slack's unique advantage when it comes to building because they use their own product every. They're the first to know its flaws and can fix accordingly, a sharp contrast to most tech companies that don't use their own product. Butterfield also echoed a familiar entrepreneur's sentiment: "Almost everything you try in business fails."
"The use of technology to facilitate human interactions has always fascinated me" –@stewart, CEO of @SlackHQ #SSTS18 pic.twitter.com/YYwRBAGLye

— Silicon Slopes (@siliconslopes) January 18, 2018
Shameless plug #2 of the day: Silicon Slopes has opened a brand-new store filled with apparel that will improve literally everything in your life, especially your looks and sense of being. You can access the selection online, or visit the Marine Layer booth in the sponsor pavilion to partake of its stunning brilliance.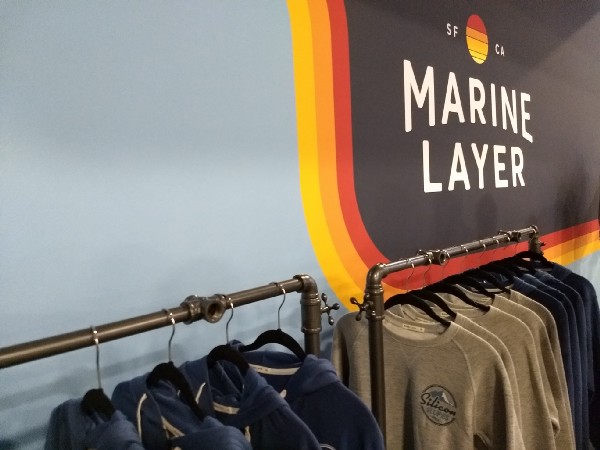 One of the main talking points at Silicon Slopes Tech Summit 2018 is increasing diversity. In conjunction with that, many Silicon Slopes companies agreed to take the Parity Pledge where they agreed to interview at least one qualified woman for every position of VP and above, including board members and those in the c-suite. Cathrin Stickney, the founder of Parity, was on hand to talk about the need for diversity: "We need to speed this up, I want to see gender parity in my lifetime." Over 80 companies have already signed the Parity Pledge and Stickney did her part to encourage more at Tech Summit, telling everyone on the audience to get on their phones, visit Parity.org, and sign the Pledge IMMEDIATELY.