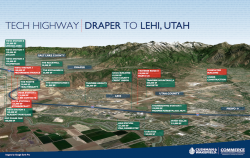 By Jeff Rossi
An unprecedented influx of new and expanding business along I-15's narrow, eight-mile Draper-Lehi connection is fueling the largest office construction boom in Utah's history.
Jeff Rossi, Executive Director of Cushman & Wakefield | Commerce's Tenant Advisory Group, describes a short-term trend of young tech companies fleeing San Francisco's high business and living costs, in search of markets with better growth potential and attractive lifestyle opportunities. Rossi said it is no surprise that Utah is drawing a lot of attention. San Francisco, and the Bay Area are arguably Salt Lake's largest feeder markets, generating economic growth throughout the state, and particularly along the Wasatch Front.
"What started as a simple increase in growth, has turned into an explosion of new office construction near the Point of the Mountain," Rossi says, "More than two million square feet of new office space is currently under construction along the Draper-Lehi Tech-Highway. The growth is surpassing even the most optimistic expectations. Over the past ten years, the entire Salt Lake and northern Utah County markets averaged less than one million square feet of new office construction each year. That means, in only nine months, new construction within a small, five square mile area has already doubled the average ten year-end totals for the market's entire nine hundred (plus) square miles."
Lehi accounts for 1.2 million square feet (60 percent) of all Tech-Highway office space currently under construction, an increase of over 62 percent since July. Out-of-state, tech startups relocating to Utah from other markets are stimulating a majority of the city's growth. "Lehi continues to lead Utah County in new construction and preleasing," Rossi said, "nearly 450,000 square feet of office space went into construction in the past two and a half months alone. With no end in sight, the current pace suggests the North Utah County submarket will double over the next two years."
On Tech-Highway's north end, Draper City currently has 800,000 square feet of new office space under construction, representing 40 percent of the area's total 2,000,000 square feet currently under construction. The vast majority (530,000 square feet, or 66 percent) is concentrated at Vista Station, a set of Transit Oriented Developments (TODs) adjacent Frontrunner's Draper Station, which will include a mix of office relocations and expansions, and over 1,000 residential units to be initiated before the end of the year. HealthEquity, Academy Mortgage, Storage Craft, and 1–800 Contacts have all relocated to Vista Station.
The following short-list describes growth objectives of other ambitious companies driving Tech-Highway's Draper-Lehi construction boom:
° EMC anticipates creating an additional 700 jobs, currently constructing 100,000 square feet of expansion space at Vista Station.
° Prosper Marketplace plan to create an additional 500 jobs. They currently lease space in Draper, while awaiting completion of their new 150,000 square foot expansion in Lehi's Thanksgiving Station 4.
° MaritzCX is expanding in Lehi, expecting to add an additional 425 jobs.
° Thumbtack is a Bay-Area company that settled in Draper to grow their staff to 300 soon.
° Jet.com is a New Jersey based, e-commerce start-up expanding its member services group into 75,000 square feet of preleased space in Draper.
° Vivint Solar is undergoing a massive expansion, planning for as many as 3,000 new Utah employees.
° Academy Mortgage is relocating from Sandy to Draper, continuing Utah's employment growth.
° Ancestry is moving its headquarters from Provo to Lehi, seeking broader access to the area's growing pool of talent. Ancestry's 200,000 square feet project will complete construction next year.
Future trends and growth expectations
"As long as our economic indicators remain strong," Rossi says, "including widening margins in the cost base between San Francisco and our market, Tech-Highway's boom might persist beyond 2016. Utah continues to provide strong economic reasoning for relocation and expansion along the Wasatch Front, which is why we can reasonably expect local market expansion to continue. That said, this year's rate of growth argues against the numbers, meaning we will likely see the market slow to what we think of as a steadier, more normalized pace after next year's delivery of current buildings under construction."
Available lands will continue to fuel the area's construction for another few years. Several longer range opportunities to modify current land-uses for future office development also exist, including the impending relocation of Utah's State Prison, multiple transitioning farmlands, and other similarly intensive land uses. Future development will crawl east and west as available lands quickly disappear, gravitating toward residential growth areas from Saratoga Springs to Daybreak, which include Tech-Highway's nearest community and economic infrastructure at urban centers in American Fork, Thanksgiving Pointe, and Draper's Vista Station.
Transit Oriented Developments (TODs) will also continue near Tech-Highway's two existing Frontrunner stations, at future public transit stations, and along its immediate access highways, I-15 and SR-92. TODs have been extremely successfully in the past decade, directing development away from previous decades' predilection for building cloistered corporate campuses on market peripheries, rather than the market core. TODs recentralizing development, maximizing public accessibility to high value community, retail, business, and transportation services.
Tech-Highway's boom is being driven by a number of factors. The Economic Development Corporation of Utah (EDCUtah) provides an exhaustive list of state and local recognitions each year on their Rankings and Comparisons page. Silicon Slopes, a start-up branding campaign for Utah's tech community, also provides a simple stats graphic focused specifically on economic numbers related to Utah's burgeoning tech industry.