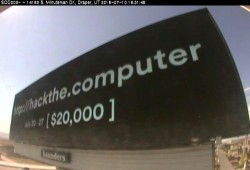 Finding and hiring top developer talent is a struggle for most technology companies. The demand for programmers is high, but the supply is low. That's why Vivint got creative with their latest recruiting tool, a competition offering over $20,000 in prizes. The competition ended yesterday, but the winner's names weren't released. This was a recruiting effort, after all.
Hackthe.computer billboards dotted the I-15 the past few months in hopes of getting the word out about the developer competition which took place over the past week. Over 700 people signed in through GitHub and over 150 from around the world entered code, said Kimberly Wittman, talent acquisition manager at Vivint.
The competition landed on the front page of Hacker News last week. Applicants had to complete questions and submit code. For example on problem teaches you to create an "erasure code." An erasure code is a method for creating efficient backups, among other things. With an erasure code, you can break a file into 10 smaller pieces, for example, and be able to recover the entire file from any 5. You can check it out here.
The top 12 finalists were brought in to compete for top prizes. First place won $12,000, second place won $4,000 and third place won $1,500. The rest of the finalists were given Apple watches.