When Utah Governor Spencer Cox stepped to the podium on Antelope Island two weeks ago framed from behind, as he was, by the picturesque Great Salt Lake, he did so to present his proposed budget for fiscal 2023.
To be clear, unveiling his recommendations outdoors, let alone near the shore of the inland salt sea, was a clever promotional move designed to draw attention to some of the environmental aspects of his budget, which is understandable.
But when you're talking about total expenditures that fall just shy of $25 billion for fiscal 2023, it also made sense that Gov. Cox correctly suggested to those in attendance (and the legislators who will need to vote on/approve this budget), of the need to make correct choices and sacrifices today that will benefit Utahns some 50 years in the future.
To this end, Gov. Cox explained that his budget proposal was centered on three main areas:
Investing (and spending) Wisely, both for today and the future;
Investing in People; and
Investing in Infrastructure
---
Highlights from Utah's Proposed FY23 Budget
So ... for the fastest-growing and youngest state in America, a state with over 3.2 million people, with the second lowest unemployment rate in the country, and (arguably) the hottest economy in the U.S., where did Gov. Cox seek to focus our attention?
Well ... when you read the press release the Governor's office published concurrent with the press conference, the highlights are fairly clear:
Education,
Infrastructure, and
Tax relief (via a Grocery Tax Credit).
Clearly, each of these deserve focus.
But from my perspective, I would instead highlight these six areas.
---
I.  60X Growth in Fiscal Prudence
First off, I felt that one of the most shocking and pleasing aspects of the Governor's presentation was the fact that Utah's so-called Rainy Day Fund continues to grow and is slated to hit $1.15 billion at the end of fiscal 2022 (ending June 30).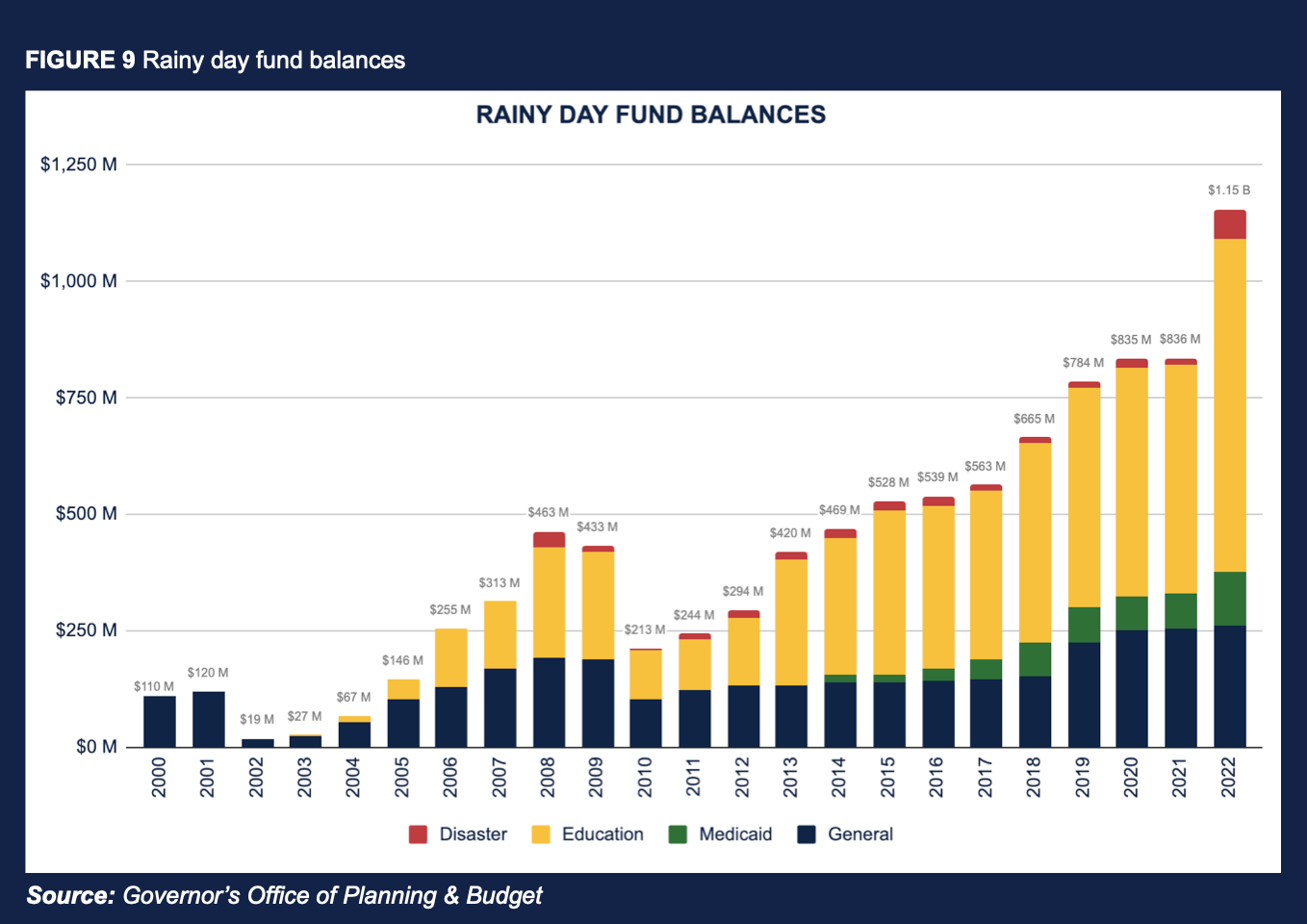 Seeing 60X growth in savings by Utah's state government, especially given a $19 million starting point in 2002 following the Tech Bubble meltdown of 2001, is nothing short of astounding!
Utahn's have had five separate governors in that same time frame
Mike Leavitt (1993–2003),
Olene Walker (2003–2005),
Jon Huntsman, Jr. (2005–2009),
Gary Herbert (2009–2021), and
Spencer Cox (2021–Present),
making such fiscal prudence even more unbelievable, especially in light of the largesse of so many elected officials at every level of government throughout America.
Bravo to the leadership of these five Governors, as well as the hundreds of legislators during this same time frame who have, in hindsight, implemented the restraint required to bring us to this point of financial preparedness.
---
II.  Education. Education. Education.
As noted above, Utah has the youngest population of any U.S. state.
And all that population growth in the state? Let's be clear: the bulk of it is coming from Utahns having kids.
Top these two points off with the fact that technological and scientific advancements in every single industry have necessitated the fact that we need to shift from a mindset of
One-and-done education, to one of
Continual education.
Do this and we end up with a need to continue to pour dollars into all aspects of our educational system within the state, both traditional and non-traditional.
Hence, Gov. Cox gets a round of applause from Yours Truly when he proposes that we drop $976 million on all education needs within the state.
As shown below, highlights include
A combined $186 million in capital expenditures to support
Workforce Development and
Education-focused Capital Projects, as well as
$184 million for local schools.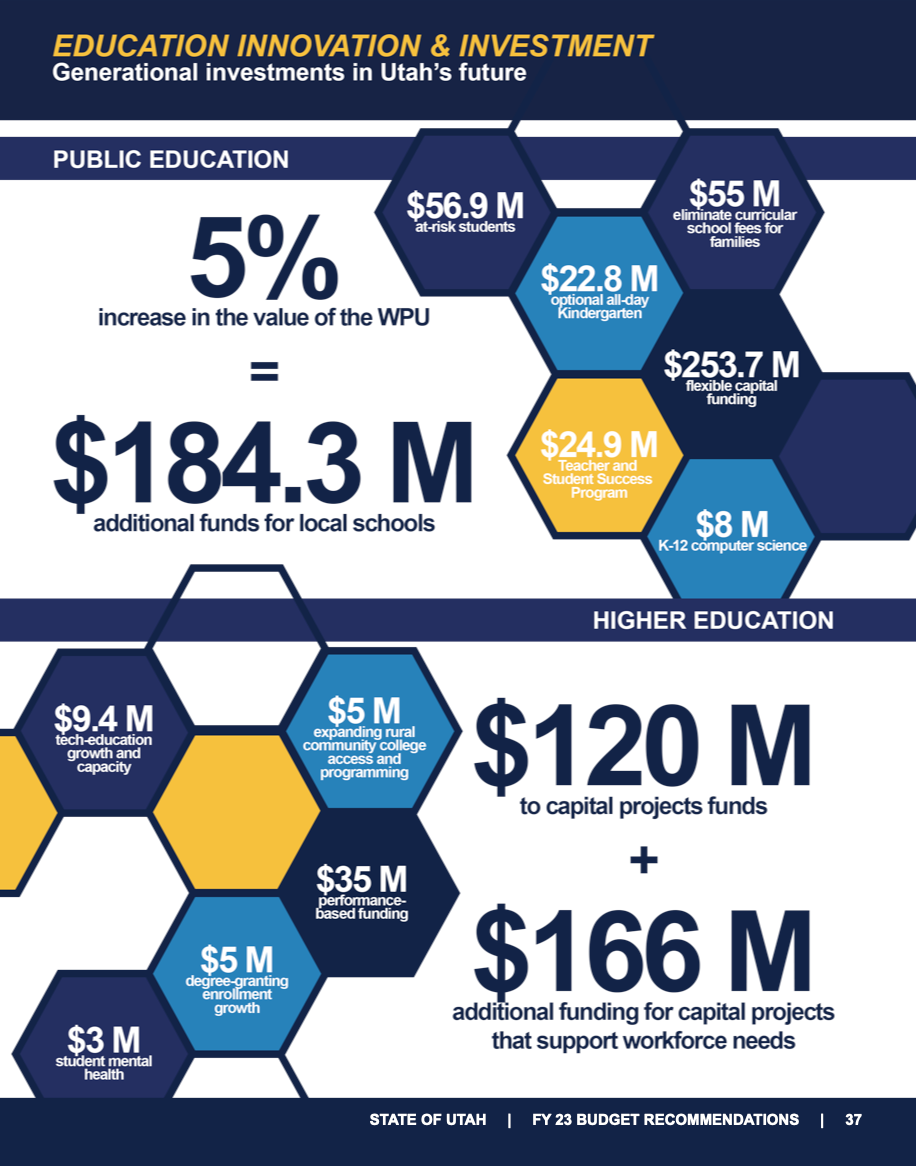 Again – Bravissimo!
---
III.  Student Mental Health Concerns.
Additionally, though not highlighted or called out in the FY23 Budget Book, is a recommendation to allocate $3 million toward student mental health for those who attend public colleges/universities within the state.
As Lt. Governor Deidre Henderson explained during her portion of the presentation on Antelope Island, a national study conducted in 2019 found that
57.8 percent of students attending public universities/colleges in Utah felt that things were hopeless at some point during the prior 12 months.
That figure is shocking!
To be clear, this research was conducted BEFORE the negative morass of the global Covid-19 pandemic.
To this address this huge concern, the Cox-Henderson FY23 Budget sets aside $3MM for
Mobile crisis units, and
Peer-to-peer counseling services.
Bravo!
I just wish the amount pegged was higher.
---
IV.  When it Comes to Lifestyle, "It's the Environment, Stupid!"
As a non-native, yet someone with deeps ties to the State of Deseret, it's clear that Utah has a lot going for it, not the least of which is its geographical diversity and beauty.
Whether we're talking
The "Greatest Snow on Earth" or
The Mighty Five national parks that grace our state or
Numerous Blue Ribbon Fisheries (including Lake Powell and the Provo River, among others) or
The Slick Rock trails of Moab or
The Great Salt Lake and
On and on and on,
Utah clearly is a great place to live.
And in great part, it is the beauty of Utah's geographical diversity that contributes to what is seen by many as a great lifestyle opportunity for those who live here.
Hence, protecting what we have (both for current use and future generations yet to come) becomes hugely important.
In other words (and with apologies to political advisor, James Carville),
It's the Environment, Stupid!
So when Gov. Gox decides to hold his FY23 budget unveiling on Antelope Island, I applaud his choice as it serves as a not-so-subtle reminder of the environmental impact the Great Salt Lake does have on all of Utah and not just the Wasatch Front.
To this end, the proposed Fiscal 2023 Budget of the Cox-Henderson administration recommends spending $520 million on water infrastructure, planning, and management, with
$200MM earmarked for Secondary Water Metering,
$90MM targeted at Drinking Water & Water Quality projects,
$50MM for Optimizing Agricultural Water Usage,
$46MM for Protecting the Great Salt Lake, and
$25MM for Rehabilitating Utah Lake.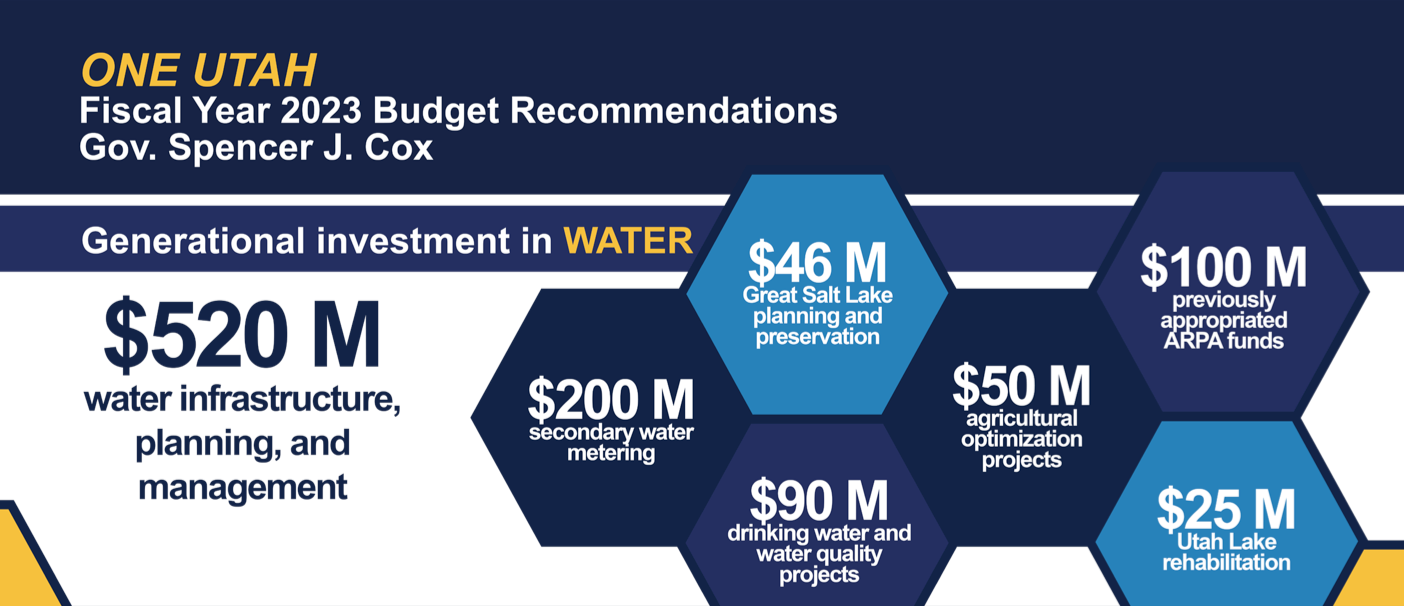 As residents of the second driest state in the country, all Utahns should be concerned about, and have a hand in, protecting and stretching our water resources.
That's why I feel Gov. Cox and his administration should be applauded for these efforts to focus the legislature even more on water matters within the state.
---
V.  Trains, Planes, and Automobiles
Interestingly enough, Gov. Cox provided very little focus on Utah's transportation needs during the press conference.
And beyond a few short mentions in the written budget proposal, transportation infrastructure had minor emphasis as well.
But as noted in our write-up three weeks ago titled "Utah is Flagged for $3.6 Billion in Fed Dollars for Roads, Bridges and Infrastructure Spending," the state will be spending a fair amount of money on roads, highways, bridges, airports, trains and more during the next five years and beyond ... courtesy of some of the Fed Gov largesse suggested earlier in this piece.
So whether such transportation infrastructure got de minimis coverage in the 2023 budget proposal or not, it's still a big, big deal to me.
And to Utah.
---
VI.  Why Are We Still Paying Taxes on Food?
Last of all, the proposed Cox-Henderson FY2023 Budget recommends implementing a Grocery Tax Credit as a way to benefit the most amount of Utahns.
As shown in the graphic below, the state goes to some effort to highlight how citizens will get the most benefit if the state implements said Grocery Tax Credit.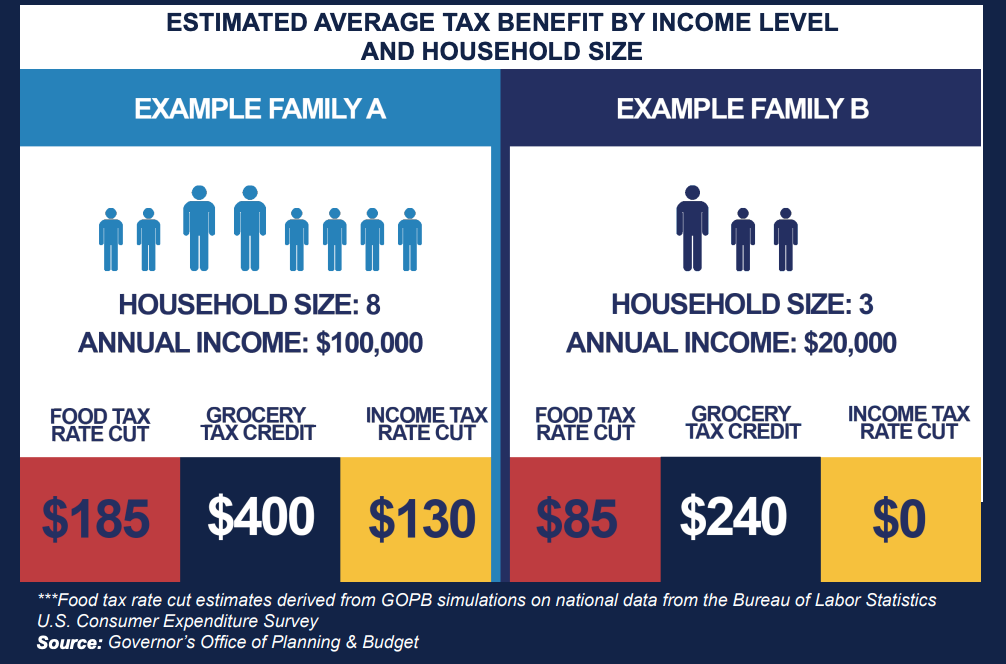 So I've got a question.
Rather than "return money to those who need it most" (as Governor Cox said during his Antelope Island press conference), why take the money out of our pockets in the first place?
Personally, I think grocery taxes are asinine and should be eliminated altogether.
And the idea that a government should keep my money for 12 months or more and then return some or all of it to me after it's collected interest on it for the entire time? Nah. No thanks.
That said, I don't think the Legislature has the cajónes to eliminate Grocery Taxes altogether.
So if that's the case,
Shame on them ... yet ... they should
Pass a Grocery Tax Credit anyway.
It'll be a bit like kissing your cousin, but it's better than nothing.
---
Six Highlights from the Proposed FY 2023 Budget
In summary, I believe Utah's proposed Fiscal 2023 Budget has six areas that deserve special attention:
Saving for a Rainy Day
Education
Student Mental Health
The Environment
Transportation
Grocery Taxes
But what do you think? And I off-base here?
Or did I give too much emphasis to one area versus another?
I look forward to your feedback.