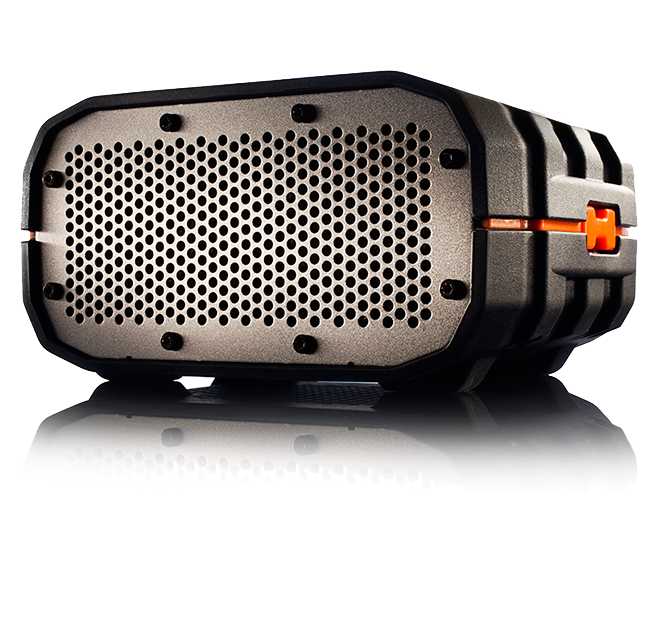 By Joey Ferguson
The Battle Ready Vehicle (or BRV) by Braven[/caption]
PROVO — Braven is taking on competitors Bose and Jawbone as it works towards the perfect speaker. So far its making a strong case after selling 100,000 units in the first seven months.
Since launching its first product line in June 2012, Braven, makers of portable wireless speakers, is in 35 different retailers and 30 countries. The speakers are priced from $119 to $299.
"Any company, to maintain its competitive advantage, must incessantly continue to design and innovate and drive that rapidly," Warren Osborn, chief executive of Braven, in a phone interview. "That's one of our huge competitive advantages. We're innovating and developing at a very rapid rate."
Bose, Beats by Dre, Jawbone, Zagg and other companies have introduced portable speakers to their product line.
The company launched two products this year: The 570 model and the "battle ready vehicle," or BRV — a nearly indestructible water-resistant speaker.
As more competitors enter the portable bluetooth sound market, Braven executives, like chief executive Warren Osborn, believe their speakers can compete as a high-end player in the space.
Braven speakers are more of a high-end option versus their competitors, Osborn said.
"It's very much like the Apple to the generic PC model," Osborn said. "We're like the Apple. The hardware is better. For the same amount of money spent, you're getting a lot more with Braven."
"We're doing almost as much out of the U.S. as we are in the U.S.," Osborn said. "We're exploding in exports. We just launched Japan in January and they are just taking off."
Braven plans to launch a number of new models by the fourth quarter of 2013, including an 8 series and a larger version of the "BRV" capable of charging an tablet.
"We believe [the series 8] will be the best acoustics in its class," Osborn said.
The series 8 will come out this month.
The company positioned their speakers to target high-tech consumers who use mobile devices.
"Our highest concentration of users are probably 15 to 40" year old, Osborn said. "Braven is the perfect partner for that mobile device. Braven was invented and created to solve the mobile device's biggest weakness and shortcoming, and that's its audio."
Braven is made up of 19 employees and is looking to expand its workforce. Nearly half of its employees are in product development, while the rest are marketing and sales.
It just completed a hiring round for engineers and now the company is looking to hire sales and marketing professionals, Osborn said. They will also add some interns.