by Danielle Scarpa, Analyst | Talent, Communication & Change Management and Ryan J. Patschke, Senior Director | Talent,
Communication & Change Management, Willis Towers Watson
Over the past year, employees have learned to work in new environments, think in new ways, and adapt to new styles of teamwork and productivity – employees are emboldened with more choice than ever. They have higher expectations for growth, demand geographic flexibility, and strive for better work/life balance and wellbeing resources.
Employers everywhere are feeling pressure to understand the experiences, needs, and struggles their employees face, and develop strategies for improvement. As companies transition to new ways of work, the number of U.S. organizations making improvement of the employee experience a top priority has surged, according to our recent Willis Towers Watson Employee Experience Survey. We found that more than nine in 10 employers (92%) said enhancing the employee experience will be an important priority at their organization over the next three years compared with just 54% that indicated it was important to their organization prior to the pandemic. And with good reason. Most respondents believe a positive employee experience is a key driver of engagement (82%), employee wellbeing (79%), productivity (79%), and ability to attract and retain talent (80%).
What EX Means to Us
The pandemic created a stress test that affected both the business and human experience. Within the course of weeks, businesses were forced to adapt to new ways of work that would have traditionally taken decades of evolution. Our approach to this stress test focuses on the long term, drawing on our deep understanding of people and culture with design solutions rooted in behavioural science and technology.
Employee Experience (EX) refers to the intersection of touchpoints and moments that matter in the employee-employer relationship. Our holistic approach encompasses the people, the purpose, the work, and the total rewards of the business. Using a data driven approach to understanding EX trends, we collaborate with clients to develop the most precise, effective, and transformative strategy to bring on positive change. Hallmarks of those with a thriving EX continuously strive to understand employee needs, adopt communication channels specifically designed to drive behavior change, and use technology and tools to ensure employees are getting the most out of their benefits.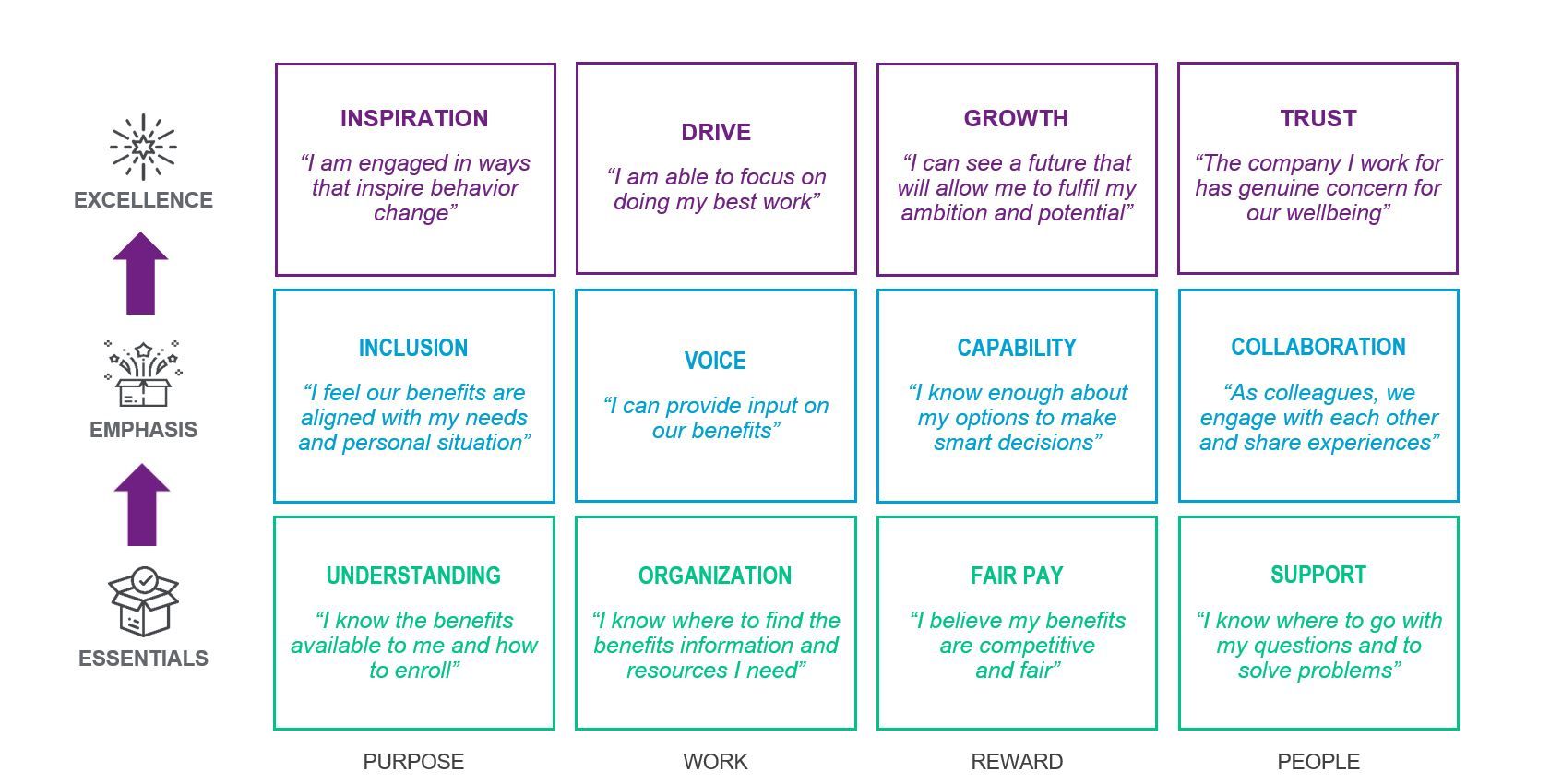 A Structured and Forward-Looking Approach: The HPEX Model
WTW's High Performing Employee Experience (HPEX) model is our guide for navigating opportunities in Employee Experience. This model includes 12 components of a high-performance EX that can be used to measure what stage an organization is currently in and help identify where to focus strategy and development efforts (see figure 1). When companies get EX right, they see better returns across the board – in employee engagement and profitability. Those determined to be performing at the excellence level have a +7% three-year change in gross profit margin. HPEX organizations outperform their peers for top-line growth, bottom-line profitability and return to shareholders.
Companies performing in the excellence categories have leaders that demonstrate integrity empathy, care, and support. They train managers to be resilient, support employee wellbeing, help employees focus on a more optimistic future, and more. Using this model, WTW partners with our clients to develop a unique strategy through thoughtful integration of digital solutions, behavioral science, and stakeholder synchronization. The current data paints a compelling picture about how employers will be called to refocus their understanding of Employee Experience in order to keep up with the demands and needs of a changing world.
2021 & Beyond: What changes to EX will we see coming out of the pandemic?
Today, we are positioned in a golden age of Employee Experience. Reinventing work/life balance has never been more important. WTW strives to help guide and propel organizations through this time of change and into our new normal. There are several key priorities we have identified for driving growth through the HPEX model. In looking forward, these five factors are achievable with some bold steps by those who are willing to invest in the future of their employee experience and pioneer EX innovation in a post-covid world.
Adapt to flexible work: The transition to flexibility and work-life balance will be imperative in the coming years. 73% of organizations have identified flexible work as a priority for the next three years, yet there is a gap in readiness to implement these changes. Only 56% of organizations are flexible with where/how work gets done, and only 50% are in the process of reimagining their policies. Organizations with a strong EX strategy are focused on redesigning programs and policies to align with high demand skills and adding new programs that address the desire and need for workplace flexibility. They are more than 2x as likely as other organizations to be prepared to design a talent ecosystem encompassing alternative work models and shape strategies that address the job reinvention, reskilling and talent redeployment that we are seeing across many organizations.
Rebalancing EX programs: Those with EX in mind are looking to optimize programs that address the shifting needs of the workforce, like taking steps to deliver fair pay, thinking of employee cohorts and their needs in less traditional ways (e.g., working mothers) and embedding I&D into their human capital strategies. Employers must be reinvesting in wellbeing and rethinking what this means for their unique employee population. Those with transformative EX strategies will be looking at employee satisfaction with benefits as a top 5 metric because they understand the importance of Total Rewards, particularly benefits, when shaping the EX. Reassessing these EX programs and perspectives on wellbeing will be extremely critical in pushing forward EX and allow employers to better reflect the unique, diverse needs of employees.
Equip leaders and managers: One that may seem obvious but will have a significant impact in determining a company's ability to drive EX forward, is their focus on equipping leaders and managers to lead through change. All organizations – from those with an undefined EX to Transformative EX – viewed supporting and leading through change as important. Ownership of the EX change agenda for most organizations sits at the top of HR – at the CHRO/SVP/Director level. Fortunately, only 22% reported lack of senior management support as a challenge. Yet only 25% of organizations say their senior leaders' effectiveness at managing change is a major strength. Proactively supporting and leading through change will be crucial in transforming EX. The need is clear: Leadership competencies and change capability are key as they build their change muscle and withstand future stressors/challenges.
Reconnect with employees: When asking how to reconnect with employees, we can look at what the "strongest" EX organizations have done. 79% focus on understanding employees and listening to their needs, as well as customer needs. Many (67%) are adopting effective communication strategies specifically designed to drive behavior change. They accomplish this by using technology and tools that provide more streamlined communication and analytics to truly determine how effective change efforts are, as a result this helps employees get the most out of their benefits. The future of business will require employers to understand, listen to, communicate with and engage employees.
Build an integrated EX strategy: And last, but certainly not least, our research shows that organizations need an integrated EX strategy that connects with their business strategy and is fueled by technology. The synthesis of business strategy and digitization, working together to build upon each other, will be crucial in producing the highest levels of transformation in coming years. Currently only 9% of organizations have achieved this status, but 2 out of 3 say use of digital technology will transform EX in 3 years. We understand where the future of EX is headed, and the path to success for each organization will require its own unique strategies, technology, and solutions. The four focus areas we just talked through are important but will only be effective if you're aligning your EX strategy to your business strategy – and enabling it through technology.
About Willis Towers Watson
Willis Towers Watson (NASDAQ: WLTW) is a leading global advisory, broking and solutions company that helps clients around the world turn risk into a path for growth. With roots dating to 1828, Willis Towers Watson has 45,000 employees serving more than 140 countries and markets. We design and deliver solutions that manage risk, optimize benefits, cultivate talent, and expand the power of capital to protect and strengthen institutions and individuals. Our unique perspective allows us to see the critical intersections between talent, assets and ideas — the dynamic formula that drives business performance. Together, we unlock potential.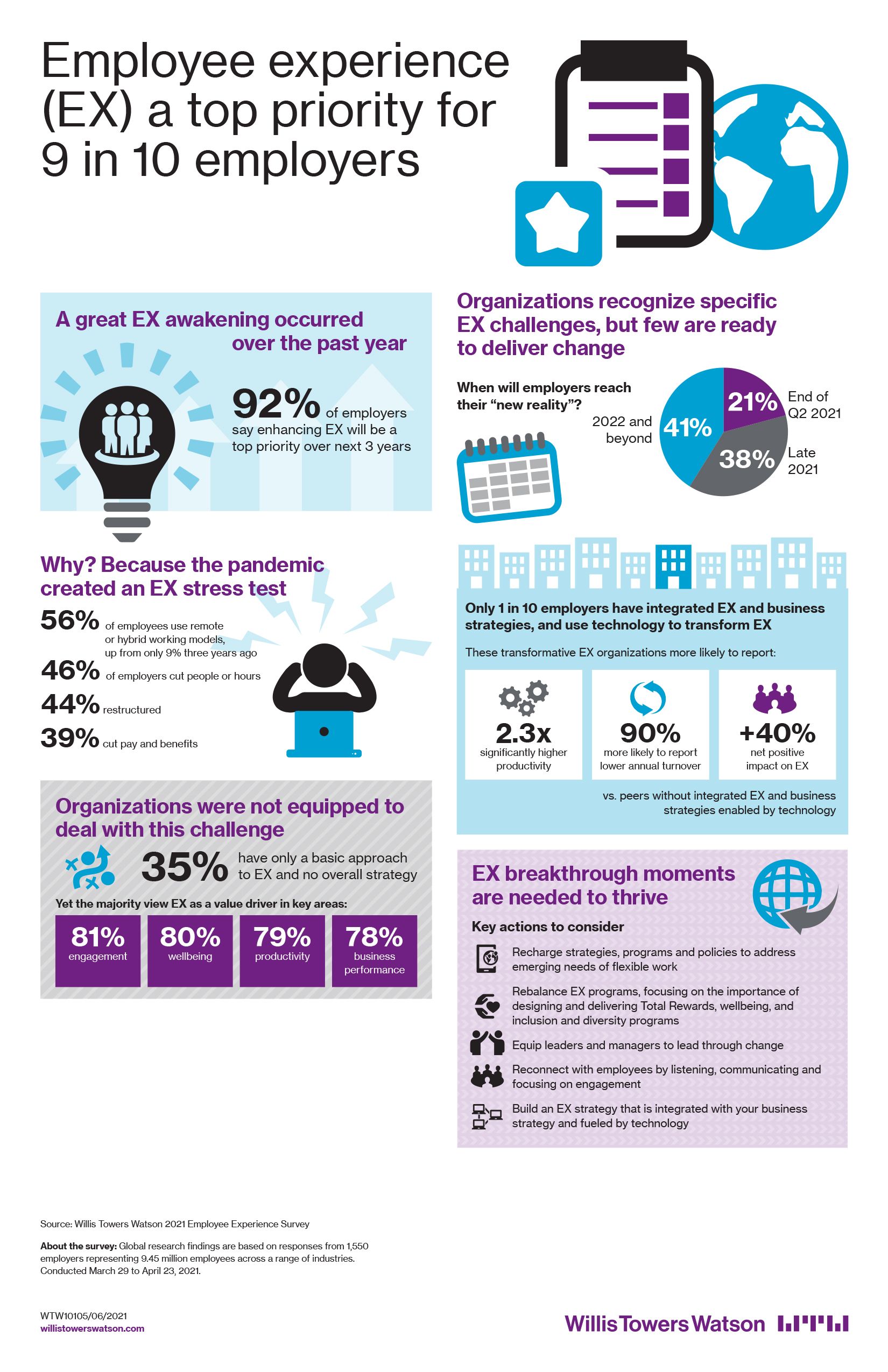 ---
Hi! The Silicon Slopes team is interested in your feedback. We are asking for a couple minutes to quickly provide feedback on our Silicon Slopes quarterly magazine publication. Click HERE and share your thoughts with us. Your responses will help us improve. Thanks!
---
*Read the latest issue of Silicon Slopes Magazine, Summer 2021