by Andrea Moss, CEO, Nelnet Bank
Utah has always had a vibrant and thriving banking community that supports expanding access to capital in new and innovative ways. I started my career in public accounting and quickly settled into the financial services industry and eventually began my banking career by 2005. Here in Utah, I have found the banking community supportive and very passionate about all the good that banking does for its customers and its surrounding community. However, since the financial crisis of 2008, a regulatory moratorium was passed that stopped all new expansion in Industrial Loan Company (ILC) banking charters. ILC charters are unique in that they allow commercial firms to offer lending and deposit services while continuing to maintain their core non-financial business units.
Coupled with regulatory moratoriums, negative perceptions and economic uncertainty effectively grounded this once vibrant sector of the Utah banking industry. At its height the ILC charter was the charter of choice for over 25 institutions. During the next 10 years the numbers shrunk to less than 14, despite their ability to perform better than community banks and national banks with strong capital and few shutdowns during the financial crisis.
In 2016, with the change in administration at the CFPB and a new FDIC Chairwoman, the ice began to thaw and new applications seemed possible once again, but with quite stringent requirements. I was watching from the sidelines interested in what this might mean for Utah and the future of banking when I received a call asking if I would be interested in learning about a company seeking the coveted new charter. I couldn't resist the urge to know more. Who is interested in banking here in Utah, what kind of company are they, what have they done to prepare, and what are their goals?
To my delight I was introduced to Nelnet, Inc. and little did I know what a journey we would soon be on together. Nelnet is one of the nation's largest loan servicers with a diverse, expansive history serving the needs of K-12 and higher education. Nelnet's pursuit of an ILC banking charter was a strategic play that will enable the company to meet growing demand for paying for education while continuing to operate the payment processing and service businesses that cement their relationship to education.
After meeting their executives and learning more, I joined Nelnet in July of 2018 and began working at once on the charter application for Nelnet Bank. I solicited and gathered guidance from regulatory agencies, hired a management team, and structured the resources of Nelnet to give us the best chance of being granted the first ILC charter since 2008. With the last board seat filled in early November of 2019, we were finally ready to submit our application to the FDIC and the Utah Department of Financial Institutions.
Without a doubt, creating the bank management team was the most rewarding part of this journey. Over my career I have worked with many talented individuals and I knew I wanted the best with a mix of banking, Nelnet company background, and technical expertise. This bank would be a start up in the strictest sense – creating a digital-only bank that leverages modern technology and secure banking principles. I needed a leadership team with a passion to win and excitement about a unique opportunity to start something from the ground up.
But just as importantly, I wanted to pick people that I liked. When do you get an opportunity to hire not just one person, but to surround yourself with people you enjoy working with every single day? I started making phone calls and soon had a dream team lined up. I am immensely proud of the fact that, of our senior team consisting of eight officers, five are female. Although COVID-19 has kept us isolated, we have begun to build something truly special. Each leader is an expert in their field with both the experience and desire to contribute to our fast-paced culture.
All eyes were on Nelnet. The indicators were strong that we were qualified to lead the way for new ILC charters. Nelnet was already a well-regarded financial services company with deep experience in student lending and servicing, investment-grade conservative principles, and roots in banking. The general consensus was that Nelnet had all the requisite underlying business principles that met the strenuous standards, but timing is everything.
The Nelnet Bank Leadership Team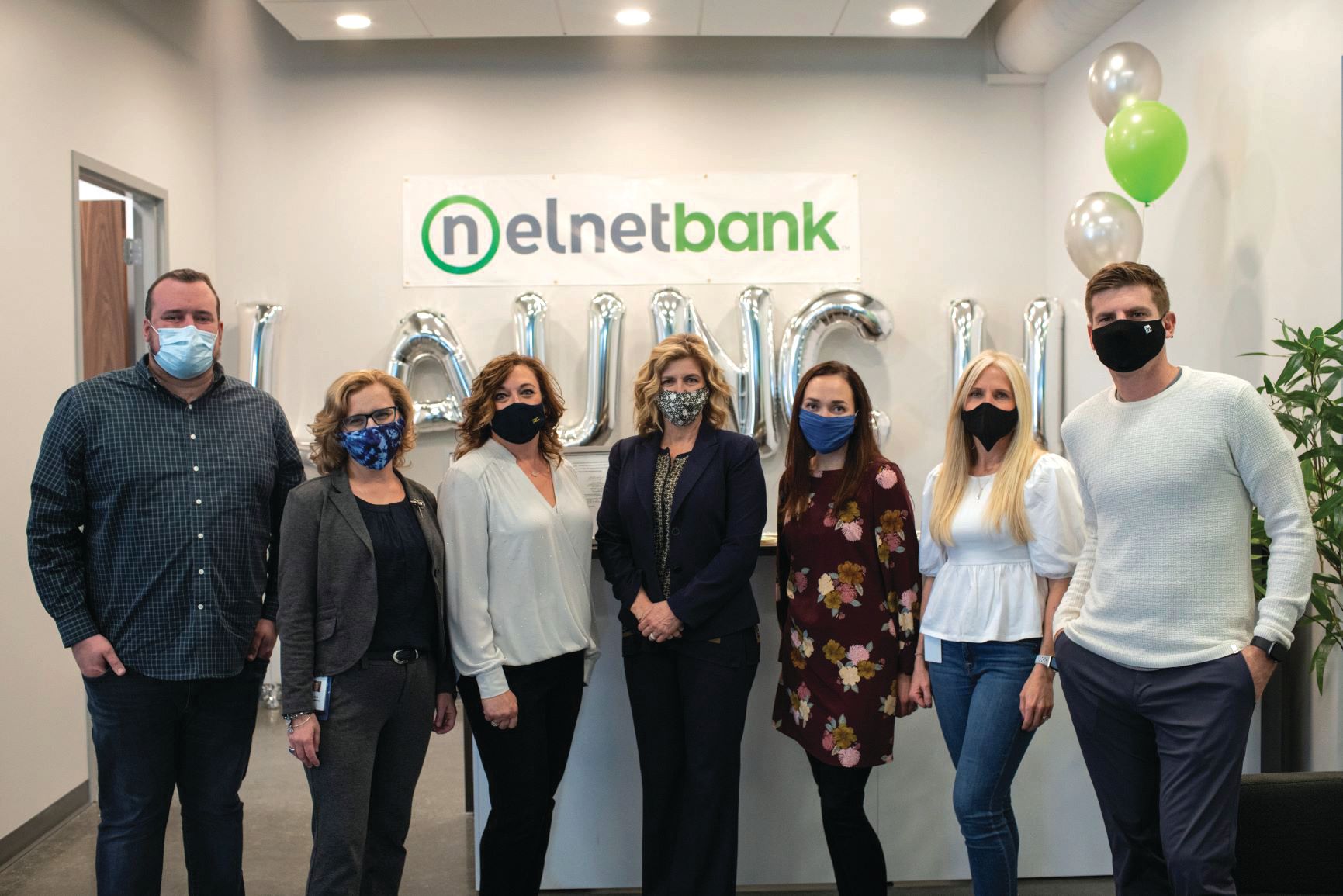 Pictured from Left: Heath Roehr – Chief Technology Officer, Julie Buchholz – Chief Operating Officer/Community Reinvestment Act Officer, Cindy Fulton-Serrano – Chief Financial Officer/Treasurer, Andrea Moss – Chief Executive Officer, Lauren Chapman – Chief Compliance Officer, Jennifer Mackintosh – Chief Risk Officer, Mark Heiser – Chief Development Officer. Not Pictured: Rob Pedersen – Chief Credit Officer
Nelnet was the third in line to submit a final application and the first to reach operational status (one applicant has withdrawn and one is still awaiting launch). I will never forget the morning of March 18 when I woke up to both a 5.7 magnitude earthquake in the Salt Lake Valley and the phone call announcing our unanimous vote for conditional approval.
Hooray! We paused for a moment to celebrate (virtually due to COVID-19) and then the real work began. We had one year from conditional approval to ready ourselves for regulator review and launch. We had to align and stand-up systems, products, integrations, vendors, board meetings, regulatory frameworks, policies, and operations. Just a few months into the COVID-19 pandemic, we saw first-hand the instability that can shock our industry. Fortunately, this shock reinforced the need to have well-funded and regulated sources of education financing that Nelnet Bank would provide. While others pulled back, we redoubled our efforts to get to launch as soon as possible. On November 2, just eight months after conditional approval, we became the first Industrial Loan Company to begin operations in 12 years.
What an incredible journey this has been from application submission to approval, through investigation and examination, and to launch. It's been a satisfying year, but this is just the beginning of our story. We are on a mission to expand financial knowledge and access to education to students and families. Through our dedicated bank technology team and the incredible resources right here in the Silicon Slopes, we have so many more products and services planned and still yet to come. We are excited to be a part of the Utah financial and start up communities.
---
Hi! The Silicon Slopes team is interested in your feedback. We are asking for a couple minutes to quickly provide feedback on our Silicon Slopes quarterly magazine publication. Click HERE and share your thoughts with us. Your responses will help us improve. Thanks!
---
*Read the latest issue of Silicon Slopes Magazine, Winter 2020