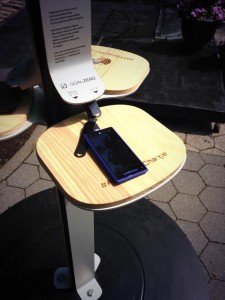 By Joey Ferguson
Photo: GoalZero via Twitter
BLUFFDALE, Utah — Goalzero is teaming up with AT&T and Brooklyn design firm Pensa to install solar charging stations for mobile phones throughout New York City, according to an e-mailed statement form the company.
The charging stations, called Street Charge, will debut today with one unit in Fort Green Park in New York. Other units will be installed over the summer.
"We're excited to team up with AT&T and Pensa to help make New York a little greener and solar power a little more accessible," said Joe Atkin, President and CEO of Goal Zero, in a statement.
Street Charge will feature built in USB ports and charging tips for pedestrians who need to charge their phone. The stations have the potential for lighting, Wi-Fi and signage in the future.