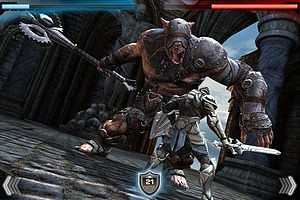 By Joey Ferguson
A screenshot showing combat in Infinity Blade. The character's and enemy's health bars are at the top of the screen, the dodge buttons are at the bottom left and right, and the shield icon is in the bottom center. (Photo credit: Wikipedia)[/caption]
SALT LAKE — ChAIR Entertainment Group added two million users to its popular "Infinity Blade II" game on the first day of Apple's App Store anniversary week.
"Infinity Blade II," the sequel to the award-winning "Infinity Blade" iOS gaming app, was made free on the App Store as part of the mobile market's 5-year anniversary celebration.
Prior to the free promotion, the game had 40 million users.
The Utah-based game developer expects to add 10 million users by the end of the week.
"This represents an opportunity to get the game out to an even wider audience," Donald Mustard, founder of ChAIR, said in a phone interview. "It keeps the brand fresh and keeps people playing the game."