We're building this world-class tech company with amazing potential in Utah with Utah money.
Today, Movement Ventures kills two birds with one stone, officially introducing Boombox to the world and announcing the closing of a $5.5M Series A round, led by Pelion Venture Partners and participated in by Kickstart Seed Fund, Peterson Partners, and various angel investors including Jeremy Andrus (formely Skullcandy) and Aaron Skonnard (Pluralsight).
"Our customers have a long list of requests and they're shouting them from the back of the audience," Movement Ventures CEO Josh Little told Beehive Startups in a recent interview. "We have to be the leading interactive content platform and that's what we're doing with this money. We want to be the toolset you turn to if you want to create anything other than text or pictures on your site or social media feed."
Movement Ventures began as a venture studio in 2013 with hopes of gathering talented individuals, harvesting business ideas, and growing them into successful companies. As it turns out, this was a great plan. The past two years have seen the introduction of two super-popular ideas: Qzzr, an interactive quiz-making tool, and Pollcaster, an interactive poll-making tool. The popularity of Qzzr helped lead to a $2 million funding round in September of last year and placed Movement Ventures squarely on the interactive-content map. That's where Boombox comes in.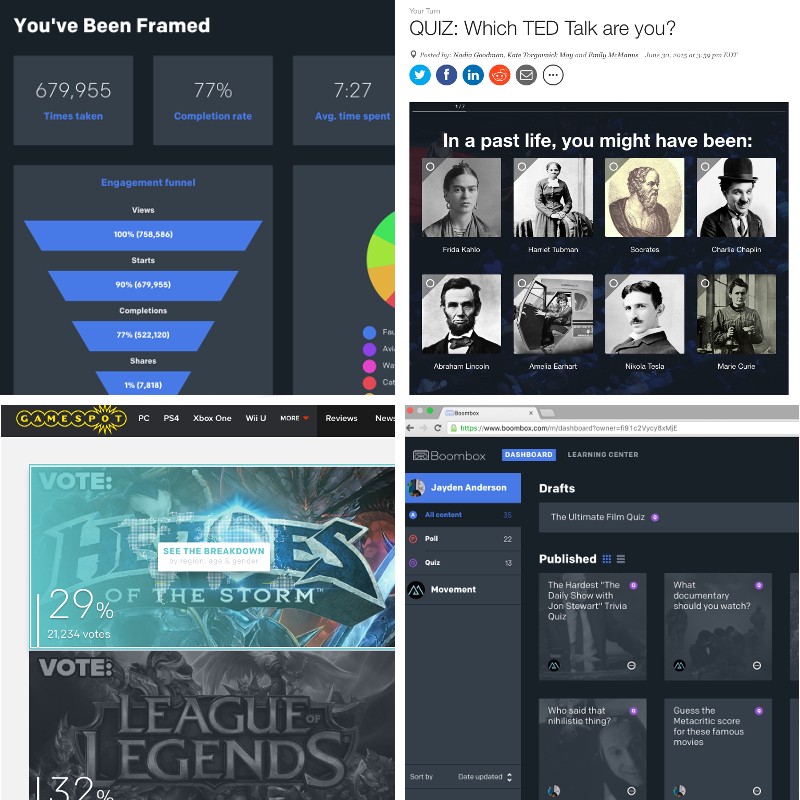 "Boombox is a suite of interactive content tools that allows anyone to get Buzzfeed-like engagement with their own audience on their own site," Little says. "It also comes with all the team and collaboration tools that our large customers are needing now….We think of Qzzr and Pollcaster as products and Boombox as the platform."
Through Boombox, users can experience all the inherent fun that Qzzr and Pollcaster bring to the table, while also being able to create interactive lists and share them on websites or across social media. Additionally, Boombox simplifies the process of collaboration across large companies, providing dashboards on both an individual and team level.
These days, the internet demands interactive content. As more and more sites realize that surviving is all about engaging, the value proposition that Boombox presents becomes crystal clear. 80,000+ brands agree with this line of thinking and with demand growing for the tools necessary to engage an audience, Boombox will grow along with it.
"We're building this world-class tech company with amazing potential in Utah with Utah money," Little says. "We have a Utah-based investment team for our Series A, which is pretty rare and I'm proud to say that."
Published 10/22/2015