NBA teams want to engage fans online, Qzzr is the perfect partner to make that happen.

Professional sports teams are constantly searching for ways to engage with younger fans, the dreaded millennial subpopulation that spends hours and hours swimming inside their phones. Engaging with these potential fans means increasing a team's online presence, providing interactive content that can attract those interested in sports, tech, or both.
You might have heard of the Utah Jazz — they're currently embroiled in a playoff series against the LA Clippers, with a chance to close out the series Friday night in SLC. Exciting times for Jazz fans, to say the least.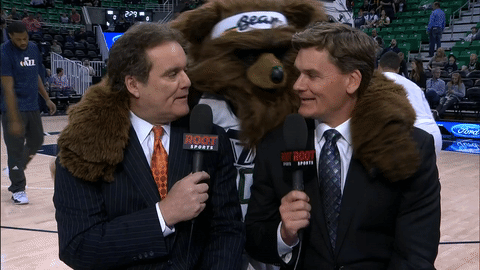 This also means it couldn't be a better time for the Jazz to capitalize on their momentum and engage with fans both new and old. Enter Qzzr, who has formed a partnership with the Utah Jazz and Larry H. Miller Sports & Entertainment to boost online interaction. Visitors to the websites of the Jazz, Megaplex Theaters, and 1280 The Zone can now explore Fan Zones that are powered by Qzzr's interactive polls, quizzes, and lists. So, which member of the 1997 Jazz are you?
"We see the Jazz and Larry H. Miller Sports & Entertainment as the premiere brands in Utah," said Owen Fuller, President of Qzzr. "We're thrilled and honored to work with them to power these interactive experiences online. While we love our worldwide partners, it's especially fun to have this kind of partnership right here in our home state."
Because I'm a kind person and I care about basketball, I'd like to offer a few poll ideas to help cement this Qzzr/Jazz partnership into place, free of charge.
Which Chris Paul trait is more annoying: the incessant flopping, or the incessant whining?
Has Joe Johnson unlocked the secret to eternal life: yes, no?
Which Doc Rivers trait is more annoying: the look of complete disbelief at every Clippers foul, or his insistence on signing bench players who washed up five years ago?
Is Joe Ingles the first player ever to jump straight from a church basketball league to the NBA: yes, no?
Which is more excruciating to watch: any DeAndre Jordan free throw attempt, or the sadness that consumes Steve Ballmer after every Clippers loss?
The Qzzr/Jazz partnership also marks another interaction between Utah's favorite sports team and a notable in-state tech firm, following on the heels of a recent sponsorship agreement between Qualtrics and the Jazz. Up next…Silicon Slopes?!?! Let me dream, people, let me dream.