Contrary to what you might think, real estate doesn't lead the market, it lags. If you are bearish on what 2021 will bring because of America's political atmosphere or health crisis, there is some good news. On a list of emerging real estate areas in the United States published by PricewaterhouseCoopers, Salt Lake City (incorporating everything between Salt Lake City and Provo) is the only city outside of Texas and west of the Mississippi river in their top 10. We have not just consistently been at the top of their list, we have trended up their list. Because of this, we have great reason to be bullish and optimistic about Utah's Real Estate market's future.
At the beginning of the year, there was over 7 million square feet of industrial construction happening in Salt Lake City. That was an all time high, more than twice what the Salt Lake area had under construction at the end of 2018. Salt Lake City already has an amazing infrastructure in place, and can accommodate major growth in multiple industries- including the tech sector. With the tech industry on the rise and because of this already present infrastructure, Utah's commercial, industrial, and residential market has proven to be resilient.
"A lot of times in the industry, especially at a firm like ours, there are a few different hats that people wear," says Dave Bauman of CBRE. "There are the occupiers of real estate, or in other words the tenants. There are Investors of real estate; they are the ones building the buildings and providing space. Those are the two main categories of what's going on in the buildings. Then you have financiers, the men and women who are lending the money. There's management, the people who are keeping the lights on, clearing the snow out of the parking lots, those day-to-day tasks. And then there's others as well like furniture and those who decide on how the space is used, etc. There are all these different perspectives, and technology has and always will influence how these different perspectives interact."
Real Estate, according to CBRE's Director and Principal Broker Lloyd Allen, is ripe for disruption when it comes to technology. "Speaking in general terms, real estate has been underserved by technology. Everyone is learning that the office isn't necessary for task work, but it is helpful in collaboration, culture and retention. When working remotely, creativity, synergy, and other aspects of productivity take a dive."
So how can business leaders be prepared for making the best real estate decisions for their teams for 2021? A few suggestions:
Embrace tech. Covid has been an accelerator for technology adoption. Organizations who can adapt quickly to ongoing changes and updates to real estate operations, will thrive.
Keep a physical workspace. Remote is great, but don't underestimate the importance of a physical space. Teams and individuals still thrive meeting in person and collaborating one with another. Leaders should anticipate this and have options available for a physical meeting space.
Stay Positive. Don't let fear of the unknown send you into a panic. Pivot, adjust, be willing to change if needed.
The Salt Lake valley is the crossroads of the west, and we have so much potential for industrial, multifamily, and commercial real estate. There's room for growth, and with that brings opportunity and industry to an already thriving state.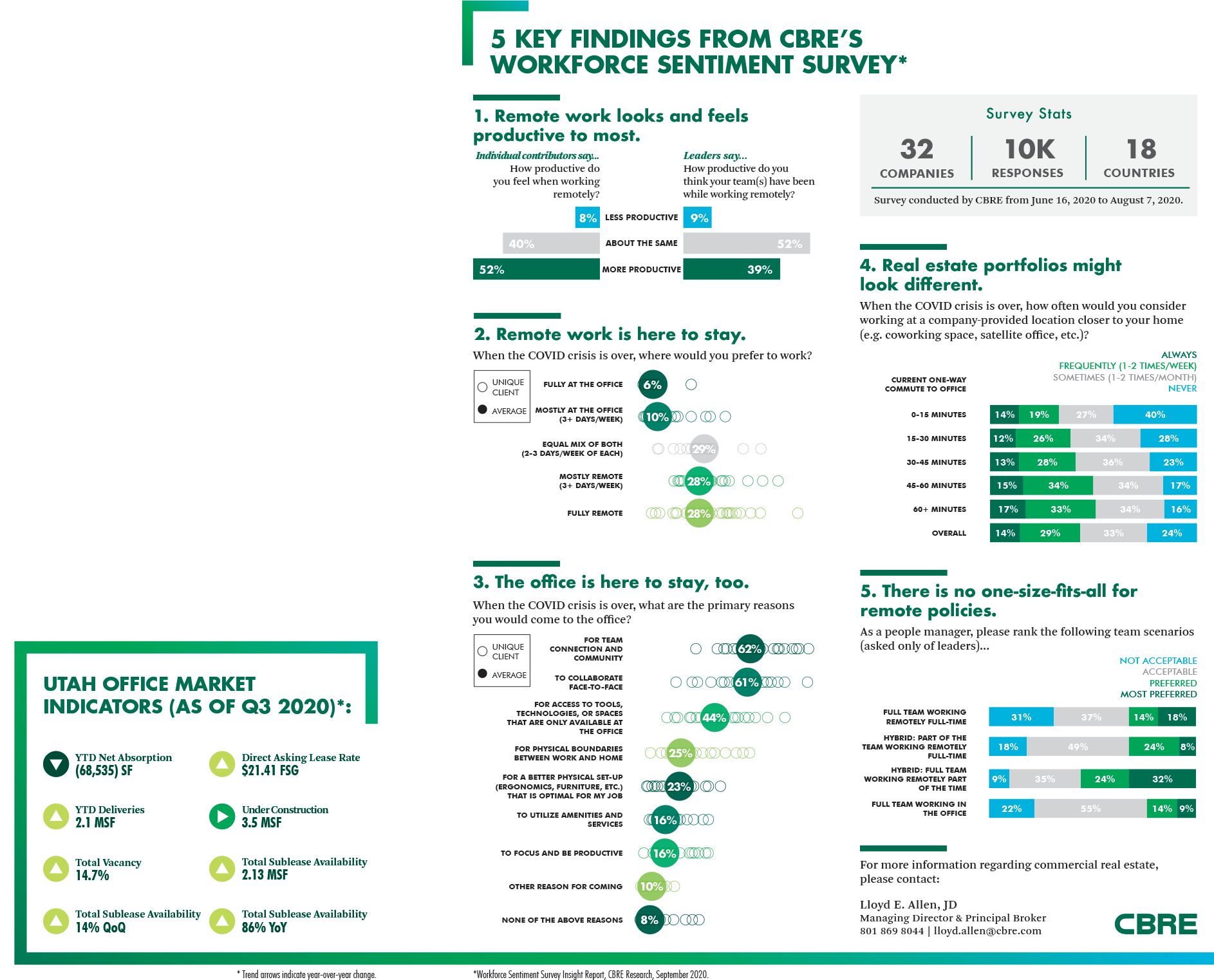 ---
Hi! The Silicon Slopes team is interested in your feedback. We are asking for a couple minutes to quickly provide feedback on our Silicon Slopes quarterly magazine publication. Click HERE and share your thoughts with us. Your responses will help us improve. Thanks!
---
*Read the latest issue of Silicon Slopes Magazine, Winter 2020