Just when we were ready to "settle down for a long winter's nap," along comes Logan, Utah-based Blackstone Products to put a stop to such nonsense.
Specifically, Blackstone announced early yesterday morning that it is merging with Ackrell SPAC Partners (NasdaqCM:ACKIU), a publicly traded "blank check" company established specifically with the purpose of raising money via an IPO and then merging with an operating company.
And in this case, the operating company is Blackstone.
---
The Case for Blackstone as a Publicly Traded Company
Formed in 2008, Blackstone claims it is
"... fundamentally redefining how people cook outdoors."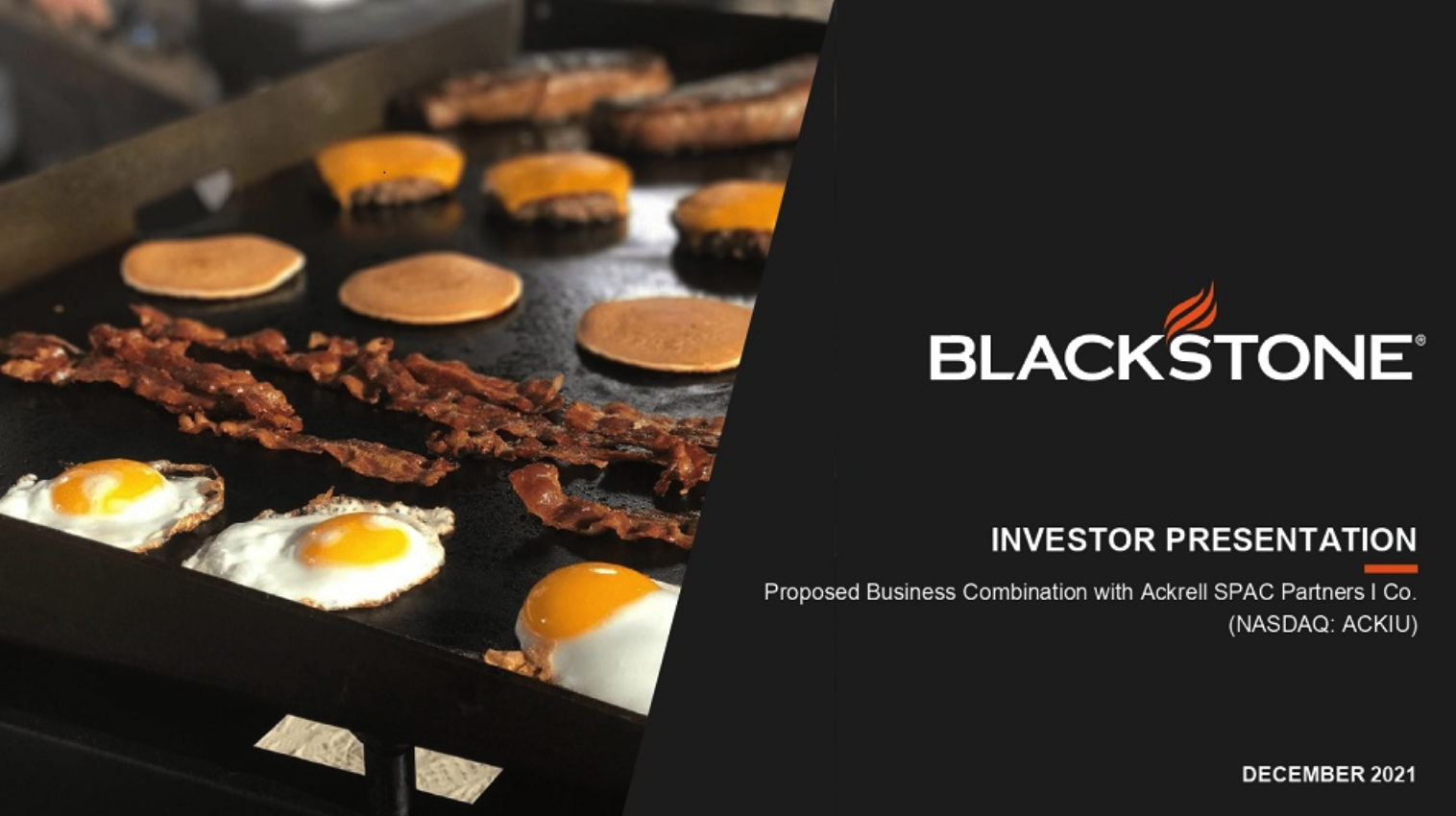 Blackstone specializes in
Outdoor Griddles (which account for 75% of the company's estimated 2021 revenue);
Branded Accessories (which account for 21% of the company's estimated 2021 revenue); and
Branded Consumables (which account for 4% of the company's estimated 2021 revenue).
And as far as revenue goes, Blackstone's Investor Presentation shows that the company projects net revenue of $458 million for 2021 (ending December 31).
As noted above, the vast majority of Blackstone's revenue is derived from the sale of 19 different griddles, ranging from 17-inches up to several 36-inch models, systems capable of simultaneously cooking
16 steaks,
28 burgers, or
72 hot dogs
while pumping out up to 60,000 BTUs for what the company describes as
"... full-sear ... truly epic meals."
According Burshek Research & Consulting, Blacktone currently owns 80% of the U.S. outdoor griddle market, which (on the one hand) might be considered a bad thing.
Except that Blackstone says it's only sold ~4.1 million griddles in the U.S. from 2016 through 2020, giving it a mere 6% penetration within the 66 million households in America that it defines as its SAM (aka, Servicable Addressable Market).
Bottom line, with projected revs of over $450 million this year, Blackstone feels its potential upside is a lot bigger. In fact, much, much bigger.
Current retail prices for Blackstone griddles range from $79 up t0 $999, with its products sold both online and in such major retailers as Ace, Amazon.com, Camping World, Dick's Sporting Goods, Lowe's, Tractor Supply Co., and Walmart (just to name a few).
---
Impressions from an Occasional Outdoor Cook
To be clear, unless we were off camping somewhere, my family rarely cooked outdoors when I was growing-up in northern California.
In fact, if memory serves me well, I didn't own my first outdoor cooking setup until I was a 25-year-old college kid and mustered up enough cash to purchase an inexpensive charcoal grill.
Today, we own a fairly inexpensive, three-burner, no-name propane grill that I think we used less than half-a-dozen times this year.
I share this background merely to affirm the fact that I clearly do not come close to approximating an outdoor cooking connoisseur by any stretch of one's imagination.
And to be honest, before I read the news release yesterday afternoon, I had no idea Blackstone even existed, let alone that it expects to surpass $450 million in sales this year.
But after reading the various Ackrell materials filed with the U.S. Securities and Exchange Commission about this pending merger, including the Investor Presentation, I find two things very intriguing about Blackstone.
The fact that Blackstone believes its upside potential is significantly higher than its current projected revenues, and
As shown in the graphic below from Blackstone, the company highlights two things:
The dominance of gas and charcoal grills between 2005–2014,
The emergenge of pellet grills and griddles in 2019, and
Blackstone's projections of dramatic growth in market penetration and usage in 2023.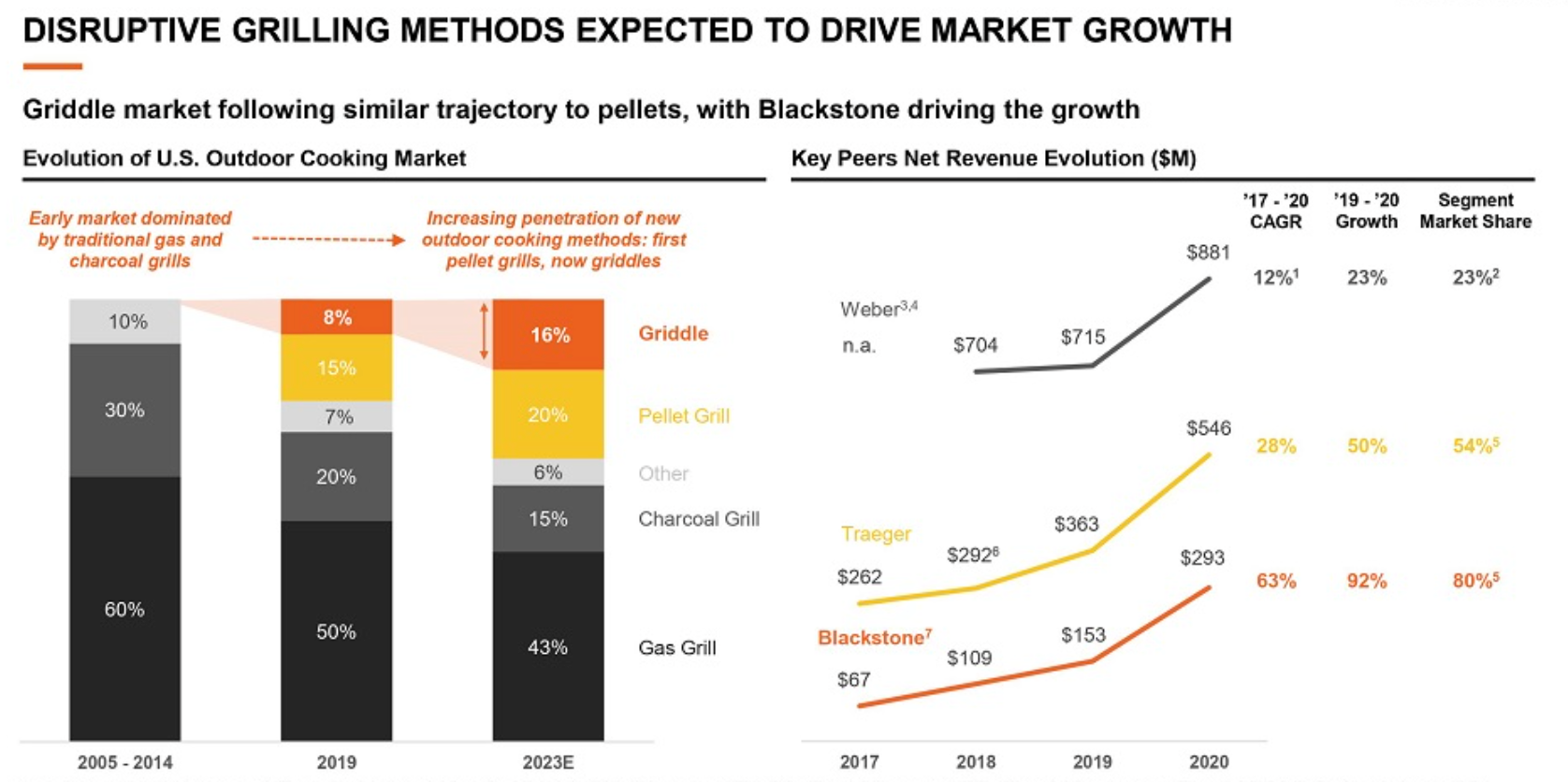 To me, Blackstone's side-by-side comparison with Traeger is clever positioning by the Logan-based firm, especially in Utah (given the proximity of the headquarters of both companies).
But where I think things get especially interesting for potential Blackstone investors is when one examines its projected revenue growth through 2024.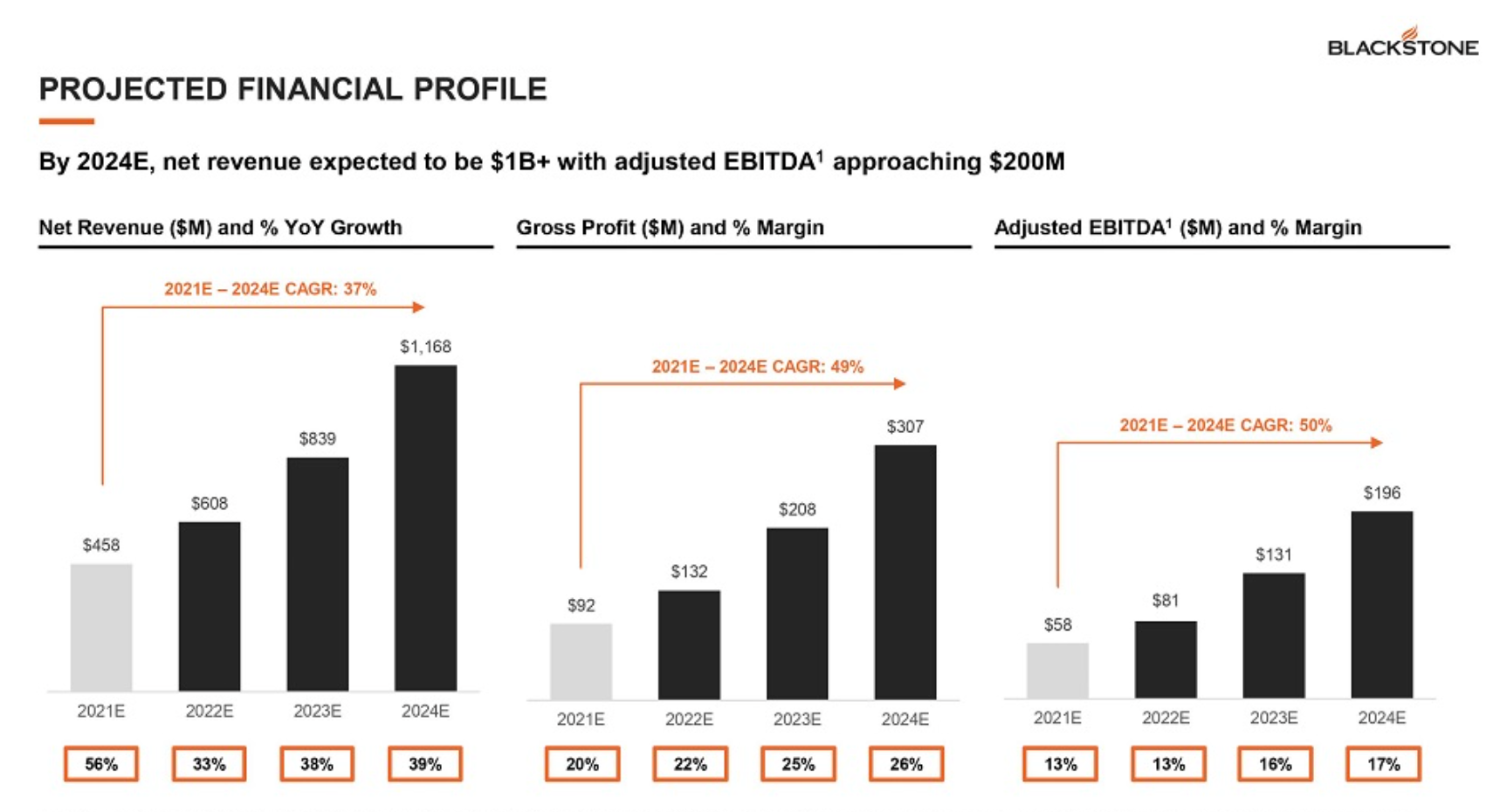 If Blackstone can, in fact, hit $1.1 billion in net revenue in 2024, then the company is easily worth north of $2 billion, probably as early as mid-2023.
---
Conclusion
Clearly, not every announced merger between a publicly traded Special Purpose Acquisition Company (aka, SPAC) and an operating company is successful. And there's no guarantee that this Blank Check merger will occur either.
But if this SPAC-merger does go through (and yesterday's news release suggests the transaction will likely happen in the second quarter of 2022), the parties expect that Blackstone will
Net approximately $95 million after the merger is completed,
Have a Market Cap of roughly $900 million post-merger, and that
Blackstone's shares will trade on the NASDAQ Stock Market under the symbol BLKS.
Totally fascinating to me and unexpected in my book. So good luck to Team Blackstone.
Now what about my
"Not a creature was stirring"
expectation?