Nearly 20 years on, a most unlikely educator and businessman has helped transform the state of entrepreneurship education with the help of a supportive alumnus, visionary administrators, and a willingness to break things.

Although a native Utahn with ties to the University of Utah (his dad played football for the Utes), Troy D'Ambrosio was never supposed to end up an entrepreneur, let alone an educator.
No, being an attorney was his likely professional path after nabbing his bachelor's degree in political science and government from the UofU in 1982.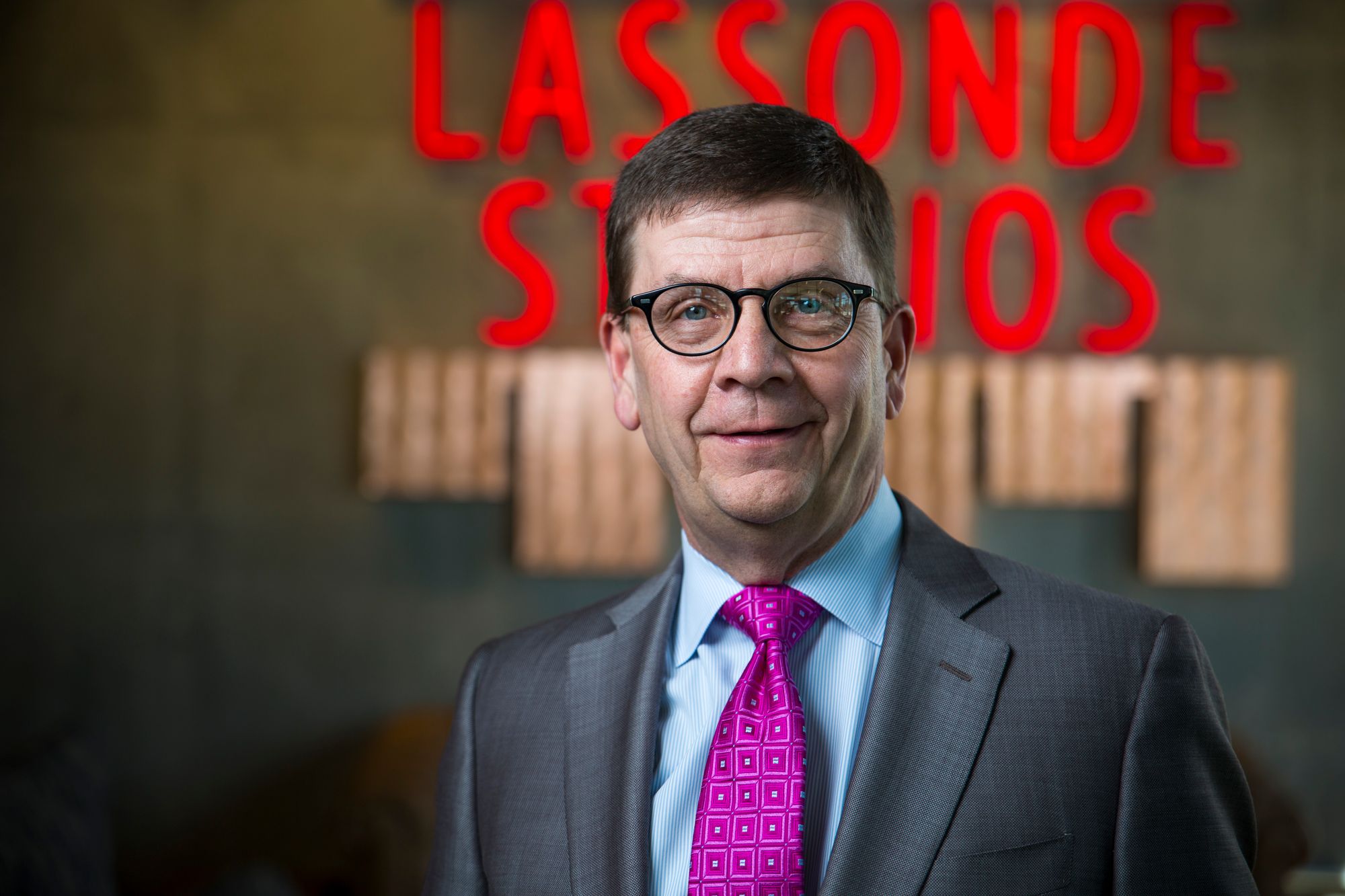 In fact, it made more sense that he ended up first on the campaign of Mayor Ted Wilson as he ran for re-election as Salt Lake City mayor, and was then invited to join Mayor Ted's staff after he won the capital city's top spot, again, in the early 1980s.
But instead, some 40 years later, D'Ambrosio finds himself as
Assistant Dean of the David Eccles School of Business at the University of Utah,
Holder of a Presidential Chair of Entrepreneurship at the UofU, and
Founder and Executive Director of the Lassonde Entrepreneur Institute at the UofU,
arguably, the most disruptive entrepreneurship program in higher education in the United States, if not around the world.
So what happened?
That's where the story gets interesting.
---
From PoliSci to Wall Street and from Entrepreneurship to Academia

During our in-studio interview a week ago, D'Ambrosio explained that after helping Mayor Wison get re-elected, he migrated into economic development efforts for Salt Lake City before rising to the role of deputy chief of staff.
Then one day he got a call from the offices of Sam Skaggs, asking him to come meet with the grocery store magnate.
"Dang," he thought, "Did we mess-up his garbage pickup?"
Instead, Skaggs wanted to talk to him about joining his team.
At the time, Skaggs ran publicly traded and New York Stock Exchange listed American Stores. And in spite of D'Ambrosio's protestations that he had not taken any business classes in college, nor had any experience working for a corporation, D'Ambrosio was soon part of American Stores.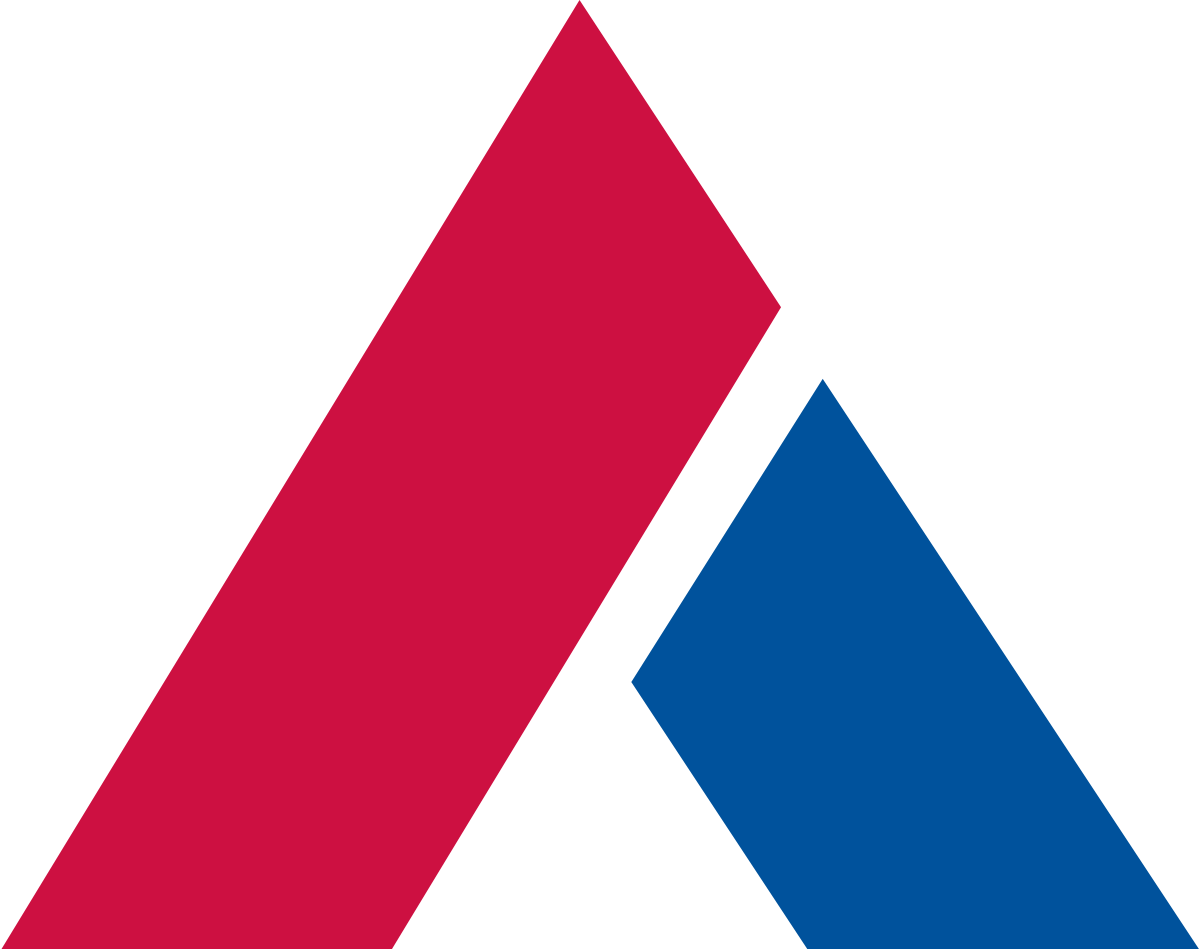 Over his 10-year career with Sam and American Stores, D'Ambrosio handled government relations, public relations, investor relations, and eventually became vice president of corporate communications.
But by then, D'Ambrosio realized that he wasn't feeling fulfilled, and along with his brother Lance the two began exploring possible entrepreneurial opportunities— exploration that eventually led to the formation of Transworld Telecommunications.
"My brother and I had been talking about 'Do we become entrepreneurs?' (So) we did exactly what you shouldn't do as entrepreneurs. We had no business plan. We had no experience. We just jumped."

In total, the two raised $70 million for Transworld, which was a wireless telecommunications firm that ended up winning several spectrum licenses from the U.S. Federal Communications Commission and became affiliated with a Canadian telco company.
The D'Ambrosio's sold Transworld to Sprint in 1998.
Troy D'Ambrosio then migrated to Salt Lake City-based Wasatch Advisors (now Wasatch Global Investors) where he refined his knowledge of Wall Street and financial markets and served as director of mutual fund operations for several years.
But then the entrepreneurial bug bit once again.
So Troy and Lance got back into the telecommunications business, this time launching Convergence Communications, a Latin America firm focused on Voice-Over-IP telephony.
Troy said he even made the first VOIP phone call out of Latin America.
Eventually, Convergence raised $510 million, served clients in 10 countries, and employed roughly 800 employees before it was acquired by Lockheed Martin in 2005.

But before Convergence grew to become an 800-employee/10 country VOIP business, and before its sale to Lockheed Martin, the D'Ambrosio brothers were recognized by Ernst & Young in mid-2000 as two of 11 professionals feted for their accomplishments in Utah as Entrepreneur of the Year Award Winners.
Following the award ceremonies, both were approached by the then Dean of the Eccles Business School at the University of Utah with a proposition:
Join an Advisory Board serving the UofU Business School.

Lance said no; Troy said yes.
And that, Troy says, was the official beginning of his involvement with the Business School at the University of Utah, starting in the fall of 2000 and moving to full-time in 2007.
---
Enter Pierre Lassonde

The story of the Lassonde Entrepreneur Institute does not begin in 2001, although that was the first time Pierre Lassonde and the Lassonde Family Foundation actually made the first donation connected to entrepreneurship to the UofU.
This story actually begins in 1971.
By way of background, the 2021 fiscal year Annual Report of the Lassonde Entrepreneur Institute explains it this way:
"Before the institute was even an idea, Pierre Lassonde and his late wife Claudette MacKay-Lassonde arrived in Salt Lake City from Canada in 1971. He pursued an MBA and she a master's degree in nuclear engineering. They graduated two years later, and the time they spent here (in Utah) helped them both achieve success. He went on to found Franco-Nevada Mining Corporation and she became a leading Canadian engineer.
"After his wife passed away, Pierre wanted to recognize her and their time at the University of Utah with a new initiative that would bring together business and engineering students. That effort led to an initial donation and the creation of the Pierre and Claudette MacKay Lassonde New Venture Development Center. It still exists today and pairs graduate students with scientists and entrepreneurs who need help developing business strategy."

In late 2000, Troy D'Ambrosio had dinner with Pierre Lassonde, during which the two discussed the possibility of Lassonde's support for the business school.
Shortly thereafter, D'Ambrosio came back to Lassonde with an idea, to which Lassonde replied:
"When you don't know what you're doing, start small and do it short-term."
Unfortunately, that first Lassonde-backed project failed. As D'Ambrosio explained:
"I realized I didn't know what I was doing in a university. I didn't know how university technology commercialization worked, how faculty thought about it. How to deal with students. … I had to adjust myself. I had to say 'I'm in a different environment. I'm not in a startup company any more.
"I'm in a university environment where students are working and they've got different lives. And they've got different habits, and timelines that they're on. Faculty do too. And the technology was very, very early; it was very raw. It wasn't even a product, it was technology.'"
By 2006, D'Ambrosio's efforts had made enough progress that Lassonde agreed to donate $13 million for the formation of a Lassonde Center, a forerunner to today's Lassonde Entrepreneur Institute.
Although done on an extracurricular basis, D'Ambrosio and his colleagues at the Business School were going around and "breaking things," at least from the standpoint of the way things had been done in higher education for over 200 years.
---
"What Are You Going To Do To Get The Rest Of Them Engaged?"


D'Ambrosio explained that 10 years into his academic career he and several notable University and Business School academicians and supporters were meeting off-campus in a two-day retreat to celebrate their first decade and look forward.
"(It's) our tenth anniversary, 2011, we have a retreat … and we're in the top 25 entrepreneurship programs by that point," D'Ambrosio said. "We have a business plan competition. We're commercializing technology. We have Bench-to-Bedside rolling. But … we're touching mostly engineering students, mostly upper class students, mostly men. … And Mike Young, the president of the university says, 'This is really great. But I'm the president of 33,000 students on campus. What are you going to do to get the rest of them engaged?'"
It was this pointed pushback that led D'Ambrosio and those affiliated with the business school to transform the Lassonde Center into the Lassonde Entrepreneur Institute in 2013.
But it also led to an epiphany in 2014 when D'Ambrosio realized that to have the potential to reach all students, all faculty, and all staff at the university, the Institute also needed a physical presence on campus that served as a 24/7 miniaturized city complete with
Housing (with 400 beds),
Maker systems and spaces,
Teaching, meeting, and training spaces,
Rentable offices, and
A cafeteria and quickie-market.
And it would need to become self-sustaining and provide a positive return on investment.
Thus was born the idea for what is now Lassonde Studios, a 160,000-square-foot, five-story combination dormitory/entrepreneurial workspace/laboratory, complete with everything outlined above and open 24x7x365.
And yes, it even has a pool table and a baby grande piano.
Primed with a $12 million gift from Pierre, and a total $44 million investment, the Lassonde Studios opened for business in 2016.
According to D'Ambrosio,
"We (currently) have people from 60 different areas of study. We have Ph.Ds in microbiology and we have mechanical engineering masters students and dance students living with us. So (it's) a very diverse community. And we're about 50% men and women living in the building, and that's very intentional. But about 40% of our startup teams are (now) led by women or co-founded by women, so we've really changed that dynamic."

Before opening Lassonde Studios, D'Ambrosio says that the Entrepreneur Institute was supporting about 100 student startups annually. Today, the number is over 400 per year.
Additionally, about one-third of those 400 businesses are now in industries not previously touched by University of Utah student entrepreneurs: the artists, the craftsmen, lifestyle businesses.
Since the launch of Lassonde Studios, teams from over 500 universities have visited Utah to explore what the Business School is doing with its Lassonde Entrepreneur Institute and Lassonde Studios.
And apparently, the Wharton School of Business at the University of Pennsylvania has built its own version of Lassonde Studios, with the University of Hawaii currently building its own version.
---
The Next 20 Years: Where Do We Go From Here?


On May 4th, the University and Eccles School of Business will celebrate 20 years of Lassonde support of entrepreneurism at the UofU, as well as the general transformation of the way entrepreneurism is taught and experienced on campuses in the U.S. and around the world.
But before that, the Lassonde Institute will highlight one of my favorite student-focused events, which is the annual Bench-to-Bedside "Medical Innovation Competition," produced in partnership with the University's Center for Medical Innovation.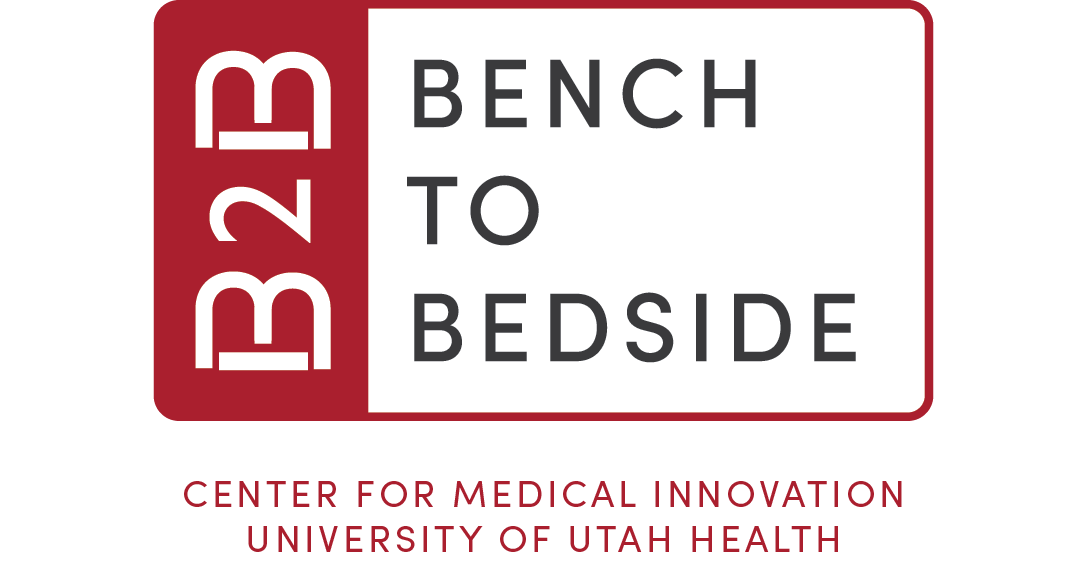 Held at 5pm at the State Capitol Building this coming Monday, April 11, this year's Bench-to-Bedside program will feature the work of 32 interdisciplinary student teams that during the 2021–2022 school year envisioned new ideas for medical products.
And on Monday, these teams will showcase presentations, displays, and in some instances, early prototypes of medical devices developed by them.
During this now 10-year program, over 1,000 students have participated on nearly 240 teams, each competing for cash prizes provided by local sponsors, with over 65 of these teams moving forward to commercialize their inventions.
But beyond Monday's B2B program and the 20th anniversary celebration in early May, where do the Lassonde Entrepreneur Institute, Lassonde Studios, the Business School, and the University go from here?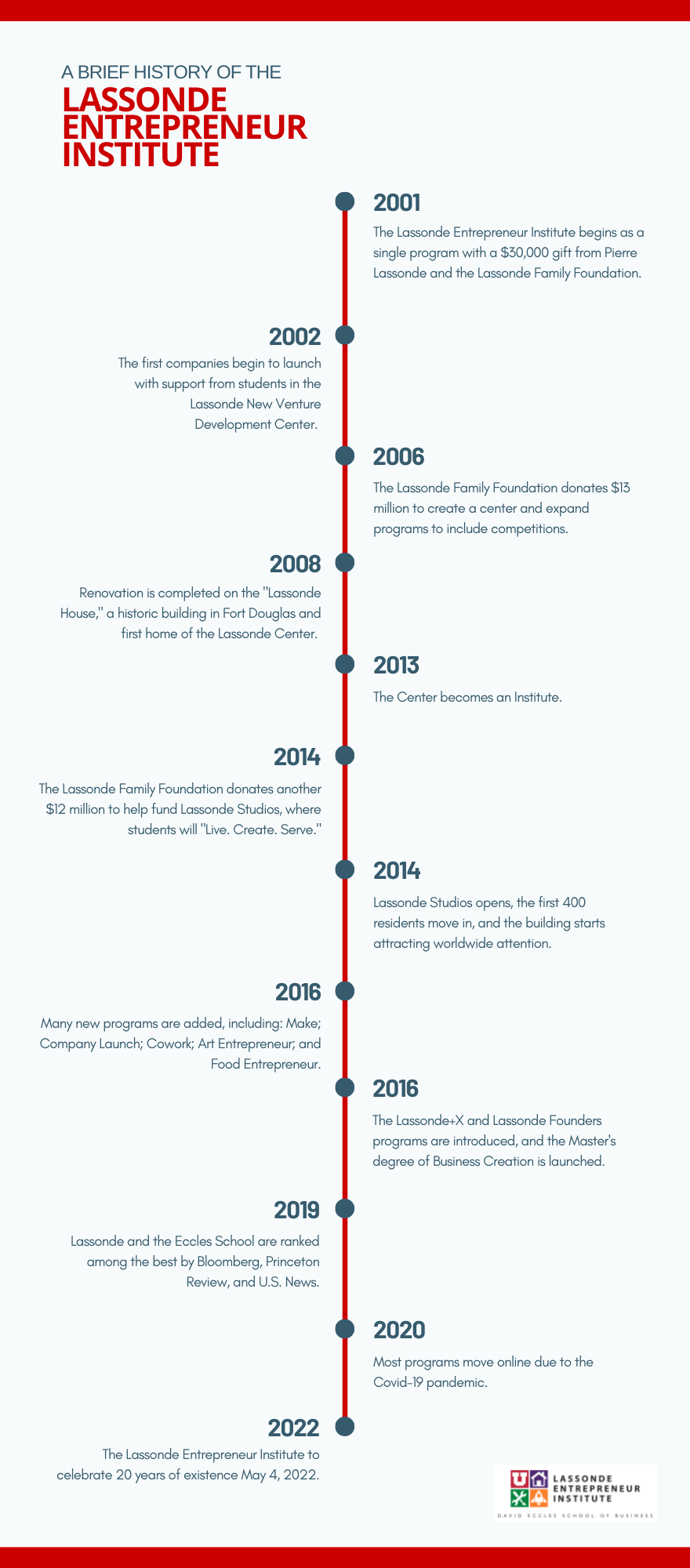 I asked D'Ambrosio that very question, and here's what he said:
"We're thinking about taking it (the Lassonde Entrepreneur Institute) and partnering with a group in Ghana and doing that for entrepreneurs in Africa. We already have three African companies in our program today. And so we think we're going to be the first global entrepreneurship degree and program in the world."

Really?!?! That sounds a bit crazy, and exciting, at the same time.
But then again, it also sounds like the type of thing Troy D'Ambrosio would try to pull off, especially given his results at the UofU during the past two decades.
Should be an exciting 20 years ahead for all involved, both in Utah and around the globe.
---
AUTHOR'S NOTE: To watch the full in-studio interview of Troy D'Ambrosio, please visit SiliconSlopes.tv and click on the latest episode of "Conversations." Conversely, you can also listen to the D'Ambrosio interview on your favorite podcast provider at "Silicon Slopes Conversations."