Leadership Circle, a Draper, Utah-based company, recently announced a successful $20 million financing round with RF Investment Partners.
With this funding, Leadership Circle hopes to further develop the company's LeadTech platform and Software-as-a-Service capabilities, scale its signature 1:1 executive offerings, and support self-serve options for leadership assessment and development.

Amid pandemic-infused markets, the Great Resignation, and an immediate need to "reskill" the current workforce, Leadership Circle data shows that 75 percent of leaders worldwide still operate from a reactive, non-scalable mindset.
"We're fully-aligned with Leadership Circle's vision of using technology to bring transformational leadership development and high-performance team development to the world of business," said Peter Rothschild, Co-Founder and Managing Partner of RF Investment Partners, in the Leadership Circle press release.
Rothschild added,
"The current reality of leadership leads the world's CEOs into uncharted territories. We believe the Leadership Circle platform provides the direction leaders need to stay on course and chart new ones where needed, and we're excited to be a part of their continued growth."
One of the key aspects of Leadership Circle's approach to developing and growing leaders is its 360-degree leadership assessment toolset which produces a  Leadership Circle Profile for each participating individual.
Each LCP takes into account feedback from peers to evaluate one's leadership skills, influence, overall effectiveness, and other key competencies relating to leadership.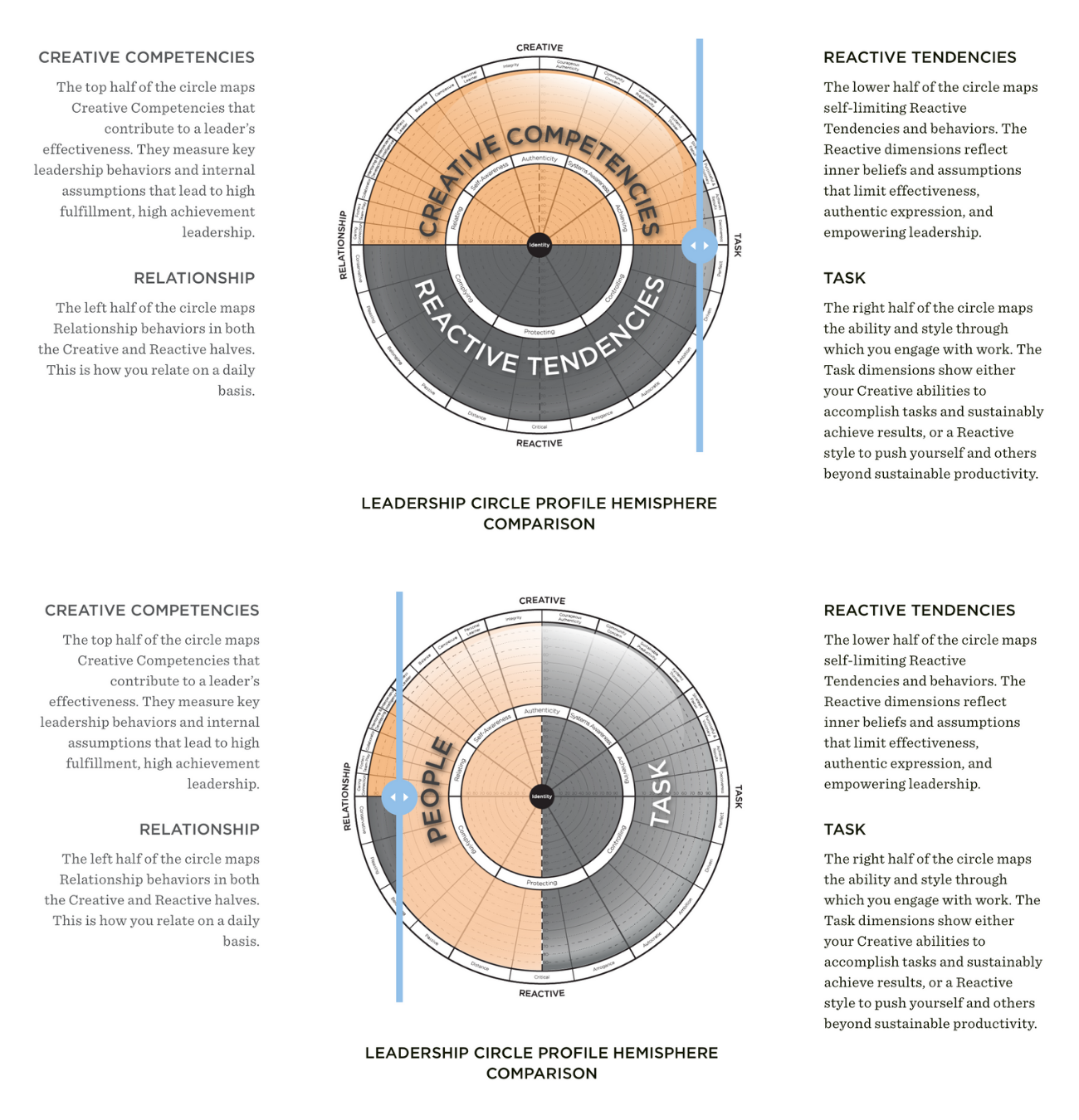 As shown in the graphic above, Leadership Circle Profiles provide executives with a comprehensive 360-degree assessment of their strengths and weaknesses across four hemispheres:
Creative Competencies vs.
Reactive Tendencies, as well as
Relationship Behaviors vs.
Task Dimensions.
Additionally, Leadership Circle also offers Collective Leadership Assessments that measure 31 dimensions of collective effectiveness across teams and organizations.
According to Bill Adams, CEO and Co-Founder at Leadership Circle:
"Effective leadership is not just a competitive advantage anymore. It's a critical ingredient in operating a business in the 'next normal.'"
During its nearly 40-year-history, the company has certified over 10,000 Leadership Circle Practitioners who (with company employees) have worked with over 200,000 senior leaders and more than 3.5 million evaluators to help assess and develop leadership strengths and skills.