First thing Monday morning the news release shot out across PR Newswire:
Larry H. Miller Real Estate had purchased Daybreak.
As far as major news announcements go for Utah's business community, this was up there with all of the other big news stories from the first quarter of 2021.
Although financial terms of the transaction were not disclosed (either in the press release or when I spoke with LHM's Amanda Covington), LHM Real Estate had purchased the master-planned Daybreak from Minneapolis, Minnesota-based Värde Partners.
The acquisition included over 1,300 undeveloped acres of land in the southwestern portion of Salt Lake County in the city of South Jordan, as well as
Ownership interest in a portion of existing commercial assets and future commercial development, as well as
Remaining undeveloped residential property.
Brad Holmes, president of LHM Real Estate, explained in the news release part of the company's thinking as to why it chose to move forward with the Daybreak purchase when he said,
"This transaction creates an opportunity for Larry H. Miller Real Estate to not only expand our real estate footprint and holdings, but to also creatively and proactively address regional growth through mixed-use planning and development."
A Brief Daybreak History
Daybreak was launched in 2004 as a master-planned community of over 4,000 acres (~6.1 square miles) based in South Jordan under the direction of Kennecott Land, a land development company owned by Rio Tinto Group.
Over a dozen years later (with 500 home sites, manmade Oquirrh Lake, and the SoDa Row Retail District built out), Kennecott/Rio Tinto announced in 2016 it had sold the Daybreak community (with its 2,500 undeveloped acres of land) to Värde Partners.
Here again the sale price and financial terms were not disclosed.
As a nearly 30-year-old alternative investment company, Värde has invested over $75 billion over its lifetime and currently manages over $14 billion in global assets.
As such, Daybreak was just one another asset for it and its investment partners. And for many major investment firms, a five-to-seven-year holding period is fairly common.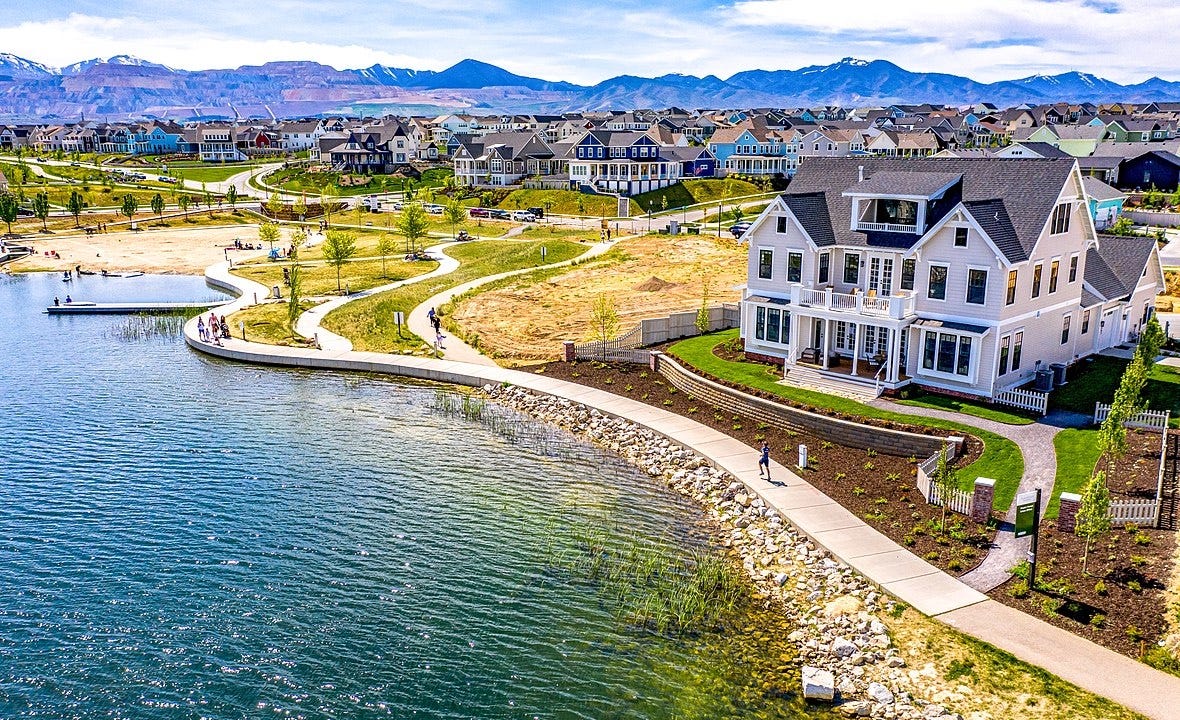 However, that is not the impression I received about the intent of LHM Real Estate when speaking with Amanda, the Chief Communications and Government Relations Officer of the Larry H. Miller Group of Companies.
"We are very excited about this acquisition. We see Daybreak as a desirable destination, a place where people live where the businesses are, with entertainment, recreation (there as well)."
Amanda further explained that LHM Real Estate had had extensive discussions with city, county and state government officials, and that they saw "significant growth opportunities" in the southwest part of Salt Lake County.
She closed by saying, "We invite businesses and residents to come talk with us (as) this is a really great opportunity."
Brandon Fugal, arguably the state's top commercial real estate leader, agreed.
"This is definitely a landmark transaction. Bringing Daybreak under local stewardship is an extremely positive move. LHM has the vision and resources to take the next steps of development forward in a way that will elevate the community and improve the quality of the master plan."
Brandon is the Chairman of Colliers International – Utah, and as noted on his LinkedIn profile, in the past 12 months he "personally structured 1.6 million square feet of office building transactions and negotiated over 150 deals."
"We are observing record new construction and absorption in the southwest quadrant (of Salt Lake valley) in not only Daybreak, but in other projects (as well) driving significant growth and momentum in that area of the market," Brandon explained.
In closing, Brandon added that, "This is a smart move, not only for LHM, but for the entire community."
I concur.
Although I could not get anyone to give me an official (or unofficial) value to this acquisition, by my back of a napkin calculation, I expect this was a transaction worth over $1 billion.
And that only places a $770,000 value per acre of Daybreak land and does not assign any value to the commercial properties included in the deal.
Nice.
---
NOTE:  This article represents a portion of a story originally published by Deseret Business Watch on April 16, 2021. A few minor editorial changes have been made with this version of the story to better match the current Silicon Slopes writing style.