With the hopes of finding a technical co-founder, seven entrepreneurs pitched their startup idea at the inaugural TechTeamUp event, hosted by Beehive Startups.
With the hopes of finding a technical co-founder, seven entrepreneurs pitched their startup idea at the inaugural TechTeamUp event, hosted by Beehive Startups. The event took place on the opening night of the OpenWest Conference.
To kick-off the first-ever TechTeamUp event, Hirevue founder and CEO Mark Newman delivered the keynote address, wherein he talked about how to choose the right person to help build a startup, and the importance of building an entire company of founders.
Speaking to the entrepreneurs in the room, Newman stressed, "Don't get discouraged, it took [HireVue] years to get where we are." He also confessed, "five of the seven times we raised money, we had zero."
Newman also talked about the frequently used nickname for Utah's startup and tech scene, Silicon Slopes. "It's kind of BS," he stated. He then went on to explain that Utah shouldn't feel the need to compare itself to Silicon Valley.
Newman said he believes Utah should focus on what makes the state great and unique, rather than trying to mimic other startup communities. "BYU doesn't say, 'We're like Notre Dame, but Mormon,' does it?" Newman asked the audience.
Newman's advice to entrepreneurs looking for co-founders to help build their startup was to realize that, "While finding that initial partner is good, there will be a constant need to cultivate and find people that think like founders." Driving the point home, he said the more important question is, "Can you repeatedly find founders?"
"There are people who weren't there when Hirevue was first started that I still consider founders," Newman said. "Their contribution to Hirevue's success has been just as important as when we were just a small team."
Newman also talked about the different titles he's held since he first started Hirevue in 2004. "The one title, no matter what happens, that no one will ever be able to take away from me is founder, which is why it's the title I'm most proud of," Newman said.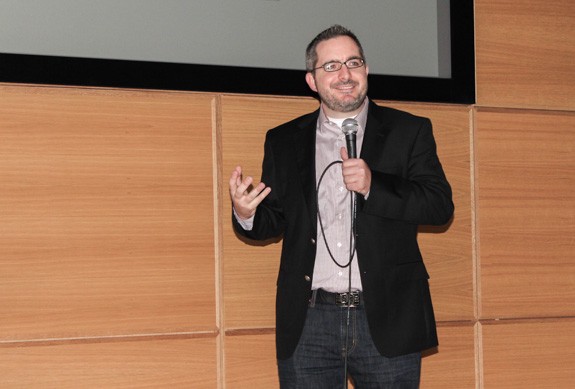 Hirevue Founder and CEO Mark Newman Speaks at TechTeamUp
Following Newman's address, seven entrepreneurs were each given five minutes to pitch their startup idea in front of a large, highly-technical audience, and a panel consisting of Newman, BoomStartup co-founder Robb Kunz, Izeni co-founder and CTO Gabriel Gunderson, and angel investor Steve Grizzell. Once each presentation was over, the panelists were given five minutes to ask questions, offer feedback, and give advice.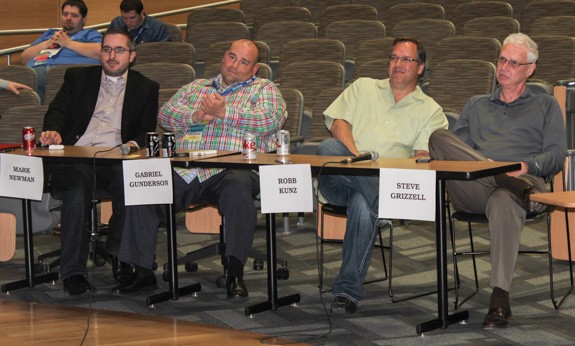 The TechTeamUp Panelists
The first entrepreneur to pitch was David Coronado, co-founder of TouchxPay. Using finger scanning technology, TouchxPay allows users to access credit cards, debit cards, meal plans, reward programs, etc., by the simple scan of a finger. TouchxPay hopes to eliminate the need for a wallet, while also better protecting consumers against fraud and identity theft.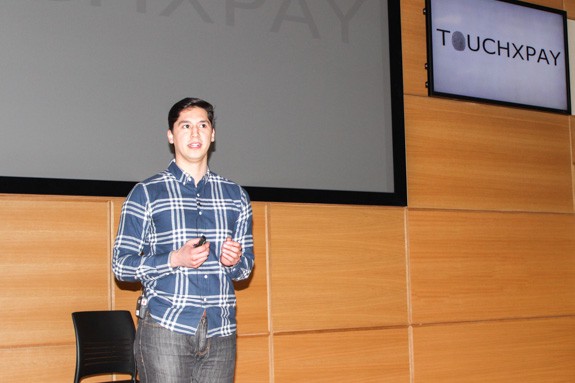 TouchxPay Co-founder David Coronado Pitches at TechTeamUp
Following Coronado, Aaron Ellsworth pitched COPILOT. COPILOT is a social marketing platform that builds audiences prior to launch through pre-release video content on mobile devices.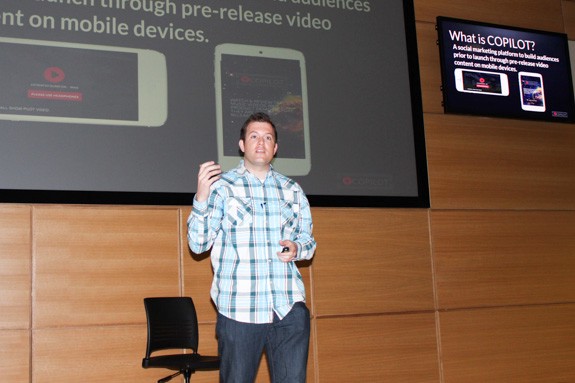 COPILOT Co-founder Aaron Ellsworth Pitches COPILOT at TechTeamUp
Following Ellsworth, Foxtail Marketing founder Michael Templeman pitched FoxMetrix. FoxMetrix is a marketing tool that offers pre-emptive link analytics and empowers marketers with the necessary knowledge to address any and all link profile issues.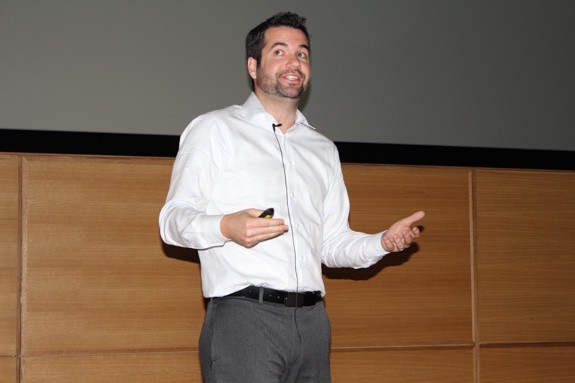 Foxtail Marketing founder Michael Templeman Pitches FoxMetrix at TechTeamUp
Following Templeman, Justin Bergener pitched Instago. Instago is an app that instantly connects you with friends with just one tap of a button on your phone. It hopes to replace text messaging by making it simple to plan spontaneous spur-of-the-moment events.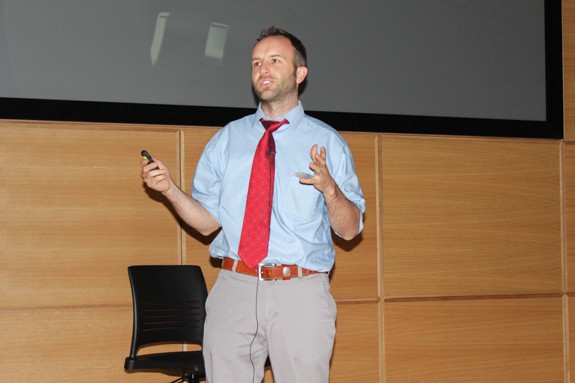 Justin Bergener Pitches Instago at TechTeamUp
Following Bergener, Tim Cooley pitched CoolEFitness. CoolEFitness is a goal-driven fitness program that rewards users once they reach certain milestones.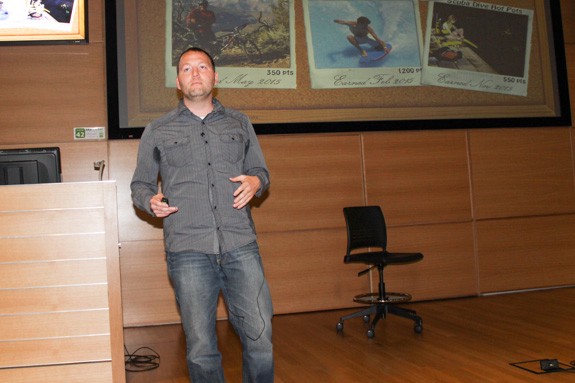 Tim Cooley Pitches CoolEFitness at TechTeamUp
Following Cooley, David Hepworth pitched LunchBox. LunchBox is an app that lets students know where they can find free food near campus.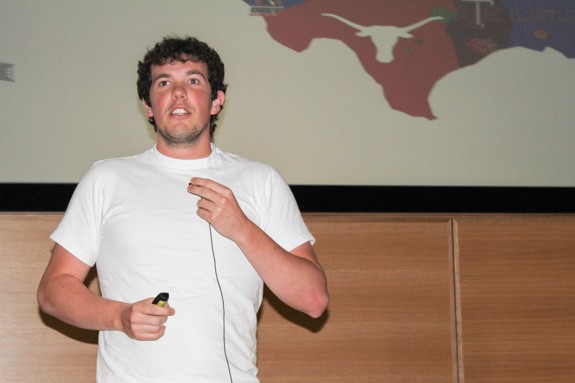 David Hepworth Pitches LunchBox at TechTeamUp
Following Hepworth, Brandt "Bubba" Page pitched QuotaDeck. QuotaDeck is a platform that allows users to easily find, train, and manage freelance salespeople.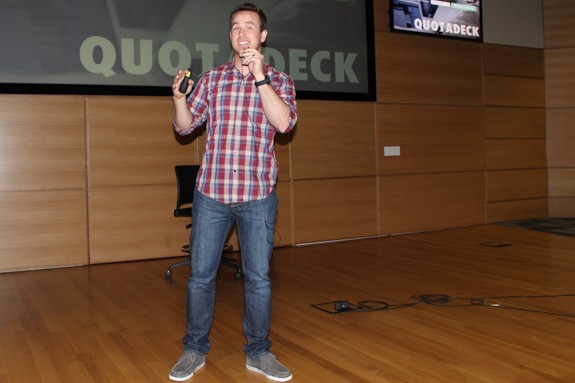 Bubba Page Pitches QuotaDeck at TechTeamUp
Once pitches were finished, using the voting app Wedgies, audience members were asked to pick the winner of TechTeamUp by voting for the startup they would be most likely to join if they were interested in becoming a technical co-founder.
After tallying the votes, QuotaDeck and LunchBox tied for first place.
The winner of the inaugural TechTeamUp event received $1,000, courtesy of Grow Utah and BoomStartup; as well as $1,000 worth of development and consulting, courtesy of Izeni. After trying to come up with a fair solution to break the tie, BoomStartup's Robb Kunz generously offered to match the $1,000 cash prize. Both QuotaDeck and LunchBox were then declared the winners of TechTeamUp. Izeni has also generously offered to give both of the winners $1,000 worth of technical consulting and development.
As a result of the first place tie, Instago won the "UVEF Choice Award." The UVEF Choice Award was given to the TechTeamUp runner-up, and included a cash prize of $500, and an annual UVEF membership valued at $198.
TechTeamUp wouldn't have been possible without TriNet and Phil Joseph, who sponsored the entire event and the afterparty that immediately followed.
We want to thank all of the TechTeamUp presenters, panelists, and sponsors. We'd also like to thank everyone who attended for making this such a great event. A special thanks to Mark Newman for delivering such a great keynote address that set the tone for the rest of the event.
Beehive Startups will be hosting more TechTeamUp events in the near future. Stay tuned for more details.
The TechTeamUp Sponsors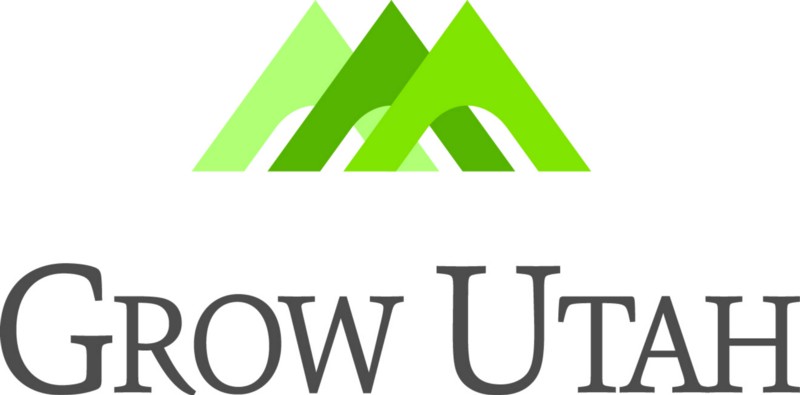 Grow Utah is a privately funded, non-profit organization dedicated to accelerate the creation of innovative, entrepreneur-led, high-growth businesses that will strengthen and expand the future growth of Utah's economy. The vision of Grow Utah is to create a robust entrepreneurial eco-system in Utah that fosters entrepreneurial talent, drives innovation to solve market needs, aligns community resources and support, and ensures funding for products, entrepreneurs and businesses of promise.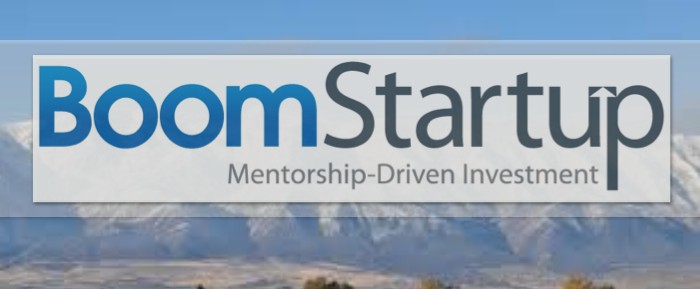 The purpose of BoomStartup is to help great tech ideas find an optimal business model, create a minimal viable product that is revenue-ready, execute into revenue generation, and then make connections to customers and investors. The goal is that the companies at the end of the summer program will warrant investment from angel investors, venture capitalists, and banks. BoomStartup's mentors have included founders and key individuals from companies including Omniture, Cisco, Skull Candy, Altiris, and many more.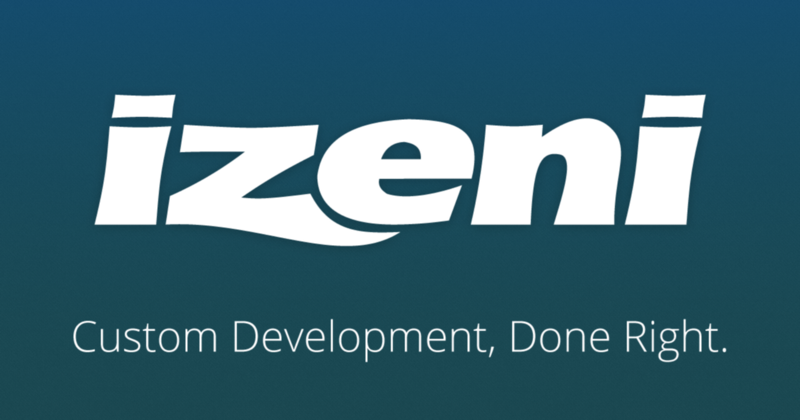 Izeni has been involved in information technology and custom software development since 2008. We've built the flagship technical products for businesses that have become major contributors in their markets. Izeni understands the realities of start-ups (the challenges of working through prototypes, giving demos to investors, and releasing on the market), as well as the needs of established organizations. Our clients love that we function as their technical partners by offering strategic consulting while planning, developing, testing, and deploying their custom-built, high-quality technical products.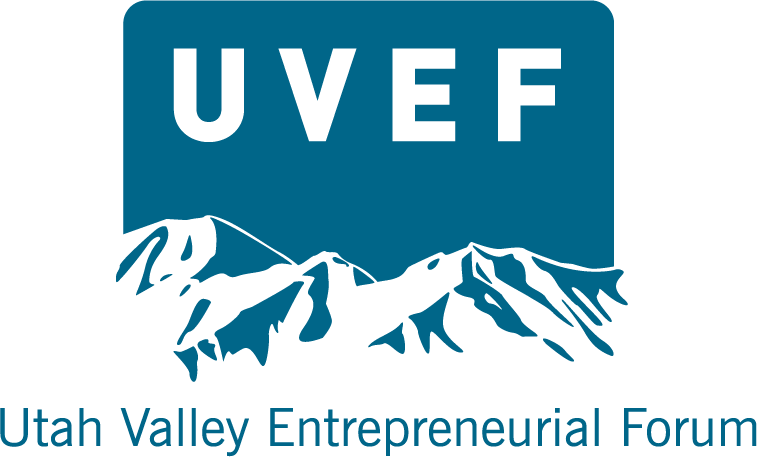 The Utah Valley Entrepreneurial Forum (UVEF) is a volunteer non-profit support group connecting entrepreneurs to Money, Markets, and Mentors. Our mission is to provide effective tools and create synergy between our members and business experts. Among the many benefits of a UVEF membership is admission to our monthly networking events featuring a captivating keynote speaker and special programs. Meals are always included for members at all events. Members also enjoy exclusive access to our group membership directory and discussion board, podcasts and much more.

TriNet (NYSE: TNET) is a leading provider of a comprehensive human resources solution for small to medium-sized businesses, or SMBs. We enhance business productivity by enabling our clients to outsource their human resources, or HR, function to one strategic partner and allowing them to focus on operating and growing their core businesses. Our HR solution includes services such as payroll processing, human capital consulting, employment law compliance and employee benefits, including health insurance, retirement plans and workers compensation insurance. Our services are delivered by our expert team of HR professionals and enabled by our proprietary, cloud-based technology platform, which allows our clients and their employees to efficiently conduct their HR transactions anytime and anywhere. For more information, please visit http://www.trinet.com, or contact Phil Joseph (phil.joseph@trinet.com).
Published 5/12/2014