Have you ever gone to a new doctor and had to explain your entire history, every medication you've taken, procedure you've had done, and hospital stay you've had? Remembering the dates, previous doctors' names, and diagnosis can be hard, and let's not even get into the wacky medication names. Unless you carry your chart around with you, you do the best you can to sketch out your history and then hope for the best. But there is an easier way, and that is where Collective Medical comes into play.

Born from a nurse's frustration with the care and communication involved with her patients, Collective Medical is a unique notification, activation, and collaboration platform. The technology allows participating facilities to see everything that has happened, medications, and evaluations, as well as the locations they happened in. This web of information helps both patients and caregivers in numerous ways. Physicians can check a new patient's history to avoid repeat tests and treatment plans, saving time, money, and stress. Collective's system also helps those with behavioral health issues or addictions get the care they need based on their history, preventing uninformed dispensing of certain medications.

But what about after the hospital? That's where a similar company, PointClickCare, comes in. Now that patient who is going to enter a skilled nursing facility doesn't come with a 63 page chart, the patient is seamlessly transitioned into the system and the staff at the facility can see where they've been, what tests they've had, and what medications they take. Again, this system eliminates retesting, unnecessary evaluations, and problems with medications.

Collective Medical and PointClickCare seem like the perfect partners because they really are. This year both companies have seen incredible growth, and now PointClickCare is pleased to announce the acquisition of Collective Medical, solidifying the partnership between the two.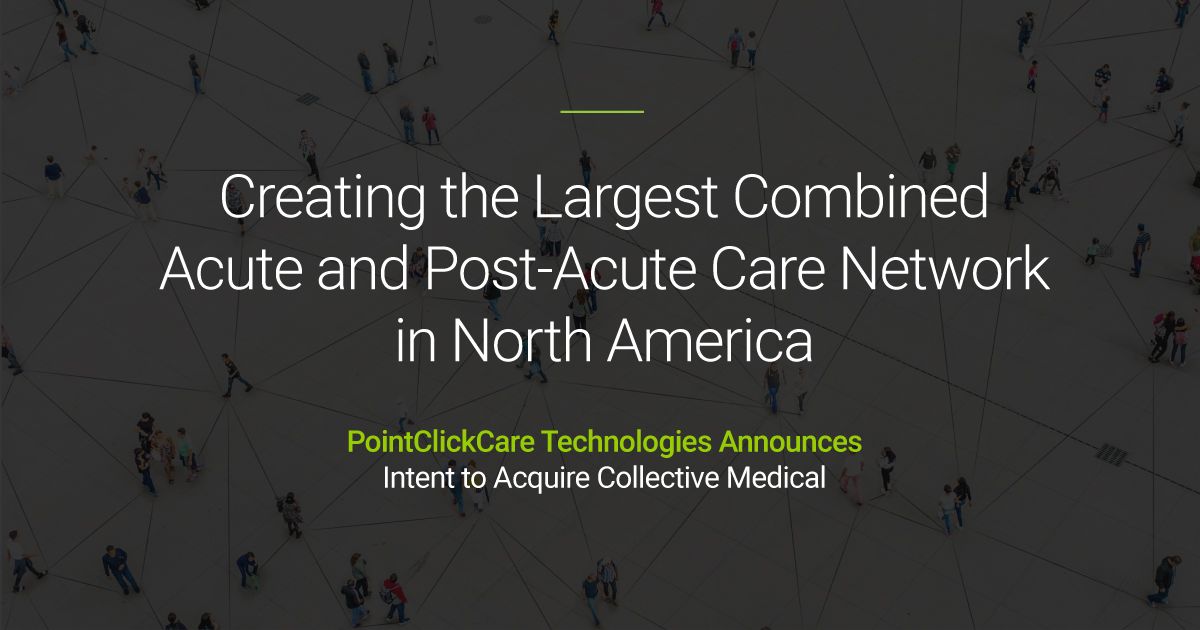 With a network of more than 21,000 skilled nursing facilities, senior living communities and home health agencies, PointClickCare helps about 97 percent of all hospitals discharge patients to skilled nursing facilities smoothly and effectively. Collective Medical's platform connects more than 1,300 hospitals, thousands of ambulatory practices and long-term post-acute care (LTPAC) providers, as well as accountable care organizations (ACOs) and every national health plan in the country, across a 39-state network. Together, the cloud based SaaS leaders hope to revolutionize acute and post-acute care.

Some might ask why these companies, who are doing so well independently, would join forces, the answer is easy for PointClickCare Technologies Co-founder and President Dave Wessinger, "Coming together only strengthens what we wanted to accomplish in the beginning. There's a lot of work still to do, and we're ready to accelerate our growth and help as many people as we can."

And Collective Medical's Chris Klomp agrees, "Common values, people that care about their mission instead of just talking about it, and a desire for growth and acceleration just really made this an easy decision," says the CEO. "We have so many similarities in our company culture, and we're more interested in breaking barriers and working hard than spending time in the limelight. It's a really great partnership that we're very excited about."

Collective Medical will maintain its Cottonwood Heights, Utah location and will be growing and expanding their team, so be sure to check for job openings and join the team. "We're going to turn flip healthcare on its head," says Chris. "We want the best care possible for patients, and together with PointClickCare we're going to do it,"