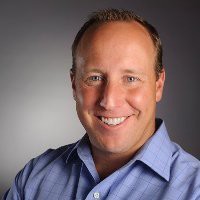 By Joey Ferguson
Rick Farnell, president of Think Big Analytics
Photo: Linkedin.com
PARK CITY — Rick Farnell, president of Think Big Analytics, a Mountain View, California-based data firm, says his company is "a revolution on par with the Internet or perhaps even the printing press," according to an article the The Park Record.
Think Big develops applications that process data and automates a response. For example, data from a machine can help predict issues and replace parts before problems happen. The company also has offices in South Jordan and Chicago.
"Everything in our world is creating and emitting data, our homes, cars and cellphones," Farnell told The Park Record. "User-generated data is important, but for us, it's the device data analytics and open-source technology invented in the last three years that allows for revolutionary big data applications to emerge."
The company has only been around for three years and already it has signed up Facebook, NASDAQ, Intel, eBay and others to its data service, according to the article.
Investors include Andy Bechtolsheim, co-founder of Sun and Dan Scheinman, a former Cisco executive.
"When we reached out to our network they wanted to invest in us right away. It was validation that we were onto something big," Farnell told The Park Record.