Utah's top business news this week: Shareholders of Sportsman's Warehouse approved the $765 million offer to sell their shares; two other acquisitions were completed; and more.
---
DEAL NO. 1 — Sportsman's Warehouse ($765 Million), Deal Still in Play
If all goes according to plan, Sportsman's Warehouse (NasdaqGS:SPWH) will cease to be a publicly traded company later this year in a $765 million acquisition by the parent company of Cabela's and Bass Pro Shops.
So far all is going according to plan because in late March the shareholders of West Jordan-headquartered Sportsman's approved the offer to sell their shares to Great Outdoors Group by a more than 26-to-1 margin. The offering price — $18.00 per share, all cash.
Sportsman's announced in mid-December that it had entered a definitive agreement to merge with Great Outdoors, subject to shareholder and regulatory approval.
As of now, both parties expect the merger to be completed in the second half of 2021.
---
DEAL NO. 2 — Carrus, Archetype Innovations, and Revelstoke Capital Partners (Amount Unknown), Deal Completed
Lehi-based Carrus (the former Career Step) announced this week that it has made its 6th acquisition since it was acquired by a Colorado-based private equity company in 2015.
Carrus is a medtech education company that has trained over 140,000 students and over 100,000 healthcare professionals during its 25-year history.
With its acquisition of Duluth, Minnesota-based Archetype Innovations, Carrus will now expand its educational offerings to include trainings in the use of Electronic Health Records (EHR), a critical component of the healthcare ecosystem for patient records, billings, and more.
No financial details about the Carrus/Archetype acquisition were disclosed.
But it was Denver, Colorado-based Revelstoke Capital Partners that purchased then-named Career Step just over five years ago, making Carrus now part of a private equity group with roughly $2.9 billion in Assets Under Management (AUM).
---
DEAL NO. 3 — Kaiva Services, Banning Construction Services (Amount Unknown), Deal Completed
Early yesterday a news release hit my desk that normally I might have passed over mostly because it wasn't that sexy (at least on the surface). Except now that I took a moment to dig into more of the under-the-covers implications of this announcement, I now think it may be pretty cool.
In a nutshell, a Tulsa, Oklahoma-based firm (Banning Contracting Services) has merged into Ivins, Utah-based Kaiva Services — pretty straightforward, right?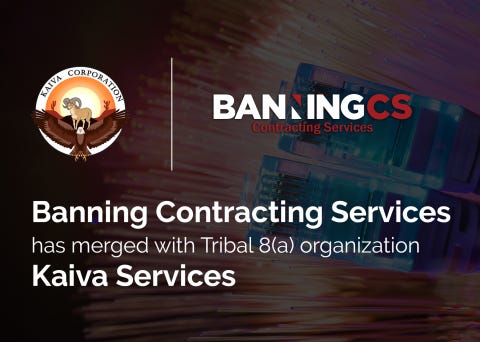 However, Banning is what's known as an SDVOSB, a Service-Disabled Veteran-Owned Small Business, which means it can have special advantages when bidding for contracts from the U.S. Department of Veteran Affairs and potentially other federal agencies.
Banning's focus is in what's known in the information technology world as the Physical Layer.
That's everything from wiring to cabling, and from electronic locks to biometric scanners, and it can also include telecommunications systems, computer networks, fiber optic cables, video monitors, digital cameras, and just about anything else you can think of that helps connect and secure electronic equipment and premises. This is what Banning does.
Conversely, Kaiva Services is wholly owned by the Shivwits Band of Paiutes, a federally recognized Native American Tribe, that is also classified as a Tribal(8a) and HUBZone Small Business.
These designations entitle Kaiva to certain federal set-aside contract opportunities, and it operates in many of the same circles as Banning does.
But what particularly piqued my interest in Kaiva was this statement found on its website:
"Kaiva's mission is to further the rights and sovereignty of the Shivwits Band of Paiutes through the exceptional government contract business operations. This economic development opportunity along with others will allow the Shivwits Band members to lower the poverty rate of 99 percent and begin to provide opportunities to future generations."
This vision and mission of the Shivwits Band of Paiutes is something I definitely support. Hence, the inclusion in this edition of Deseret Business Watch.
---
DEAL NO. 4 — Pluralsight, Vista Equity Partners ($3.8 Billion), Deal Still In Play
The lead item in the March 12, 2021 edition of Deseret Business Watch was the fact that Vista Equity Partners had boosted its acquisition offer of Pluralsight (NasdaqGS:PS) by $2.24 per share. Not a lot of difference on the surface, except it meant that the offering price had risen by $300 million to $3.8 billion to take Pluralsight private.
The official Tender Offer for Pluralsight shares began on March 10th. And based upon my reading of the Amended and Restated Agreement and Plan of Merger, it appears that the acquisition may be over as soon as April 6, 2021 (at least from the standpoint of Vista getting enough shares offered to it to reach the 50% + 1 share threshold by then).
So … we shall see. It's only $3.8 billion that hangs in the balance!
---
Other News Items of Note from This Week
What follows below are 12 additional Noteworthy News Items taken from the breaking news announcements that hit our radar this past week from Utah's business community, news items we thought you might find worthwhile if not also intriguing.
Case in point —
Onset Financial Places over $125MM in Equipment Leases in Q1 2021
Draper-based Onset Financial announced this week that it set a new record for itself for capital equipment leases placed in a quarter at $125 million in the first quarter of 2021. Not bad at all.
---
Emmersion Raises $5.5 Million in Early Stage Funding
Emmersion, a provider of automated cloud-based language assessment services, announced this week that it has landed $5.5 million in early stage funding. Lehi, Utah-based Emmersion uses its language toolsets to help global organizations improve employee screening, academic progress, and certification.
---
Qualtrics Broadens Offerings with Launch of 3 New Services
The company that invented the eXperience Management business category, Qualtrics (NasdaqGS:XM), announced this week three new services to help organizations track and maximize their relationships with their customers:
Relational Customer Experience (CX);
Account-Based Relationship Diagnostic; and
Digital Support Optimization.
Interesting stuff.
BTW:  If you haven't been paying attention, went public in an IPO on January 28th and then hit a high of $55.24 per share less than a week later. However, Qualtrics price per share has since dropped to $32.43, shaving off more than 58% in less than 60 days. Ouch!
---
ENVE Launches Line of High-End Custom Road Bikes
Unless you're a hardcore cyclist, chances are you've never heard of Ogden, Utah-based ENVE. But in reality, ENVE is one of the top makers of bicycle wheels on the planet.
But now that's changed because ENVE has moved beyond wheels to launch its own brand of custom-made road bikes, bikes priced from $9,950 to $12,500. And these bikes look totally rad.
So … if you're into cycling, I encourage you to check out this great write-up about ENVE from VeloNews.
---
uAir Named Grand Prize Winner for the 2021 Lassonde Institute's Utah Entrepreneur Challenge
First off, if you've never heard about, much less visited, the Lassonde Institute at the University of Utah, you really need to rectify that missing part of your life experience ASAP.
Secondly, congrats to uAir for being tapped as the Grand Prize Winner of the 2021 Lassonde Institute's Utah Entrepreneur Challenge. In plain English, the student team behind uAir won $20,000 in top prize money because it figured out how to create a new type of flat and small inhaler for use by the 40 million Americans challenged by asthma or COPD.
This video provides a quick overview. Good on ya, uAir!
---
Salt Lake City Startup Offers Hardware/Software System to Help Prevent Hacking Attacks Against Homes and Small Businesses
This week GuardDog.ai (an SLC-based startup), launched a super-easy-to-use hardware/software system designed to help homeowners and small businesses protect their electronic data from attempted hacking attacks.
The small and lightweight hardware component is called Fido, like a pet guard dog, while the software piece is known as guardDogPCS.
Used in concert, the guardDog system watches for external threats to the authorized devices and systems in a business or home from outside the "edge" of one's network, including such common systems and devices as digital doorbells, webcams, and even wireless routers.
Prices start at as little as $25/month (with a $100 startup fee) or $300 annually with a two-year contract. Definitely something to look into.*
---
Five of Utah's Rural / Community Hospitals Named to the Top 100
Chicago-based Chartis Group (the largest independent healthcare advisory firm in America), recently recognized five Utah-based hospitals as among the nation's Top 100 Rural & Community Hospitals for 2021. These facilities are
Congrats to each of the medical and healthcare employees who contributed to such recognition.
---
University of Utah Hires USU's Mens Basketball Coach
Some may say that an item about the hiring of a college basketball coach should not be included in the digital pages of a media property dedicated to covering the business news of Utah.
My response: Au Contraire!
Lest you forget, the Athletics Department at the University of Utah shared earlier in the year that it will lose roughly $35 million for fiscal 2021 (ended June 30), mostly because of the lost revenue caused by the Covid-19 shutdown in 2020.
So when the Utes announced it had fired Head Basketball Coach, Larry Krystkowiak, and replaced him with former Utah State HC, Craig Smith, you can be assured this was DEFINITELY a business story.
Case in point, the Deseret News did a great write-up that dug into Craig's six-year contract, and trust me — he ain't getting chump change to restore the Utes to hoops glory and get fannies back in the seats.
The guaranteed base salary is $12.6 over the life of the contract, not counting extra bennies (hard and soft) with all sorts of upside as he's successful. (And I expect he will be successful.)
So yeah, clearly a business story.
---
Overstock Hires New CMO
One of the factoid's included in the March 2nd Feature Story titled Don't Sleep on Overstock was that Overstock planned to bring a new Chief Marketing Officer on-board: Elizabeth Solomon. Well … that's now official. And if she's as good as I think she may be, look out: OSTK is gonna be fire!
---
Mobile Drivers Licenses Coming to Utah?
Starting with 100 users initially then growing to 10,000 licensees throughout 2021, Utah is kicking off a Pilot Program to launch smartphone-based Mobile Driver's Licenses (mDL). Given the overall adoption of mobile apps, this makes tons of sense to me. Waltham, Massachusetts-based Get Group and Boston-based Scytáles are the firms implementing this Pilot Program for the Driver License Division of the Utah Department of Public Safety.
And for the record, I would be totally willing to be 1 of the first 10,000 participants! Contact me.
---
Arcserve Shutting Down the StorageCraft HQ to "Go Virtual?"
In the Feb. 26th edition of Deseret Business Watch titled StorageCraft Merger, UTOPIA, HAFB, and More we reported that Draper-based StorageCraft was merging with Duluth, Minnesota-based Arcserve. However, I heard a rumor this past week that suggested that Arcserve is shutting down the StorageCraft facilities in Utah to have its employees work virtually.
Does anyone know if this is true?
---
97th Floor Gets Creative for April Fool's Day
Last of all, if you haven't seen this yet, please take a second to check out this awesome website launched on April Fool's Day by Lehi-based digital agency, 97th Floor:  https://goatagency.co.) Personally, it was the funniest thing I saw yesterday; I think you'll get a kick out of it.
---
* — NOTE: I have provided PR & marketing services to GuardDog's CEO, Peter Bookman, in the past, and I consider him my friend. There is not, however, any professional relationship between me and Peter at this time, nor is there between any of the companies I own or any entities where Peter has an ownership stake.
---
PUBLISHER'S NOTE:  The above news report was initially published by Deseret Business Watch on April 2, 2021. It is re-published here following DBW's acquisition by Silicon Slopes in August 2021; minor edits have been made to this write-up to match the editorial style of Silicon Slopes.