Lehi, Utah based Weave (NYSE:WEAV), the all-in-one customer communication and engagement platform for small businesses, will be hosting its first ever Weave Connect Online Customer Conference on October 26, 2022 for its 130,000+ users. This free virtual event will exhibit the full benefits of Weave's resources to its users, featuring workshops, breakout sessions, and several key speakers from Weave's own leadership team.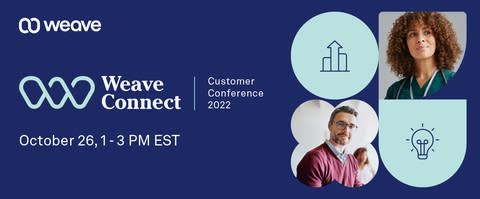 According to a recent press release, the event will also provide attendees with the chance to connect with other Weave users and offers access to dozens of on-demand resources to help attendees better utilize Weave products, including case studies, eBooks, blog posts, and more.
Branden Neish, the company's Chief Product Officer and a featured speaker in the Conference, stated,
"At Weave, one of our core values is The Customer is Everything. As we've added new products and features like Insurance Verification, Payments, Digital Forms, and Online Scheduling to our all-in-one platform, we're making a larger commitment to helping our users realize even more value from Weave."
Founded in 2008, Weave services small businesses with its Voice over Internet Protocol phone system, software and payment solutions so it's easier for companies to automate tasks, keep schedules full, get paid faster, collect reviews, and much more. The company helped put Utah's Silicon Slopes on the map when they went public on the New York Stock Exchange in November of 2021 and in the past year have been named a member of the Forbes Cloud 100.
Neish also stated,
"Connecting with other users, getting key updates from our Customer Support and Training teams, and learning about some of our latest platform additions is all about investment in our loyal, hard-working and growing customer base."
Click here to register for the free Weave Connect Online Customer Conference.