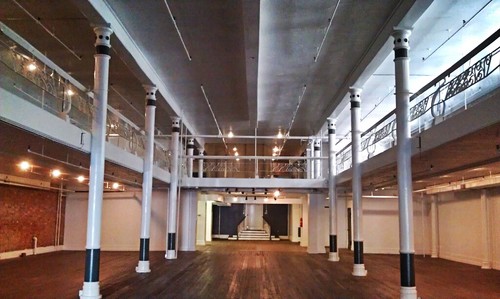 By Joey Ferguson
Photo: The HUB SLC
The Hub is launching a 13,000-square-foot co-working space in Salt Lake City, making it the first of its kind in Utah's capital.
The space, located in the Zim's building, is part of The Hub, which operates nearly 30 co-working facilities around the world. Prices to rent in the two-story building range from $30 to $425 a month depending on amenities like private lockers and mail service.
"We think tech is going to be a key part of the community," Dustin Haggett, co-founder of The Hub SLC, said in a phone interview. "Our focus is to incubate and accelerate for-profit companies that are mission-driven."
The HUB SLC will focus on companies that are seeking to do good in the community and the world, Haggett said.
Renters pay month-to-month without a contract for office space and hot-desking. The HUB is able to accommodate as many as 250 people.
Though it's the first in Salt Lake, The Hub joins a number of other co-working facilities in other parts of the state.
Tenets of Innovation Network, a co-working facility located in the Startup Candy building in Provo, are broken down into three parts: technology, professional services and creatives, like photographers and designers, said Devereaux Smith, co-owner of the 2,000-square-foot facility.
Low cost of space, month-to-month payment schedules without a contract and without having to pay for utilities are all attractive advantages Innovation Network offers.
"We take care of all the utilities, internet, building maintenance and furnishings," Smith said. "Basically, a co-working tenet comes in, sets up their computer and goes to work."