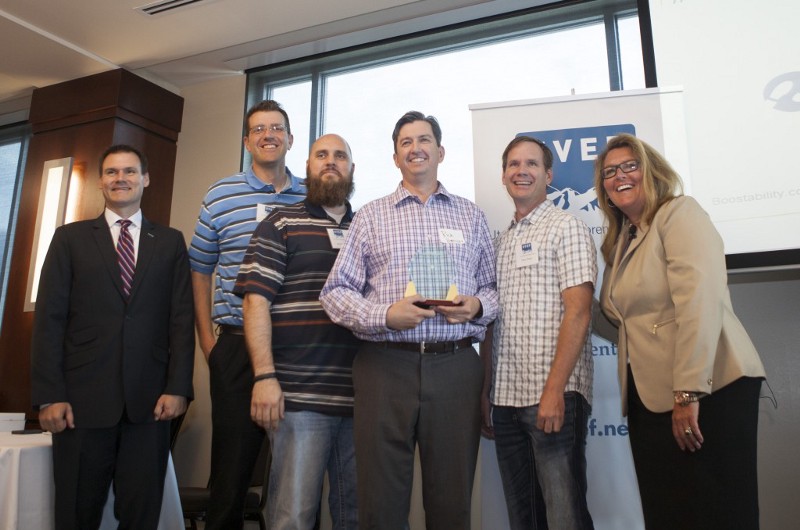 By Joey Ferguson
Boostability team with UVEF Chairman Ken Kauffman and Carine Clark, CEO of Allegiance.[/caption]
PROVO — Utah Valley Entrepreneurial Forum named Boostability, an SEO services company, as the "Top 25 Under 5" company.
Boostabilty provides SEO services to more than 10,000 customers. The American Fork-based company employs 275 people.
The company's revenue grew 732 percent in the last three years, said Rick Horsley, president of Boostability, in an interview. Boostability posted $9 million in revenue at the end of last year and are on pace for $23 million in 2013, he said.
"This year's Top 25 Under 5 are among the most diverse group ever honored here," said UVEF chairman Ken Kauffman in a statement. "These companies are 'what's right' about Utah's growing economy."
The awards highlight some of the fastest growing companies in Utah. In 2012, the group of 25 generated about $158 million in revenue and created more than 700 jobs, according to UVEF.
Other companies honored during Thursday's event include MoneyDesktop, BambooHR and Launch Leads.
Other award winners:
Edge Homes
MoneyDesktop
Jamberry Nails
PcCareSupport
Peak Capital Partners
Orabrush Inc.
KT Tape
Decisions
Persnickety Clothing Company
BambooHR
Weave
BizVision LLC
Launch Leads
Lancera
US MRI
Firefly Innovations LLC
Outbox Systems
Fit Marketing
Professional Cable
Ascent Advisor
Crux
Sprint Marketing
FundingDatabase.com LLC
Red Wagon Toys
Related articles

Vinny's five tips for making your startup succeed