by Egan Anderson, Product Manager, Galileo
INDUSTRY HUBS
In 1907, D.W. Griffith arrived in Hollywood, determined to build the region's first movie production company. He liked Southern California because of its good weather, accessibility to diverse geographic backdrops (ocean, city, forest, desert, etc.), and low costs compared to the East Coast. He built a team, commissioned costumes, constructed sets, trained actors, and started filming.
Within four years, there were 16 production companies in Hollywood. By that point, it was a no-brainer for a new company to choose Hollywood since it would reap all of the benefits that Griffith had initially identified, plus get access to a network of writers, actors, cinematographers, etc.
The rise of Hollywood demonstrates how a flywheel, or a virtuous cycle, develops. As a hub grows, it becomes more advantageous for companies to be there, accelerating growth. Around and around.
Flywheel-powered hubs anchor every industry. They are where the best expertise, talent, and resources can be found. Think of Germany for cars, Milan for fashion, or Tokyo for video games.
Utah, surprising to some, has a strong fintech flywheel and is quickly emerging as one of the major fintech hubs in the world.
FINTECH IS KIND OF A BIG DEAL
Before we dive into Utah's flywheel, let's talk about the fintech craze that's going on, starting with its recent takeover of the cultural zeitgeist.
GameStop's stock shot up 2,000% in three weeks, thanks to Robinhood and Reddit.
Elon took Dogecoin to the moon.
Charlie D'Amelio promotes her portfolio company, Step, a neobank for teens, to her ~90M TikTok followers between dances.
"Cash App" has practically replaced the word "money" in modern rap.
The Rams and Chargers play in SoFi stadium, and the Clippers (too soon?) wear Honey's patch on their jerseys.
Beyond the cultural relevance, the fintech sector is creating a lot of value.
The Global X Fintech ETF, whose holdings include Square, Paypal, and Afterpay, has tripled in value since its creation in 2016.
124 of the world's 712 unicorns are fintech companies, making fintech larger than any other category. The combined value of the fintech category is $492B (almost double the value of the next closest category, artificial intelligence).
Most importantly, I'm sure you have noticed that fintech has become more prominent in your day-to-day. It's commonplace for me to tap my iPhone on a Square terminal to make a purchase using my SoFi account that I funded with Venmo.
If you pay attention, you'll notice that fintech is everywhere.
UTAH IS KIND OF A BIG DEAL TO FINTECH
Bay Area fintech behemoths, SoFi, Plaid, Carta, Brex, LendingClub, Affirm, and SVB, have all opened offices in Utah in the last five years.
Square and Varo have chartered banks in Utah, and Brex and Rakuten are close behind, waiting for their bank charters to be approved.
Goldman Sachs is quickly taking over downtown SLC, and Visa and Mastercard continue to expand their footprints in the state.
When Earnest announced its expansion to Utah in 2017, CEO Louis Beryl said, "Utah has become a thriving hub for both technology and financial services companies, with a deep talent pool across multiple areas that is complementary to what we see in San Francisco."
The past year has been a busy one for fintech in Utah. Since the COVID-19 outbreak started, Galileo, Finicity, Acima, and Divvy have been acquired for a combined $6B. MX raised a $300M Series C at a $1.9B valuation, SimpleNexus raised a $108M Series B, and TaxBit and LoanPro each had $100M Series A rounds (the largest in state history). Meanwhile, Nav and Lendio have been busy securing PPP loans for thousands of small businesses.
While the last few years have been particularly exciting, I don't want to give the impression that Utah's fintech scene has been an overnight success story. In reality, this flywheel has been over 100 years in the making.
THE FOUNDATION
Banking's Delaware
Have you ever wondered why so many companies incorporate in Delaware? Delaware has set up its courts and tax policies in a way that is so business-friendly for so long (over 100 years) that investors, bankers, and most lawyers favor companies that are incorporated in Delaware. As a result, incorporating in Delaware is a no-brainer for most companies.
Utah is banking's Delaware.
When you finally get around to buying that X6 you've been eying, the BMW dealership will set you up with financing from BMW Bank of North America, an industrial bank headquartered next door to Bombay House at the mouth of Parley's Canyon. An industrial bank is a bank that a corporation that does things other than banking (like BMW) may own.
As a result of smart lobbying, dumb luck, and 110 years of trial and error, Utah has become the capital of industrial banks. It is home to two-thirds of the industrial banks in the US and 93% of industrial bank deposits. Here's a mindblowing statistic: nearly one percent of all FDIC-insured deposits in the US sit in a Utah industrial bank.
It turns out that car dealerships aren't the only ones interested in chartering industrial banks. Industrial banks are a perfect fit for fintech companies that want to hold deposits because companies that do non-banking things, such as Square (who now owns a music streaming platform...), can own one. That's precisely why Square chartered an industrial bank and why Brex and Rakuten are working on it too.
In the same way that most companies incorporate in Delaware, most fintech companies that charter a bank do so in Utah.
Three layers
Even before Hollywood's flywheel started turning, Southern California appealed to Griffith because of the weather, geographic diversity, and cheap labor. Similarly, Utah's dominance in industrial banking created the perfect foundation for building a fintech hub.
The foundation has three layers.
First, Utah has a disproportionately large talent pool of people who are savvy with financial services, compliance, and customer service, thanks, in large part, to industrial banks, which employ about 6,500 Utahns.
It's also worth mentioning how cheap labor is in Utah compared to other fintech hubs like San Francisco and New York (I know it feels like Utah's housing market must be approaching California levels, but even after the 30% climb this past year, the median home price in Salt Lake City is still just $475,000, compared to $1,325,000 in the Bay Area).
Second, Utah is the best place to start a bank.
Third, Utah has a bunch of banks (industrial or otherwise) sitting around that are eager to partner with fintech companies and hold their deposits. More on this later.
THE FLYWHEEL
Given Utah's solid foundation, it's no surprise fintech companies like Galileo and Finicity chose it as their home 20 years ago. But the cool part of the story is the flywheel that has accelerated growth since.
Government and policy
Utah's local government is acutely aware of the state's positioning in the fintech industry and has doubled down on attracting more companies to come set up shop.
The Governer's Office of Economic Development (GOED) passes out tax rebates like Oprah. SoFi, Carta, and Earnest received an average of $1.7M apiece to expand to Utah.
In 2019, Governor Herbert signed a fintech regulatory sandbox into law, which relaxes regulatory burdens on fintech startups to help them get off the ground.
In addition to the experienced (and cheap) workforce, these government initiatives attract new fintech companies that hire and train more people, thereby growing the pool of fintech employees and making Utah even more attractive for the next set of companies.
Universities
The local universities have also caught on to the fact that many post-graduation jobs are in fintech and have started preparing their students accordingly.
The Utah Center for Financial Services (UCFS) is an independent research center that partners with the University of Utah to publish research about the economic impact of industrial banks and other financial institutions in the state (I referenced its publications frequently while writing this article). The executive director of UCFS, Allan Landon (who goes by Al), is also on the board of Lending Club and the associate dean of the David Eccles School of Business at the University of Utah.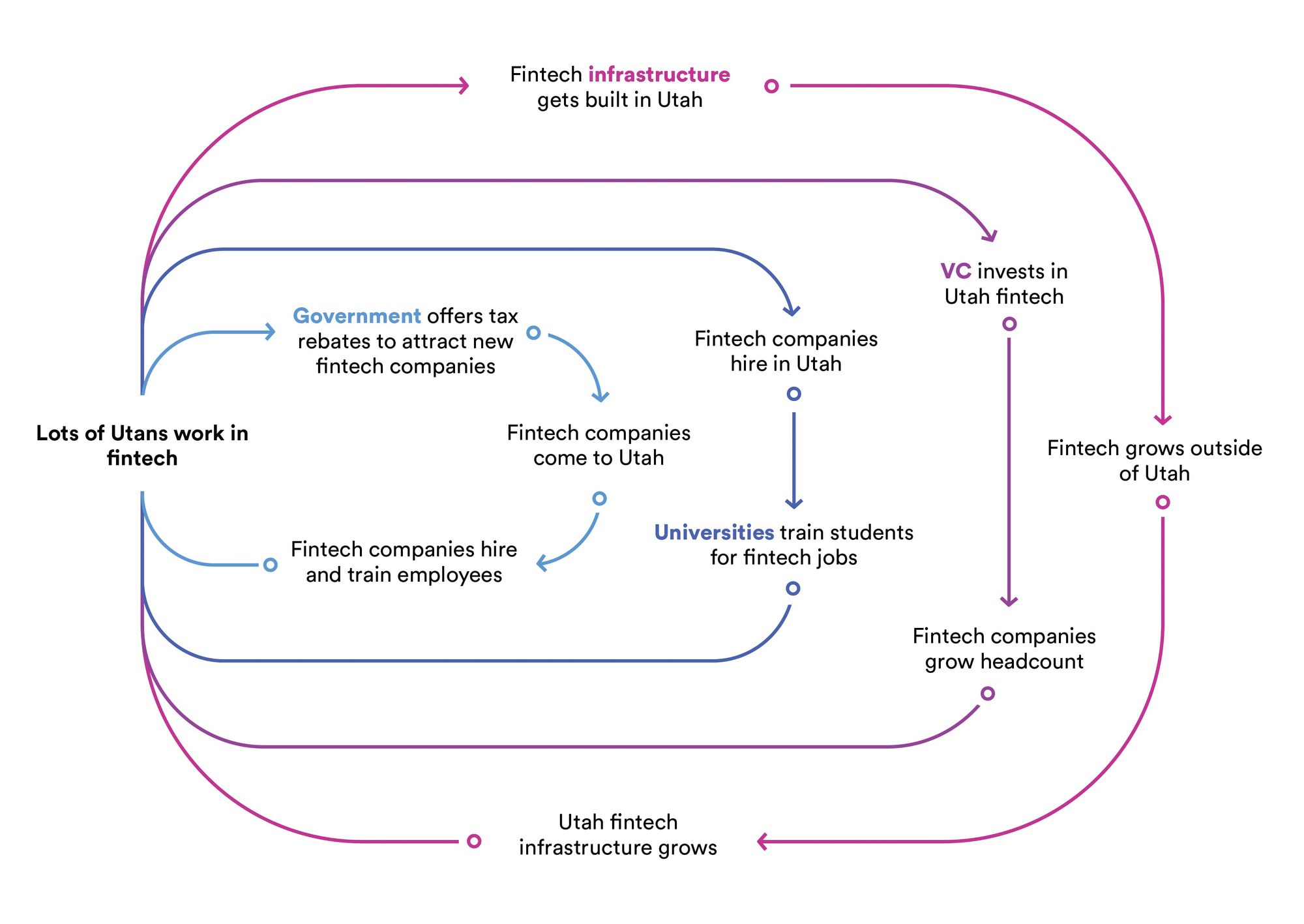 The fact that a university administrator helps run a fintech research center and a publicly traded fintech company ensures that the school stays on top of industry trends, as evidenced by the course that Al teaches, FinTech Projects Lab. The course description reads, "This new class on Fintech is project oriented, where students work with industry mentors to develop actual projects." Al invited me to speak about payment processing to his class a few months ago, and I was blown away by how engaged and curious his class was about a topic that most would consider boring.
BYU Law School takes things a step further, offering a course called Blockchain and Cryptocurrency Law, an "Investigation of market, regulatory, and enforcement challenges regarding private payment systems, cryptocurrencies, and other uses of blockchain technology."
The universities are breeding an army of fintech professionals to help meet the hiring demands of the numerous fintech companies in the state. As the workforce continues to grow, more fintech companies hire in Utah, further incentivizing the universities to prepare their students for fintech jobs.
Venture capital
Until recently, Utah-based companies had limited access to capital, making it difficult to achieve the growth possible in larger markets. Companies like Galileo and Qualtrics didn't receive institutional funding until they had been in business for more than ten years.
These days, however, access to capital is abundant. In 2019, Utah was the 12th highest state for dollars invested in startups despite being the 30th largest by population and 29th largest by GDP. This puts Utah at 6th in the nation in VC volume per capita. Not bad.
Not only is Utah a great place to raise money for a startup, it's a great place to raise funds for a fintech startup. In 2019, four of the ten largest VC deals in the state funded fintech companies, including the largest round, Divvy's $200M series C. Famous VC firms, Accel, NEA, and Tiger Global, have been among those throwing money at Utah's fintech frenzy.
Every dollar put into Utah's fintech ecosystem means more fintech jobs. More fintech jobs mean more fintech companies. More fintech companies mean more venture investments.
Picks and shovels
You may be wondering why only a few fintech companies are chartering banks. Shouldn't there be a lot more, given all of the recent growth? It turns out that the vast majority of fintech companies choose to partner with banks rather than become banks, allowing them to focus more on core differentiators and less on compliance and regulation.
A major factor fintech companies consider when choosing a bank partner is that larger banks collect less money per transaction than smaller banks (due to the Durbin Amendment to the Dodd-Frank Act). In other words, it is advantageous for a fintech company to partner with a smaller bank since each card swipe results in more revenue for the bank to split with the company.
Where are fintech companies supposed to find a tech-forward, non-brand-name bank to partner with? Thanks, in part, to the industrial bank boom, Utah has a bunch of these banks that are single and ready to mingle.
Stride Bank (who you've probably never heard of) is the bank partner of Chime and Lyft (who you've hopefully heard of). Celtic Bank partners with Stripe and Deserve, and Web Bank partners with Klarna and Toast. WEX Bank, First Electronic Bank, and Green Dot Bank all work with fintech partners as well.
Although Goldman Sachs is an exception to the whole non-brand-name thing, it is worth mentioning since its Utah-based branch is behind the Apple Card. The Apple Card Customer Agreement reads, "This Agreement is entered into between you and us in the State of Utah and we extend credit to you from Utah." I want Utah to ditch "Life Elevated" and adopt "We extend credit to you from Utah" as a tagline.
Several of Utah's largest fintech companies provide infrastructure to other fintech companies. Galileo, Finicity, MX, Plaid, TaxBit, Visa, and Mastercard are some of the most common building blocks that fintech companies piece together when building their products.
One of my favorite party tricks is to think of a random fintech company and try to figure out how its success benefits Utah. For example, under the hood of Chime, arguably the hottest neobank in the country, Plaid allows users to link an external bank account, Stride bank holds the deposits, and Galileo processes card transactions on Visa's network. As Chime's hockey stick growth continues, Plaid, Stride, Galileo, and Visa grow with it.
Since such a large portion of Utah's fintech companies and banks sell picks and shovels to prospectors in the fintech gold rush, Utah benefits whether they strike gold in Utah, California, New York, or elsewhere.
CONCLUSION
It seems like every answer to the question "What makes Utah a great place for businesses?" includes something about "pioneer spirit" or "entrepreneurial mindset." While I don't disagree, I believe that there is a science behind the success. In the case of fintech, it's a strong foundation and an accelerating flywheel.
The growing (and cheap) fintech-trained workforce, combined with favorable laws and policies, generous tax rebates, and easy access to capital, make Utah an excellent place for any fintech company to put down roots. It's no wonder that business is booming and that fintech companies are flocking to the state.
Let's keep the flywheel turning!
---
Hi! The Silicon Slopes team is interested in your feedback. We are asking for a couple minutes to quickly provide feedback on our Silicon Slopes quarterly magazine publication. Click HERE and share your thoughts with us. Your responses will help us improve. Thanks!
---
*Read the latest issue of Silicon Slopes Magazine, Summer 2021