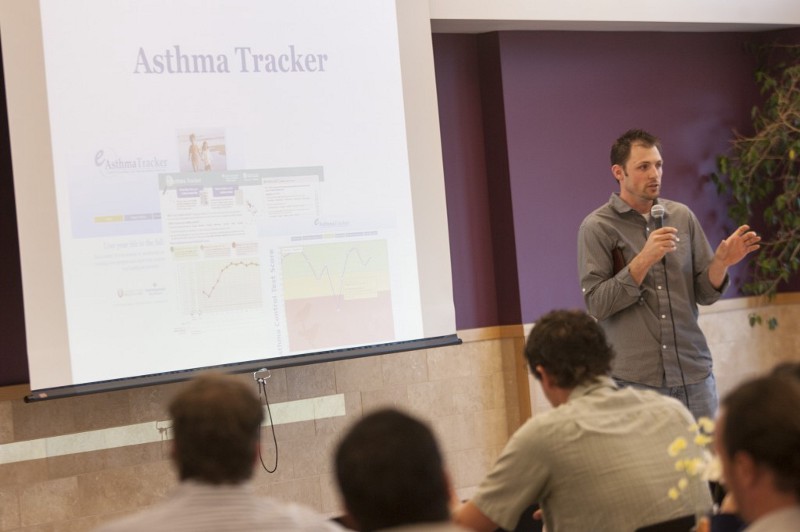 By Joey Ferguson
Shane Willard presents eAsthma Tracker at LaunchUP.[/caption]
SANDY — Tech accelerator BoomStartup's program manager Shane Willard has stepped down to join one of its portfolio company.
Willard was part of the executive team that brought CampusBookRentals to $40 million in revenue. He now works as the president of Asthma Tracker, a company that is part of the BoomStartup North accelerator. Asthma Tracker is a self-assessment and monitoring system for chronic asthma patients. It generates information that can be given to medical professionals.
"Rob Kunz brought me on to be a resident entrepreneur to look for and find an opportunity to jump in," Willard said in a phone interview referring to program's co-managing partner.
BoomStartup North, located at the Salt Lake Community College Larry H. Miller campus, is one of two campuses for the tech accelerator. There are five companies in the North program this year.
Willard joined Asthma Tracker after serving as project manager for the first few weeks of the program.
BoomStartup allows its program managers to join the companies within the program, which is an incentive for serial entrepreneurs to take the position, said Rob Kunz, managing director of BoomStartup North.
"When he joined [Asthma Tracker], rather than being seen as an administrator, he's seen as one of their peers now," Kunz said in a phone interview. "The heavy lifting in the BoomStartup program is during the first three months or four months before we launch the companies. One we have the companies, there isn't really a lot of program management to do after that."
Related articles