"We ultimately want to be an interactive fan experience for people. If people want to talk about sports, we want them to come to FireFan. If people want to watch sports and interact, we want them to be in FireFan. If people want to compete with friends and family and even people they don't know, we want them to come to FireFan."

This is not opinion, merely a statement of fact: sports are the best.
Need some examples? Let's rewind to the closing round of Sunday's Masters and watch Sergio Garcia punctuate an incredible three hole stretch with an eagle on 15, sending the Masters gallery into a frenzy and exorcising a boatload of demons in the process:
Masters 2017: Sergio Garcia | 15th Hole, Round 4 pic.twitter.com/OJ2aTFlxw4

— Masters Highlights (@MastersMoments) April 9, 2017
Or let's rewind a little further and relish the time Aaron Rodgers threw a cross-body bullet to Jared Cook, who somehow managed to scrape his toes in bounds by a millimeter and set up Mason Crosby's game winning field goal:
Or how could we forget the greatest play of Lebron James' career, a chase-down block of Andre Iguodala in the waning moments of a tied Game 7 that set the stage for Kyrie Irving's eventual game-winning three and a flood of Cleveland-based tears?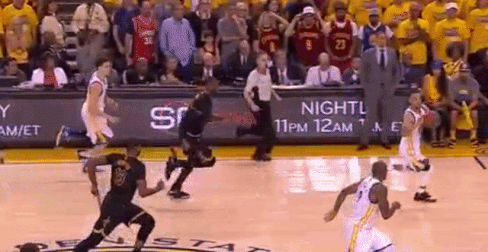 You'll forgive me for any misspellings in the next few paragraphs, it's a bit hard to type through all these goosebumps. Let's take a moment to collect ourselves…
Okay, we're back. Before we traveled down the rabbit hole of fantastic sports moments from the past year, we were speaking about sports being the best. This is for a variety of reasons: the social aspect of being a fan, the adrenaline rush of watching pro athletes perform at peak capacity, the fascination we derive from trying to predict outcomes of games.
Now, I will admit this freely: I love sports gambling. That being said, I understand that many people who love watching sports are not inclined to lose their hard-earned dollars on the athletic feats of total strangers. But anyone who enjoys watching sports also enjoys predicting what will happen — this leads to all the inevitable "I told you so!" moments, like when BYU loses to Utah in football for the sixth straight year in agonizing fashion. So what gives?
In December 2015, Natalyn Lewis and Jeff Henderson began working on an idea that touched on this particular area, an intersection between sports predictions and social fandom, without the downside of gambling.
"We've always been big sports fans in our family, but we've never really gotten into fantasy for one reason or another," said Lewis. "There should be a way for people to talk about sports, watch sports, compete, and have as much fun as you have in fantasy without having to go through the turmoil of gambling or losing money. Just play and have fun."
FireFan was officially launched on Thanksgiving Day 2016 and immediately exploded on the scene, gathering over 50,000 downloads on opening day. The idea: provide an interactive app that would allow users to engage with live sports and predict what was going to happen, earning points that could then be exchanged for rewards. And that's only the starting point…
"You can get all of your sports data: news, standings, schedule, follow your team, all of those things are available within the app," said Lewis. "You can also choose to play along live. There are two ways to do that. One, you can predict and interact. The other is to simply follow the game."
Let's imagine it's Thanksgiving weekend, where untold amounts of football awaits. I download the FireFan app and can immediately begin predicting outcomes for each individual game — I click into the Packers-Lions pre-game area and answer a series of questions, everything from "Who will win this game?" to "Will Aaron Rodgers throw for over/under 300 yards?" Each question answered correctly is worth a certain amount of points, which is then used to create a leader board between competing users.
Once the game begins, live predictions commence. Users can make guesses during play stoppages, prompted by questions that are automatically created by Firefan.
"Bringing live data in from stats providers on a game that's actually happening at that moment, then capturing people's live data input coming in from the app, and then putting those things together and spitting out the right answer has been a very complicated process," said Lewis. "It's completely automated now, all based on algorithms that pop out questions for certain circumstances, and it makes things really fun."
Before long, FireFan plans on having access to every major sports league — NCAA basketball and football, NBA, MLB, NHL, NFL, MMA, MLS, and the premier European soccer leagues. They recently completed a March Madness picks tournament in successful fashion — picks were made round-by-round, making sure everyone stayed interested throughout the Madness — onboarding 32,000 new users the week prior to the Final Four. Since Thanksgiving, Lewis estimates nearly two million people have become involved with the FireFan community and she hopes that continues.
"The game is picking up traction, our feedback from our user base continues to improve, our ratings continue to improve, so we feel like we're moving things in the right direction," said Lewis. "Our user base is awesome. We have over 84% of our players who start a game will finish a game. If they come into play, they play the entire game. They answer every pick question, they're in that game for between 2–3 hours playing along live."
As sports viewing shifts to more of an interactive event between fans and games, FireFan hopes to take advantage. They now have 55 employees spread across offices in American Fork and the Salt Lake area, all intent on helping create the ultimate interactive fan experience. Users can make pre-game picks, live picks, and chat about all things sports within the app. They can compete alone, one-on-one, or in groups. Ultimately, FireFan boils down to a few words: sports and interaction.
"Our goal is to be the next big thing in sports," said Lewis. "We think sports in general is a shifting category. We've talked to all of the major sports leagues and they all have the same problem, they have a generation of people who are so used to being on their phones that it's hard to capture their attention and increase their fan base. It used to be that fans were automatically generational…and they are seeing a kind of break. Sports needs to become an interactive experience that can capture the hearts and minds of people, and that's what we believe we can bring to the table."