Among my friends — nay, even just among mere acquaintances — I am famously frugal and a notorious bargain-hunter.
I no longer allowed to book Airbnbs for trips with friends unless at least one person is supervising, because of my track record for filtering solely on price. I once attempted to finish half a gallon of milk in one sitting because I expected it to go bad the next morning (which worked out just about as well as it sounds). My forays into new stores involve playing "guess the price" and then making a beeline straight for the sale rack — or the door if that doesn't exist.
But for all my cheapness, I've never been able to get into the holy grail of misers: couponing. I guess tracking expiration dates, having Sunday clipping parties, and sheepishly handing over a stack of barcodes to a cashier just never struck my fancy.
The new generation of coupons isn't much better — dozens of sites with broken codes that tease you with hopes of 20% off and then laugh in your face on the checkout page with an "Invalid code" message.
As it turns out, I'm not the only one. Justin Clegg, a fellow deal-lover, told me, "I was helping my family host a pizza party and searched for an online deal. After spending about twenty minutes, I found a deal on RetailMeNot. I copy and pasted the offer into the checkout page and I learned the deal was invalid. This led to frustration for me and my family. We ended up calling the pizza shop and asking for a deal since this one didn't work."
That was the personal experience that led Clegg to create Coup, an SMS-based search engine helping consumers access deals from local businesses — 4,500+ deals from 600 companies in Utah at last count.
"[My cofounder], Doug Hicken, and I felt the current experience on sites like RetailMeNot were sub-par. Deals sites and apps that are too click-baity and offer invalid/expired deals were a big point of frustration for us. We thought we could do better by offering an experience that is faster and easier and doesn't require our users to download an app," Clegg explained.
Doug Hicken dove into the nitty-gritty, how-it-works details. "With Coup, you no longer need to download 20 different mobile apps or carry around paper coupons with you. Everything is consolidated into one number that you can easily access on the go, wherever you are, with a text message. Users simply text us the kind of deal they're looking for – pizza, tacos, or even clothing – and our software will instantly text back deals that are guaranteed to work at local businesses," he says. Thanks, Doug — you had us at pizza.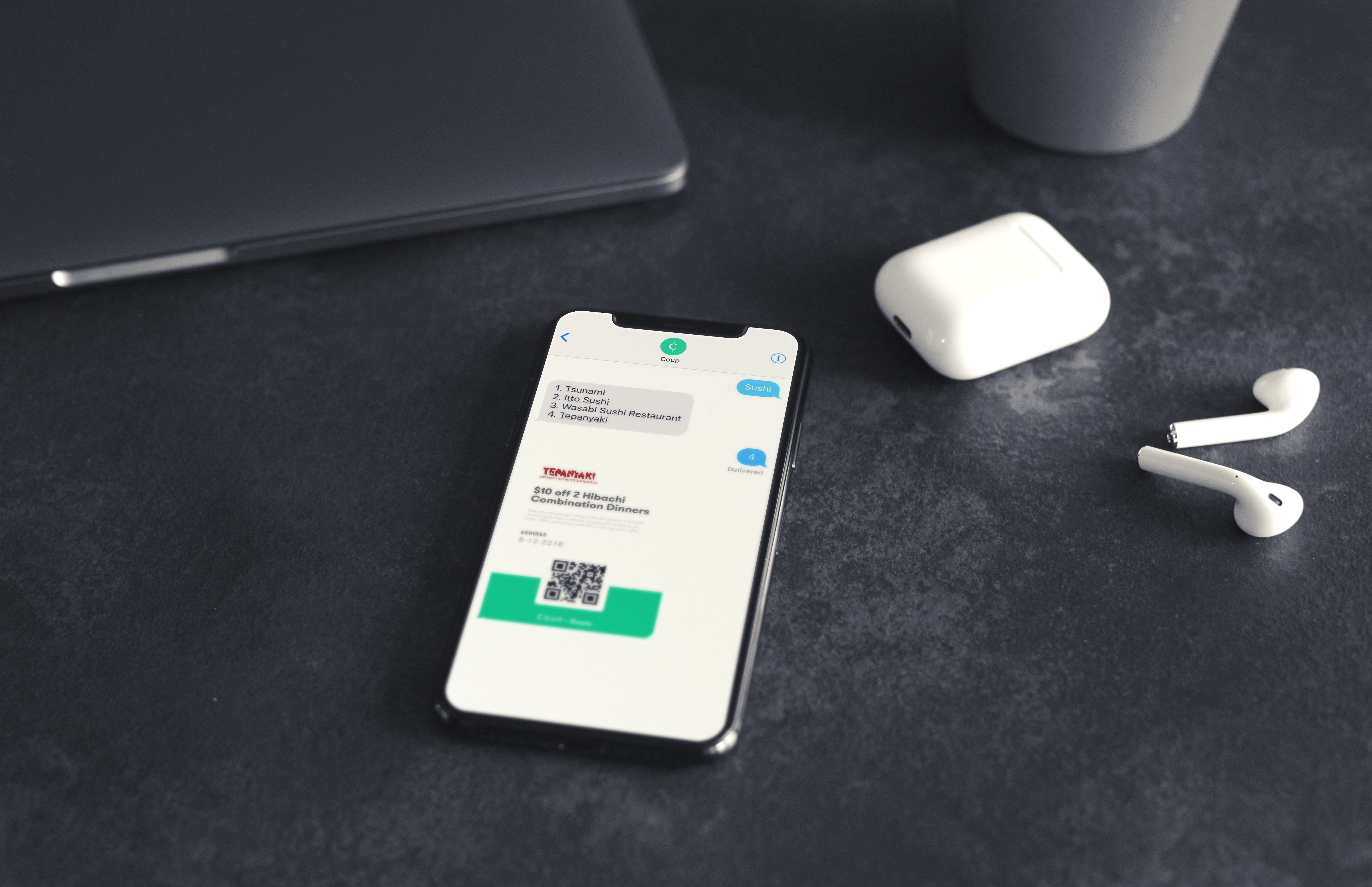 Not only are Clegg and Hicken focused on the consumer experience, they're also obsessing over making the model right for businesses.
That obsession comes from Square One Labs, the startup studio founded by Clegg that's creating Coup, whose mission is to advance communications technology and improve business interactions through AI, natural language and programmatic mobile messaging.
"Businesses that constantly use Groupon (our biggest competitor who owns 49% of the daily deals space) often go out of business since they have to front 50% of the voucher price to the business, with the rest once the coupon is redeemed. This means the business sits on a liability until their coupons redeemed," says Clegg.
So if you're like me and you're always looking to get fries with that (but only if they're free), or if you're just generally a fan of pizza, tacos, or even clothing, start making a list of all the deals you want and get ready for Coup.
If you're intrigued, get on the waitlist and be first in line when Coup launches September 1st.