Bacon is a natural extension of the mashup of Work-From-Home movement and the gig economy, and this funding will help it expand its footprint and enhance its offerings
---
As far as unintended or unexpected consequences go, the Work-From-Home movement certainly qualifies as something few if anyone saw happening as a result of the fallout following the initial rounds of the COVID-19 outbreak.
And yet, nearly two-and-a-half years after the onset of that global pandemic, it's clear that not only is WFH here to stay, it's arguable that remote work is stronger than ever.
This being the case, I wasn't shocked to see a press release hit my inbox recently from a Lehi, Utah-based tech firm addressing this WFH ecosystem and the gig economy stating that it had landed a chuck 'o change to help fund its growth.
The company in question is Bacon, and it just announced it has raised $8 million in Series A-1 funding led by Grayhawk Capital, Salt Lake City-based 2.0 Ventures (a brand new Utah-based VC firm, BTW), and Elevate Capital, with follow-on investment participation from two other firms:
Provo-based Hall Venture Partners, and
Salt Lake City-based Assure Syndicates.
Simply put, Provo, Utah-based Bacon has developed a Software-as-a-Service application that allows employers to hire temporary workers on demand, workers who have been vetted in advance with background checks.

Bacon also manages such back office requirements as Worker's Compensation, Liability Insurance, and allows employers to easily pay workers via credit card, check, or ACH.
Each Bacon-engaged worker is rated by employers, while workers have a similar ability to rate the employers.
According to Hunter Sebresos, Bacon's CEO and founder,
"Bacon is successfully responding to the enormous changes in the economy from the Great Resignation, worker shortages and the pandemic. Using on-demand labor protects and helps workers and companies during uncertain times."
Since its founding in 2018, Bacon has
Provided over 240,000 shift work opportunities to
More than 165,000 workers, via
650 companies in 13 states (Arizona, Florida, Georgia, Idaho, Illinois, Michigan, Minnesota, Nevada, Virginia, Tennessee, Texas, Utah, Wisconsin) and the District of Columbia.
And given that there are approximately 30 million small businesses in the United States alone, Bacon has a huge pool of potential partners to work with.
Based upon my home address, there are apparently two temp jobs currently available on the Bacon app within 50 miles of where I live.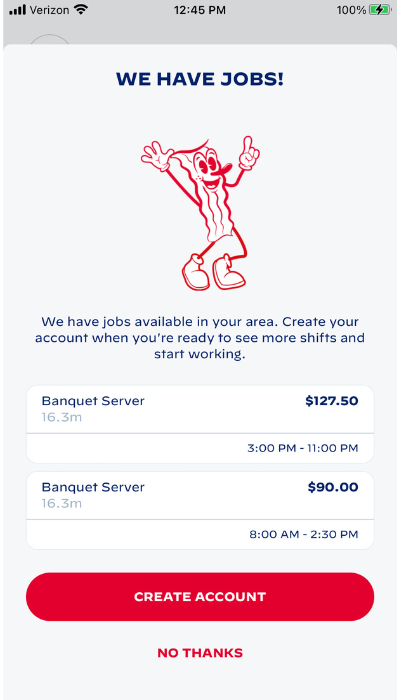 Although Sebresos admitted that bringing on new employers is the hardest side of the equation for Bacon, he also explained that the firm "plans to expand into 40 new markets over the next 24 months."
"We will also be releasing new tools to help companies predict which workers will be best for their shift and potentially bring on full-time," he added. "We are all about helping great companies connect with great people and great people connect with great companies."
Talk about another company previously hidden in plain sight in the state of Silicon Slopes.
Good for Sebresos and the rest of Team Bacon.