American Fork, Utah-based eAssist Dental Solutions generated over $1.13 billion in insurance collections for U.S. dental practices in 2021 after submitting over 4.76 million insurance claims during the year.
According to a recent press release from the company, these results were the highest ever in the firm's 13-year history.
eAssist remotely supports dental practices with their billing process by connecting them to experienced dental billing professionals, allowing said practices to fully outsource their billing department.
Here's breakdown of eAssist's 2021 Results: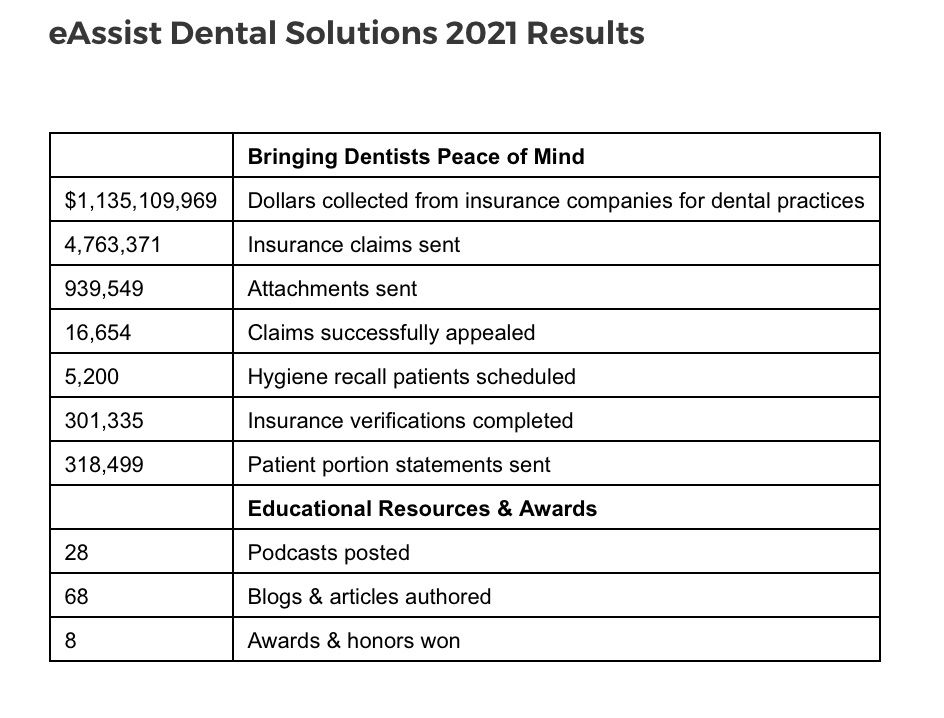 eAssist works with over 2,000 clients nationwide, including specialty dental practices and Dental Support Organizations (DSOs), and offers multiples services that focus on a practice's revenue cycle management, including:
Dental Insurance Billing Service,
Patient Accounts Receivable Management Service, and
Dental Insurance Verification.

The business has attracted nationwide attention, having been named one of the fastest growing private companies by:
Inc 5000 for six consecutive years;
MountainWest Capital Network for the last five years;
Utah Business for four years; and
Financial Times for the last two years.
According to James Anderson, DMD, eAssist's CEO and Co-Founder,
"This year's metrics tell a great story, but the real story is about the people who achieved them, it takes experience, skill, commitment, and tenacity to fulfill our brand promise by collecting 100% of what is rightfully owed to each of our clients."
eAssist Dental Solutions is a Henry Schein company, which happens to be a leading distributor of products and services to the global dental industry.
---
PUBLISHER'S NOTE:  This marks the first article written for Silicon Slopes by one of our newest Contributors, Macy Reamer. We hope you like it.