I know that we were complaining about snow about a month ago, but now it's hot and we've got a fresh set of complaints. So what do you do when it's scorching outside and your backyard pool... isn't there? You hit your local convenience store for a cold drink! And what is the coldest most refreshing drink around? A Frazil of course.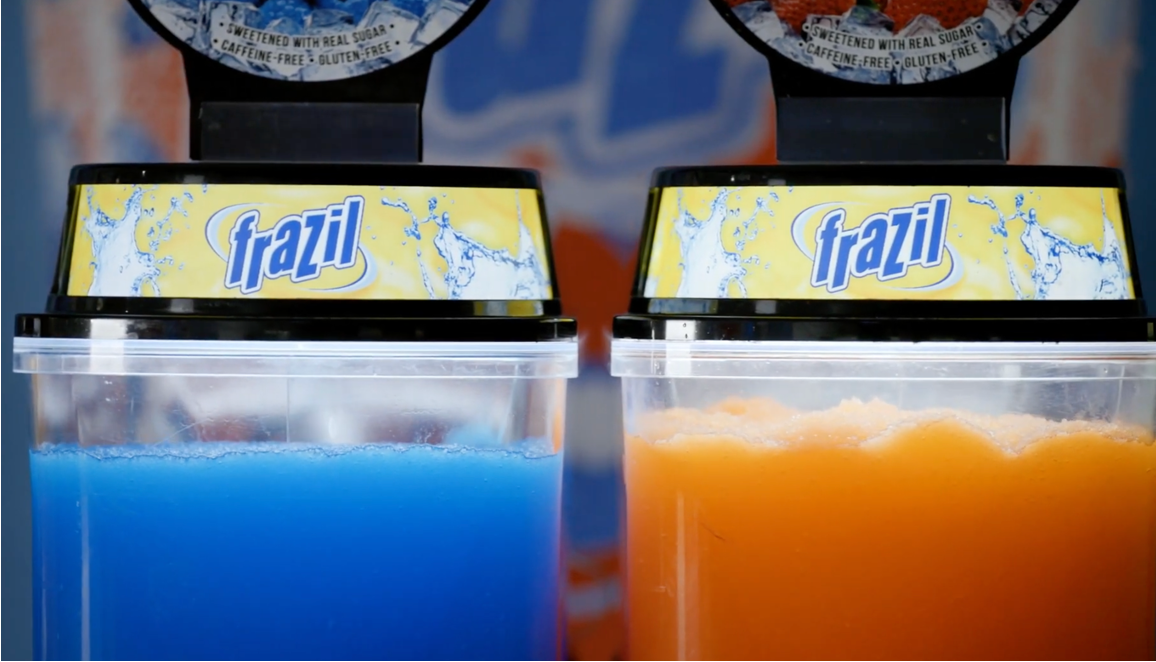 Frazil is Utah-born, founded in 2004 as a side project to a successful shaved ice business. Founders honed in on the flavor profiles that were most appealing, and at the same time, realized that a flavorful frozen drink could be a convenient, year-round delight. We're not here to hate on snow cones and shaved ice, but let's be real, they're messy, expensive, and questionable when it comes to flavor. Today, Frazil brings you a cold slushy drink contained in a cup with a lid, and consistently offers amazing flavors. The array of flavors comes from consumer feedback, so it's really the best of the best.
The drinks are delicious, but one of the most interesting aspects of Frazil is the business model that the parent company, Freezing Point, built. Convenience store owners welcomed Frazil machines into their stores, and, as it happens, eventually something would go wrong. Whether it was user error or wear and tear, the machines would sit until a Frazil technician could come check it out. This was vexing, not only because consumers weren't able to buy their favorite slushy drink, but because at the time, Frazil offered machine maintenance as a free service for having the machine in the store. It happened more often than it should, so the Frazil team got to work.
The people at Frazil came up with unique and proprietary technology that changed the way Frazil machines operated. If a convenience store had a Frazil machine break down or have an issue, a piece of tech attached to the machine would send a signal to Frazil, who in turn would send a technician to fix the issue. No need for the store owner to hassle with it, the message is sent and the problem is solved. (Can you imagine having something like that for every appliance in your house? My printer would have a run for its money.) The tech is something that no one in the industry is doing, and Frazil has seen great success with it.
This year, to kick off it's 20-year anniversary, the company is rolling out their Free Frazil Friday where every Friday in the month of June, you can go to one of many locations in Utah, Idaho, and Nevada and get a free 12 oz. Frazil drink (limit one per person) during operating hours when they scan it at the register.
"The Free Frazil Friday is to get people who maybe don't go into a convenience store to say hey, you know what, let me just try it at no risk because it's free," said Frazil CEO Kyle Freebairn. "Here's a 12-ounce Frazil for free! You bring the kids and there you go. It's a great experience–a fun summer activity."
Participating stores include:
Maverik
Holiday Oil
ExtraMile by Jacksons
Terrible Herbst
Anabi Oil (Rebel)
Fabulous Freddy's
Fast Stop
Good 2 Go
Oasis Stop 'N Go
Speedee Mart
Top Stop
Fast Gas
Hunsaker Stores
You can find more information at freefrazilfriday.com, and be sure and tell your friends. Frazil is growing quickly, and using technology that you might not normally see in convenience stores. With thousands of locations nationally, and even looking at the international market, Frazil is a household name born in Utah.