Izeni CTO and co-founder Gabe Gunderson has left the well-known custom software development firm to found restaurant startup HelloEats.
Izeni CTO and co-founder Gabe Gunderson has left the well-known custom software development firm to start HelloEats, a startup that provides restaurants with all the tools needed to run a successful food establishment.
"We're going to take the pain out of ordering, payments, relationship management, and everything else a restaurant needs to excel at in order to be successful — outside of telling them how to cook the food, of course," said Gabe. "We're going to provide these tools at such a compelling price point that the restaurant owner has no choice but to sign-up."
While Gabe embarks on a new journey, his brother and Izeni co-founder Jordan Gunderson remains the CEO of the software development firm.
"We could have incubated this inside of Izeni, but the problem is it would have never gotten the full attention and concerted effort it needs," said Gabe. "I literally turned in my key to the office and my parking pass. I think that's important to make progress, but I also think it's an important signal to other people I'll be asking to believe in what I'm doing. They need to know I'm all-in. Jordan, to his everlasting credit, has been amazing through this whole process. I couldn't be doing this without his support."
Initially, the HelloEats product will offer restaurants a consolidated point of sale system (POS), an online web presence that has full integration with that POS, seamless ordering capabilities, customization tools, and a marketplace for consumers to order from all of their favorite restaurants inside of the HelloEats app.
That last feature is a big deal and, in the opinion of this humble author, where HelloEats gets super exciting and potentially huge. Imagine being able to open up one app — let's just call that app HelloEats — and being able to easily order from any of your favorite local restaurants, pay for your meal through the app, and then either have it ready for you to pick up or have it delivered to you while you're just chillin' with Bae.
"Something we strongly believe is that you're not going to be able to get consumers to download an app for every restaurant they go to," said Gabe. "If you have a number of restaurants that you frequent, and they're all on the same app, then there's a good chance you're going to download that app. HelloEats will have one app with all your favorite restaurants, seamless ordering and payment processing, and it'll remember your preferences."
The focus on ordering, flawless menu integration, and building something exclusively for restaurants separates HelloEats from a company like Square.
"Square has validated this idea that for as much as you spend on accepting credit cards as a merchant you should get more than just a dumb credit card reader," said Gabe. "The advantage Square gives a restaurant is the exact same advantage they give a mechanic or a towing company — — easy, simple card access. HelloEats is going to differentiate itself by going deep and not wide. We're going to focus exclusively on restaurants and give restaurant owners tools that help them run their business better. In a $782 billion industry, twenty-one percent of restaurants use a cash register and a dumb credit card terminal. That's our competition."
Okay, that's the news. Gabe's launching a startup. It's called HelloEats. Jordan's still doing his thing. It's called Izeni.
---
An Important Disclosure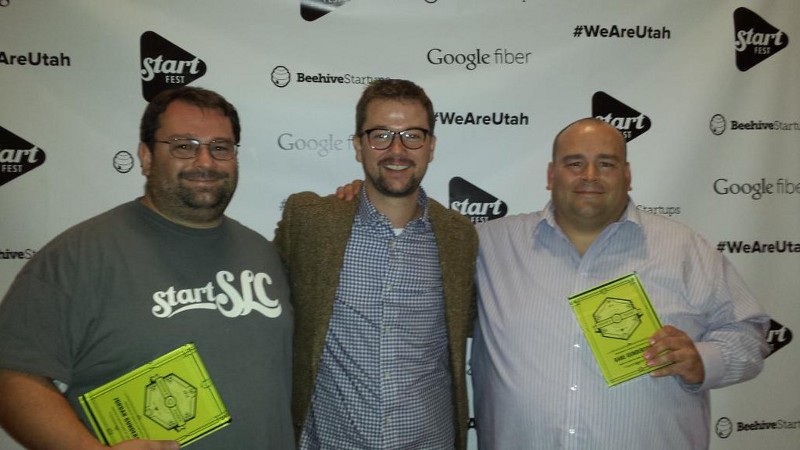 Beehive Startups wouldn't exist without Gabe and Jordan Gunderson. Until now, I've never written a story about them or Izeni. They're not the type to seek the spotlight, ask for credit, or hope for recognition. But they deserve it. They deserve all of it. They deserve everything good in the world.
It's worth repeating: Beehive Startups would not exist without Gabe and Jordan Gunderson. Every meaningful, positive thing Beehive has done for Utah's startup and tech community over the past three and a half years can be credited back to the monumental effort and dedication of the two most fearless, driven, humble, hard-working entrepreneurs I've ever met.
They took a chance on a goofy-looking, former deli owner when they didn't have to — and probably shouldn't have. They devoted an unspeakable amount of time, money, and company resources to growing and building Beehive Startups just because they felt like it was the right thing to do, not for them, but for Utah's startup and tech community. I've never met two people who are more genuine, altruistic, and principled than the Gunderson brothers.
Utah's startup and tech community owes them a debt of gratitude. I owe them a career.
So, yeah, here's my disclosure: The Gundersons are my partners, my co-founders and, most important, my friends.
Prediction: HelloEats will be bigger than Uber.