By Jordan Phelps
Salt Lake City-based LANDESK has provided its employees with 16 hours a year of paid time off to contribute to STEM education in their local communities since 2013. In 2015, more than 100 LANDESK employees volunteered over 1600 hours of STEM education in Utah schools. Because of this volunteer work, LANDESK was named the 2016 Business of the Year by the Utah Association for Career and Technical Education (UACTE).
"Without the proper exposure and hands-on experience, students may be unaware of the endless opportunities that emerge from science, technology, engineering and math," said Steve Daly, LANDESK president and CEO. "We are dedicated to helping shape the next generation of engineers here in Utah and are honored to be recognized by the UACTE for our efforts."
The UACTE Business of the Year Award honors a company that has demonstrated a strong commitment to career and technical education (CTE). In Utah, LANDESK employees participate in STEM days at elementary schools, assemblies, CTE class presentations, STEM Fest, career days and job shadows in many schools and districts in the state said Tanner Lindsay, Support Systems Architect for Global Service and is the co-chair of the internal STEM committee.
"The program is open to the whole company," said Sue Urses, Vice President of HR at LANDESK. "And we've found that we've had great involvement at the executive level but even better involvement in the employee level. Engineering is kind of our area of focus, we have a lot of programmers and developers that are participating."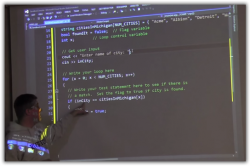 In the winter semester of 2015, five LANDESK employees taught a beginning computer programming course in the Jordan School District, which has helped to jumpstart computer science education across the district. Since the offer, enrollment in the course has grown from eight students in one location during the winter 2015 semester to hundreds across the district enrolled for fall 2015 and winter 2016 classes and more classes in the future. As a result of the excitement about the course, the Jordan School District has hired a computer science teacher for the coding courses in all high schools.
"We think that there is a lot of potential for this to remind our homegrown talent that there is plenty of opportunity in Utah," said Urses. "I think we have a lot more opportunity to touch even more students as we expand the program and get more employees involved. And to get even bigger as employees understand that… they don't have to be teachers in order to go in there and make a difference.