Sandy, Utah-based Larry H. Miller Group of Companies has agreed to sell its automobile dealership network and its aftermarket auto service contracts business to Asbury Automotive Group (NYSE:ABG) for $3.2 billion.
Of this purchase price, approximately $740 million is allocated for purchase of related real estate properties.
Larry H. Miller Dealerships is currently the 8th largest automotive dealer network in the United States, with
Over 60 locations in the western U.S.,
Selling 18 brands of cars and trucks, and
Employing over 5,300 people.
Conversely, Total Care Auto, Powered by Landcar is an LHM automotive business that offers consumers with a wide variety of aftermarket vehicle service contracts, covering such areas as vehicle maintenance to theft assistance.
Annualized revenue of the two LHM businesses are approximately $5.7 billion, with the LHM dealerships selling over 115,000 new and used vehicles per year.
The acquisitions are expected to close in the fourth quarter of 2021, subject to automobile factory approvals and other customary closing conditions.
---
NOTE: A publicly available, live conference call about the acquisition is being held at 7am MT this morning (Wednesday, September 29, 2021) by calling 800-353-6461 (domestic), or 334-647-4513 (international); passcode – 4198508. Callers should dial in approximately 5 to 10 minutes before the call begins.
Additionally, the conference call will be simulcast live on the internet and can be accessed at www.asburyauto.com/company/investor-relations. [Click on the Webcast link in the lefthand column, then on the link for today's "live" presentation.]
---
Silicon Slopes will update this story throughout the day as more information becomes available.
---
UPDATE
A copy of the Asbury news release announcing the acquisition can be found here.
---
UPDATE
Readers can view the Asbury investor presentation from this morning here.
---
UPDATE
LHM Dealerships has
54 new vehicle dealerships;
7 used vehicle dealerships; and
11 collision centers.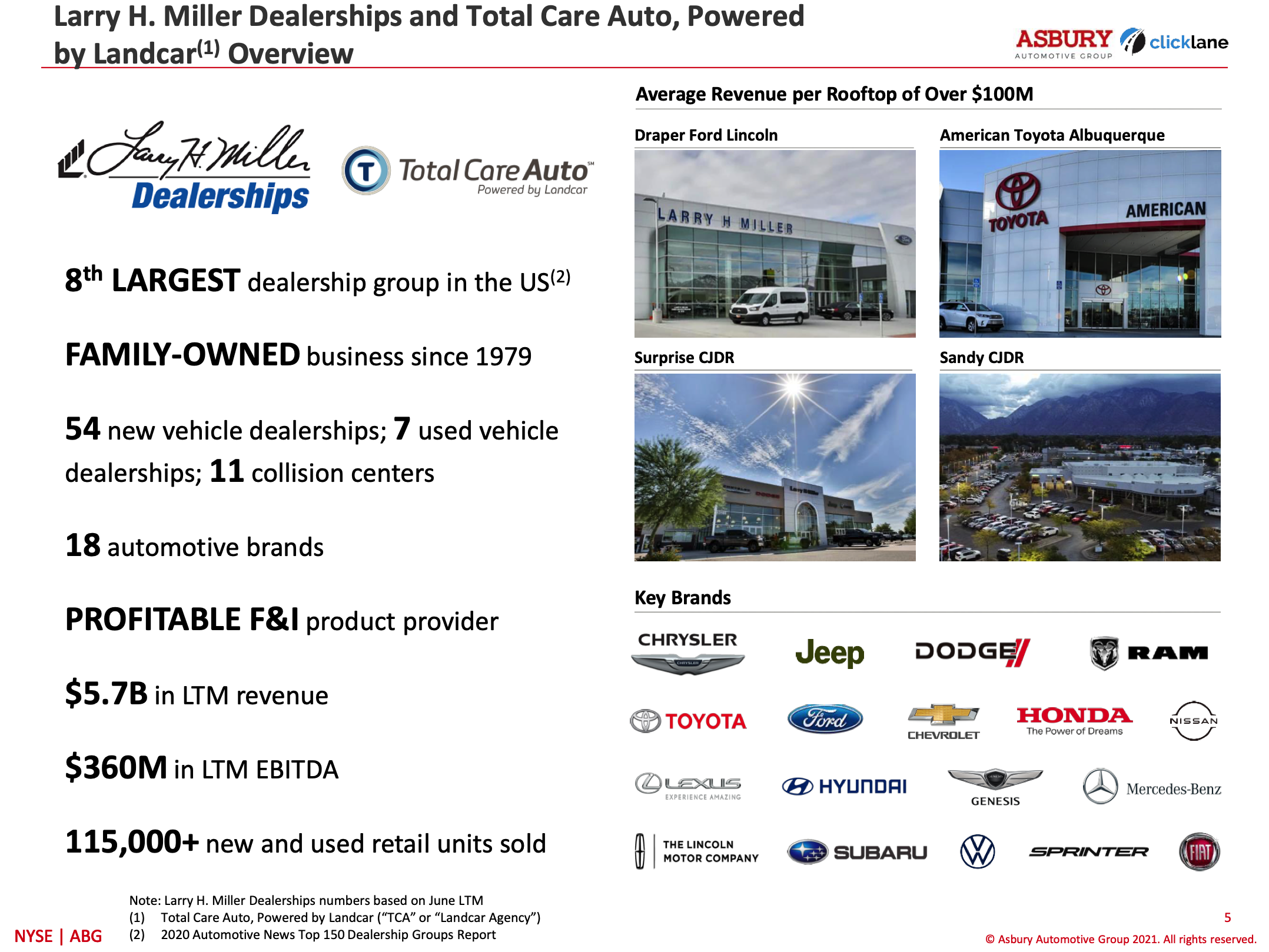 ---
UPDATE
The slide below provides some summary information about Total Care Auto, Powered by Landcar.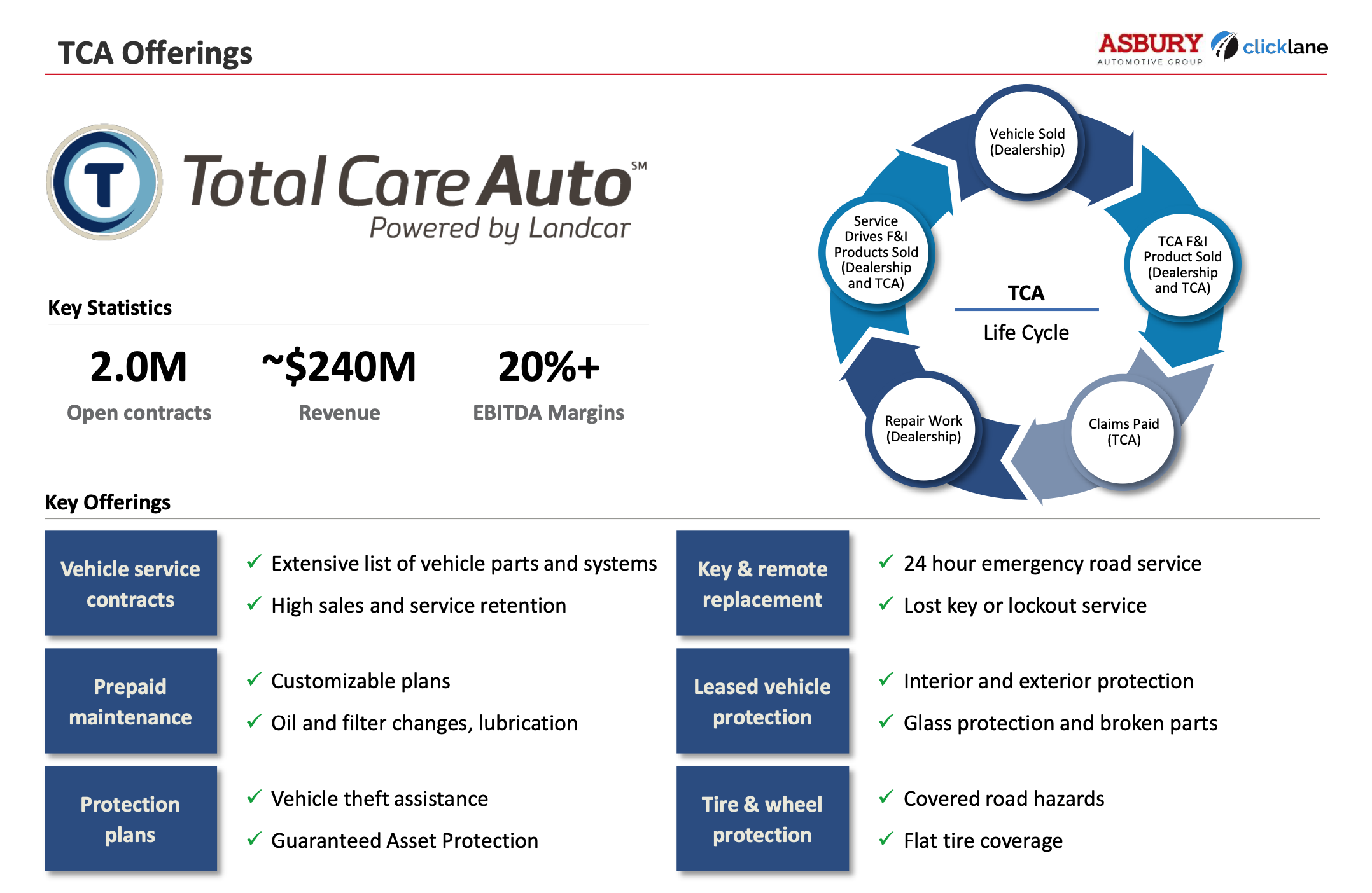 ---
UPDATE
From this morning's investor call/webcast, Asbury President and CEO, David Hult, explained that Asbury is also acquiring Saxton Horne Communications, as part of its acquisition of the dealerships and TCA.
Saxton Horne is the in-house advertising agency owned by Larry H. Miller Group of Companies.
---
UPDATE
The Form 8 filed this morning with the U.S. Securities and Exchange Commission by Asbury is off by approximately $55 million versus what is stated in the acquisition news release, stating a $3.1 billion purchase price vs. $3.2 billion in the release.
Using the figures from the Form 8, Asbury is paying
$2.3 billion for "goodwill" (aka, the perceived value of the LHM brands it's acquiring), plus
Approximately $744 million of real estate and leasehold improvements; and
Approximately $100 million in parts and fixed assets.
This brings the actual purchase price to approximately $3.144 billion.
---