I respect a good entrepreneur, I really do. Doesn't matter the endeavor, if someone is willing to stick their neck out on the line for something they believe in, good on them. I write about tech entrepreneurs every day — no shortage here in Silicon Slopes — but I also realize Utah is a breeding ground for dreamers of every shape and size. Even sports entrepreneurs. Which is secretly what I want to write about every day but haven't done so until now. THAT CHANGES TODAY. I promise I will never write another word about tech, from now on Silicon Slopes is all about the intersection of sports, entrepreneurship, and Utah. Well, maybe occasionally about tech. But it is time to start writing about sports, that I do know.
Utah has a brand-new professional sports franchise: the Utah Warriors, part of America's newest professional sports league, Major League Rugby. I don't know much about rugby besides a one fact: professional rugby players are infinitely stronger, faster, and more intimidating than myself. Beyond that, I'm excited to find out more and thanks to a partnership between Silicon Slopes and the Warriors, I'm in luck.
Here are the details. The Utah Warriors open their season on March 30 against the Denver-based Glendale Raptors at Rio Tinto Stadium, then play the following week on April 6 against the Ontario Arrows. They want the Silicon Slopes community to be a part of these events and are acting accordingly: the first 500 people to sign up using this link and the promo code SILICONSLOPES will receive a free corporate premium ticket. Anyone who signs up after that can still receive a 50% discount (promo code: SILICONSLOPES50) to the same corporate premium tickets, regularly priced at $60 a person.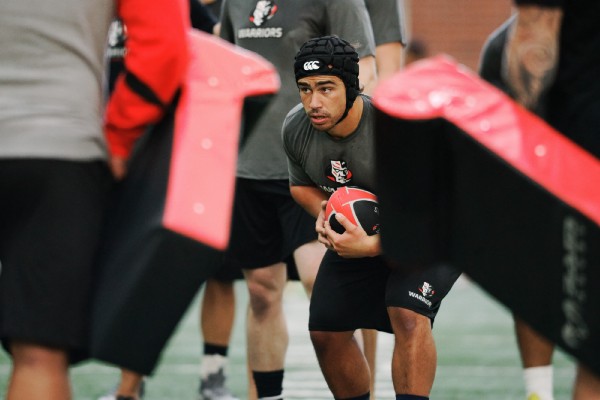 (All photos courtesy of Davey Wilson)
"The Warriors are just like any other entrepreneurial endeavor," said Kimball Kjar, General Manager/CEO of the Warriors. "Rugby is made for this state, but particularly for the high-tech business men and women who will come to see rugby as a different, but fun and uniquely entertaining sport. Working families, young professionals looking for something new, exciting, and good for the family will not be disappointed by coming to a Utah Warriors game."
Before we all rendezvous at the March 30 opener, here are some stats to help familiarize everyone on the new league:
The MLR currently has teams in Utah, Seattle, San Diego, Glendale (Denver), Austin, Houston and New Orleans. More teams are slated to join in the coming years, with New York joining the fray in 2019.
The MLR Commissioner is Dean Howes, former CEO of Real Salt Lake.
CBS Sports Network has signed an agreement with MLR for television rights, committing to broadcast a MLR game-of-the-week live and in primetime while also showcasing postseason play. ESPN has also agreed to a broadcast deal as the OTT (over the top) and digital media provider.
Rugby was reintroduced as an Olympic sport in 2016 and will be a part of the 2020 games in Tokyo. Let's watch some Olympians.