Now they need the help of the broader community to make an even greater impact on the lives of those suffering.
One month ago, Hurricane Irma touched down in Puerto Rico with devastating force, leaving more than one million residents without power. Two weeks later, Hurricane Maria did the same on an even larger scale, completely wiping out the majority of Puerto Rico's infrastructure. Relief and aid have been slow to arrive — and hard to distribute upon arrival — with Puerto Rican officials estimating the island will be without power for months.
This living nightmare and the nearly incomprehensible devastation that reached the shores of Puerto Rico has had a profound effect on Todd Santiago, Vivint Smart Home's Chief Revenue Officer.
"This situation hits home for me as my father is Puerto Rican and I had a son living in Puerto Rico who witnessed the devastation firsthand when Hurricane Maria hit," said Santiago in a recent interview with Silicon Slopes.
Santiago felt compelled to act after talking to his co-worker and the company's VP of Sales, Jeff Mendez.
"Jeff walked into my office and said, 'We have to do something,'" said Santiago. "He pointed right at me from about two feet away and said, 'Todd, if not you and me, then who?' It was a pretty emotional conversation. That's how this all started."
Santiago sent a text to a small group of Silicon Slopes CEOs — including Vivint Smart Home CEO Todd Pedersen and Entrata CEO Dave Bateman — asking for help. Both agreed to donate with Bateman taking it one step further, emailing other leaders within the community for additional assistance.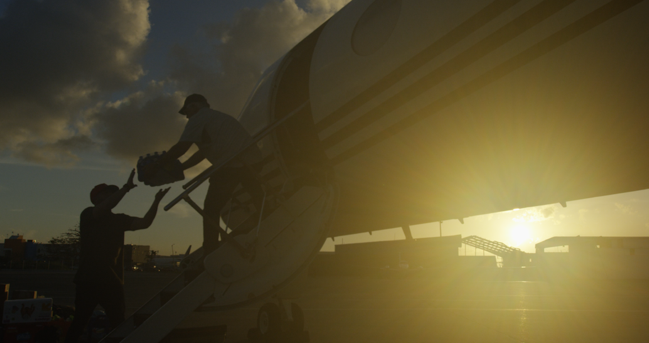 Utah volunteers unloading a plane in Puerto Rico to deliver supplies.
"As leaders in Silicon Slopes, we are extremely fortunate," said Pedersen. "Having the ability to help others with our resources is a big part of why we do what we do. Every dollar we raise with this effort will go directly to bringing light — and hope — to the people of Puerto Rico."
In one week's time, these relief efforts have raised over $200,000 through the contributions of numerous Silicon Slopes companies, including Domo, Entrata, MX, and Pluralsight.
However, what began as a small fundraising campaign amongst a few prominent Silicon Slopes leaders has grown into something much bigger, achieving a much greater impact than anyone initially expected.
"In the beginning we focused on life-sustaining supplies — food, water, the basics," said Santiago. "The generous Silicon Slopes community has already donated 175,000 pounds of supplies, enough to fill 10 large shipping containers. Several companies are donating all of the costs related to transportation and distribution. Now our focus on delivering solar-powered generators will provide relief in a way that is independent of the fuel and power crisis."
As of this writing, 85 percent of Puerto Rico is still without power. Organized by Vivint Gives Back (the charitable arm of Vivint Smart Home), the Bring Hope To Puerto Rico fundraising campaign is looking for more donations to help solve this problem. Every dollar goes directly toward purchasing solar supplies, with another Utah company — Goal Zero — matching all solar product purchases.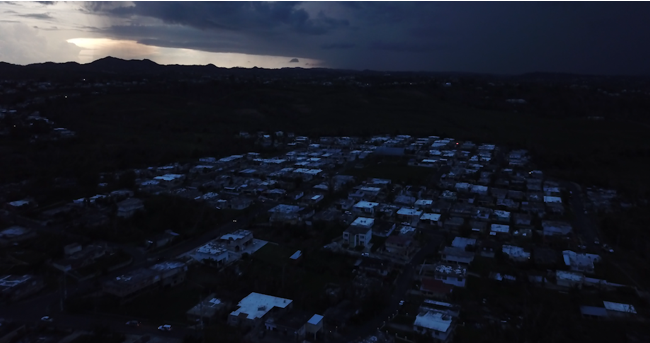 85 percent of Puerto Rico is still without power.
"The crisis is just beginning," said Santiago. "The news is covering President Trump's tweets and not focusing as much on what's really going on in Puerto Rico. We just had two of our people on the ground for three days, they were finding villages that had received zero aid, that had been without power for a month… That's happening all over the island. These people are suffering."
The campaign has already shipped 10 containers full of supplies to Puerto Rico, made possible by the goodness of everyone involved. Shipping costs have been subsidized by Trans-Expedite and distribution has been cleared by the government, meaning supplies are getting to the people who need them as soon as possible.
"The community has stepped up, I've been blown away," said Santiago. "People were pulling up with trailers full of water and food, whatever they could do to help. These business leaders are good people and generous, I've been so inspired. They feel a sense of responsibility to give back and I love that."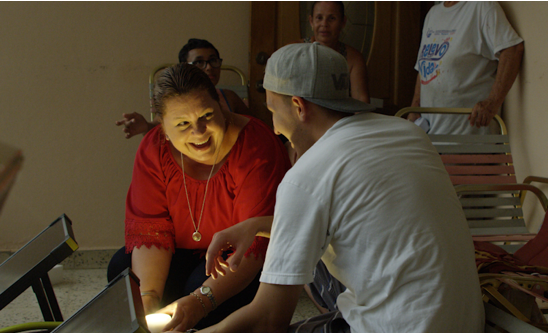 Bringing light to the people of Puerto Rico.
So far all of this has happened within a small circle of Silicon Slopes leaders, but that changes today. We are pleading to everyone reading, to every member of this unique and compassionate community — please help if you can. The people of Puerto Rico need us. They need our attention. They need our unwavering love and generosity. And they urgently need whatever support we can provide. Santiago says that the most effective way to help is by simply donating money, which can be done here. The rest will be taken care of by Vivint Gives Back, with the aforementioned promise that every dollar will go directly to relief efforts and to provide solar solutions for an island without power.
Now is the time for our community to act. It's time for Puerto Rico to know we are behind them in their most dire time of need.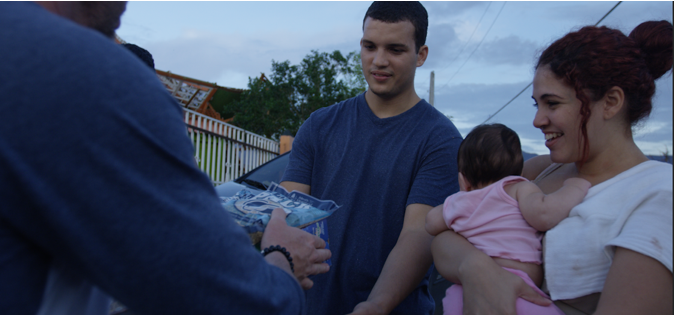 Utah volunteers delivering water in Puerto Rico.
"There are close relationships among the executive teams of Silicon Slopes companies — a few texts and emails started a massive relief effort that has generated more than $200,000 in just one week," said Santiago. "When your own son tells you — who has means and is in a pretty good situation to take care of himself — that he's rationing food and water, that gives you a pretty quick idea of how bad the situation is….We're able to get supplies there, receive them, and we have government clearance to distribute them. Again, the biggest way to make an impact is through donations."
Contribute to the Bring Hope To Puerto Rico campaign.