With multiple technology-focused companies under his belt as a founder and/or senior executive, including his role as Co-Founder and former Senior Vice President of Novell, George "Craig" Burton truly qualifies as one of Utah's tech industry Original Gangsters.
Yet even OGs find it virtually impossible to defeat lung cancer when it metastasizes to the brain.
So, barely two months after learning of his diagnosis, Craig Burton passed away on 20 July 2022.
---
A Snapshot of Craig Burton's Career
In today's hyperconnected, always-on world, it can be hard to imagine a time when the mobile Internet did not exist, let alone when it was not the ubiquitous reality of today.
And yet in the early 1980s, few organizations, let alone people, used electronic mail nor imagined what it might become.
Similarly, the World Wide Web was not available to the public until 1991.
Hence, the birth of Provo, Utah-based Novell Data Systems in 1981, with Burton as one of its co-founders, was not one of hoopla or fanfare.
But within a short time, the then renamed Novell had become a business rocket ship, growing quickly to market dominance in what became known as computer networking.
Key to that explosive growth was Burton's insistence that Novell's approach to Local Area Networks (LANs) be operating software-driven, a highly disruptive take on the hardware-dependent approach of the day.
Before Burton left the company in 1989,
Novell had "gone public,"
Achieved a market valuation of over $8 billion (this was over 35 years ago when), and
Had gained a market share in the LAN market of ~60%.
And in so doing, Burton was one of a handful of Utah techies that helped lay the groundwork for what today has become the state of Silicon Slopes, one of the most impactful business ecosystems in the United States.
According to his LinkedIn profile, Burton launched LAN-focused market research firm, The Burton Group, in Utah in 1989. And roughly a decade later, Gartner paid $56 million in cash to acquire Burton Group.  
According to his obituary, Burton spent much of the second half of his career focused on "digital identity and corporate IT strategy," as well as Artificial Emotional Intelligence.
---
Personal Reflections and Funeral Arrangements
Although I had worked peripherally to Craig's sphere of influence since the late 1980s, we did not meet until close to 20 years ago on an interesting project involving the societal implications of next generation networking applications.
Not surprisingly, I found him to be impressive at multiple levels, and not merely because he stood at 6'5" and weighed well over 300 pounds at the time.
But he was one of a handful of executives I have met, then or since, who lived comfortably in both the technology and plain English marketing worlds.
Hence, I was not surprised that the following Post popped-up in my Facebook feed last week, for for me, this was classic Craig ... someone reaching out from beyond the grave to let his Family, Friends, and Connections know that he had figuratively "left the building."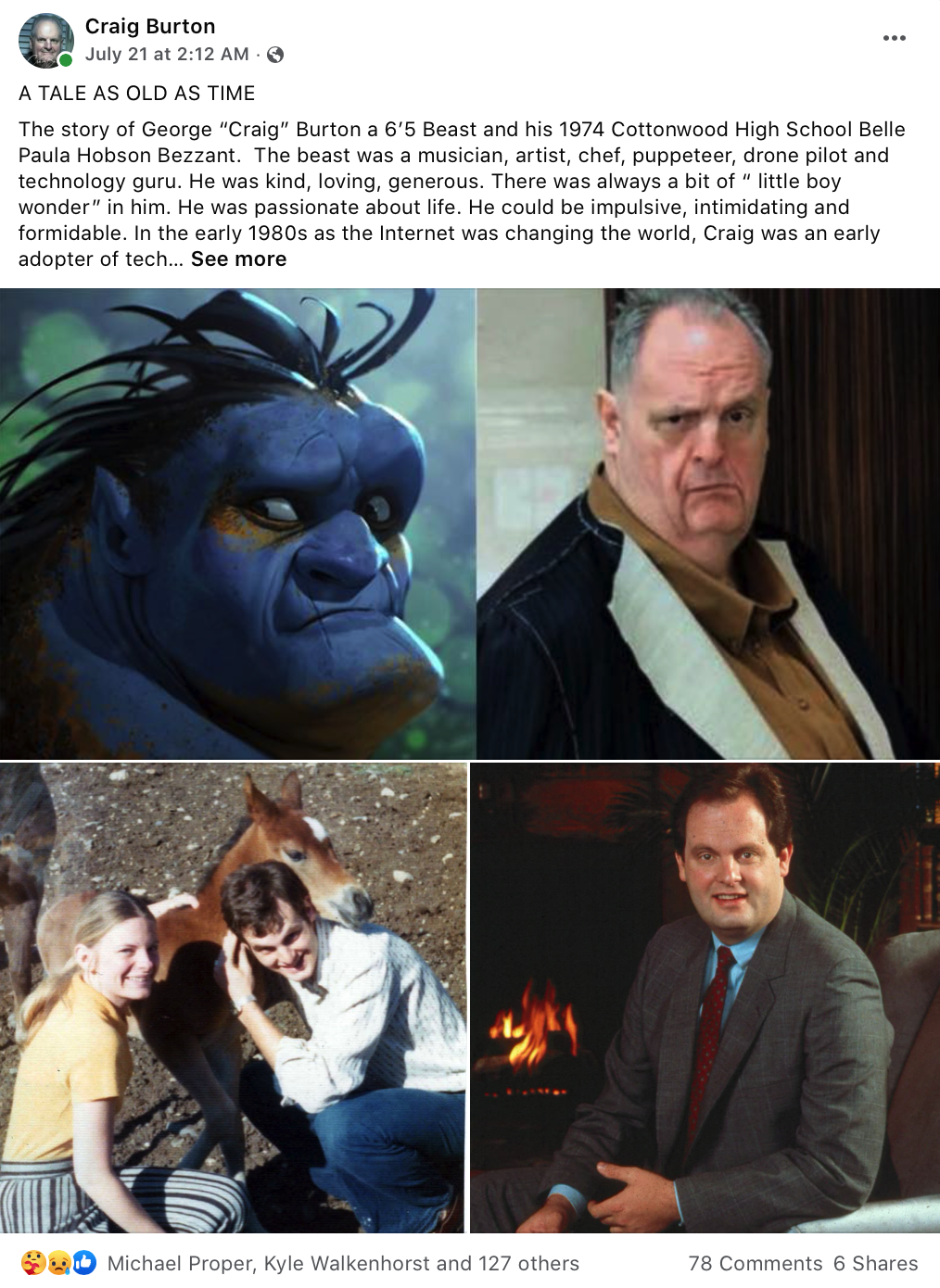 Clearly, one of the most clever after-the-fact death notices I have ever seen shared on social media.
Vaya con Dios, my friend.
---
Memorial Services for Craig will be held at the chapel of The Church of Jesus Christ of Latter-day Saints at 1750 Spring Lane in Holladay, Utah tomorrow, Wednesday, 27 July 2022.
Visitation will be at 10am, and funeral services will begin at 11am.