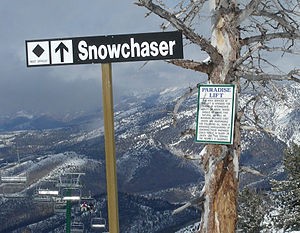 By Joey Ferguson
English: Black diamond run Snowchaser at Powder Mountain ski resort (Photo credit: Wikipedia)
EDEN, Utah — Summit Series, a Utah-based entrepreneurial events firm, announced today it has finalized the $40 million deal to purchase Powder Mountain Ski Resort after 20-months in the making, according to The Next Web.
"This is no ordinary real estate project; it's an effort to create an epicenter of culture, innovation, and thought-leadership," Thayer Walker, chief reconnaissance officer for the Summit Group, told The Next Web. "Our founding group includes an Iranian-refugee-turned-neuroscientist, one of the top snowboarders in the world, the leader of a non-profit dedicated to ending war in the Congo, one of the most successful female producers in Hollywood, a best-selling author, the former head of UNICEF, and some of the most influential entrepreneurs of the last 50 years."
The team of 20-somethings is the youngest group to own a mountain in the country, according to The Next Web.
The Next Web outlined in its article how the group was able to raise the money to purchase the mountain and issue an $18.5 million infrastructure bond for the local county.