The Larry H. Miller Company, headquartered in Sandy, UT, has acquired a majority stake in Swig from Savory Fund. According to the announcement, Savory Fund, Swig founder Nicole Tanner, and partners Chase Wardrop and Dylan Roeder retain significant minority stakes in the customized beverage business.
Swig, founded by owner Nicole Tanner, launched in St. George, Utah in 2010. Swig now operates 45 stores in five states, delighting customers with over 11 million custom drinks per year.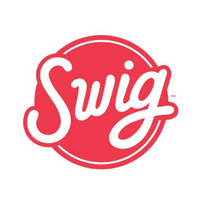 "I am proud to invest in Swig, a business founded by a woman whose approach to community building aligns with ours," said Gail Miller, Owner of the LHM Company, in the company's press release. "Nicole and the team are invested in their leaders and employees, and their values are strongly reflected in their everyday operations."
The LHM company stated that Rian McCartan, CEO, will continue to lead daily operations of the business and execute the explosive growth plan — including additional corporate-owned stores, as well as multi-unit franchising opportunities that were recently launched on November 1, 2022.
Swig will operate 46 locations by the end of 2022 — with more than 25 corporate locations scheduled to open in 2023.
Steve Starks, CEO of the family-owned Larry H. Miller Company, stated: "Swig's founders, and team, including the Savory Fund, have done an amazing job building this fast-growing brand. We love Swig's growth trajectory, best-in-class customer service, strong employee culture, and commitment to delivering positive guest experiences. We are excited to welcome the Swig team to the LHM Company and are excited to help accelerate its national expansion."
The Savory Fund offers financial capital, industry expertise, growth and revenue opportunities, profitability enhancements and new location development with emerging restaurant brands.
The LHM Company's investments focus on real estate, health care, finance, entertainment, sports, general investments, and philanthropy.
Terms of the transaction were not disclosed.