Five years on, the largest outdoor and recreation trade show is coming home to Utah, but perhaps not for all the reasons you believe it is.

After a five-year journey into the metaphorical wilderness, the Outdoor Retailer trade show and conference is returning "home" to Salt Lake City from Denver, Colorado starting January 2023.
That was the fairly straightforward news released two weeks back from the leading business-to-business event company serving the outdoor and snow industries in the United States.
The announcement stated that
"Salt Lake City and County is our hometown" and that the organization had "... decided the best move for Outdoor Retailer (was) to return to our basecamp."

All of which is clearly true, something I readily applaud.

But after conducting a fair amount of research into the matter, as well as speaking with Marisa Nicholson, Outdoor Retailer Show Director and Senior Vice President of OR's parent company, Emerald Holdings, it's also clear to me that the decision to leave Denver for Salt Lake City is a lot more nuanced than it might appear on the surface.
---
Outdoor Retailer: A Brief History

Outdoor Retailer as a B2B trade show and conference has been around since 1982, and for most of its 40-year history, OR has taken place in Salt Lake City.
Today, the Outdoor Retailer Winter and Summer events are two of 140 different B2B trade shows and conferences owned by Emerald Holdings (NYSE:EEX).
In addition to these events, Emerald also owns 23 media properties and provides a variety of marketing and sales tools and services to its B2B clients across five primary industry segments:
Design,
Equipment,
Retail,
Security, and
Technology,
with the OR events included within the retail segment.
Crafted specifically to serve outdoor industry manufacturers and their desire to make inroads with outdoor and recreation dealers, retailers, and chains, OR entered into a symbiotic relationship with the Outdoor Industry Association over 20 years ago and became the event ecosystem for the entire industry with its semiannual shows.
(NOTE: Personally, I was privileged to serve Nielsen Business Media and several of its trade show brands as CEO of one of its PR agencies from 2005 to 2010, including representing OR for the last two years of the decade. Such experience has given me a bit of an "inside baseball" understanding of the conference and trade show industry generally, but more so into the ins and outs of Outdoor Retailer specifically. More on this later.)
So … dial-in the wayback machine to late 2016/early 2017 when:
In one of his last acts as President of the United States, Barack Obama issued a Presidential Proclamation on December 28, 2016 designating 1.35 million acres of Utah land as the Bears Ears National Monument;
OR Winter Market was held January 10–12;
Donald Trump was inaugurated as President of the United States January 20;
Utah Governor Gary Herbert signed a legislative resolution on February 3 urging President Trump to rescind the Bears Ears National Monument designation; and
Two days later, Outdoor Retailer announced it would not renew its contract to hold its events in Utah.
Within days Conservation Colorado was running the ad below in both the Salt Lake Tribune and Deseret News touting the benefits of moving Outdoor Retailer to Denver, something the Emerald business did shortly thereafter, signing a five-year contract running from January 2018 through December 2022 with the "Mile High City."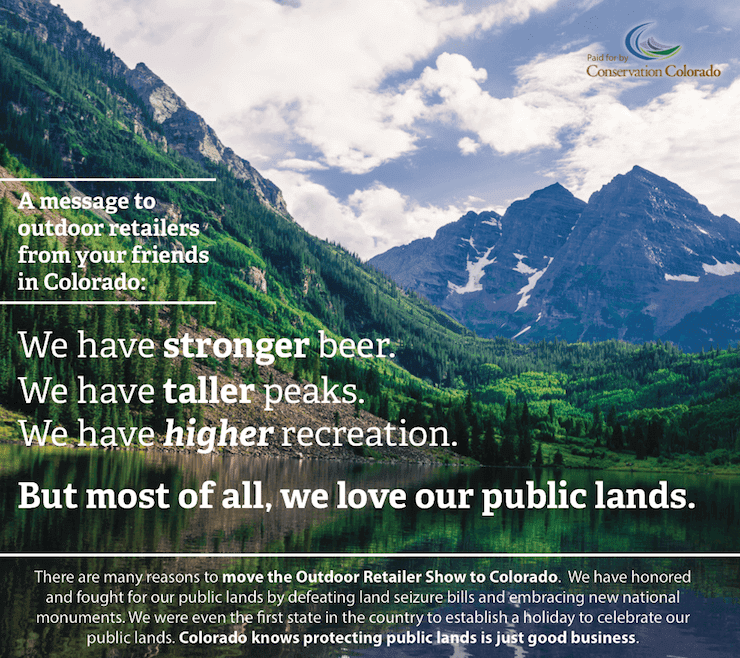 ---
So What Happened? Why Is OR Moving Back To Utah?


Before analyzing Outdoor Retailer's decision to return back to Salt Lake City, it's probably instructive to realize that industry pressure was not the only reason OR decided to leave for Denver back in 2018.
As OR's Marisa Nicholson explained to me on Friday,
"(As) we continued to grow … (we) continued to outgrow the infrastructure of Salt Lake City.…We were building the pavilion across the street to house additional exhibitors. We had folks staying at hotels far outside of the city, and the ability to get reservations at restaurants was challenging."

Taken in concert with what Nicholson described as a "a direct threat to public lands" made the decision to leave Salt Lake City after 2017 pretty straightforward.
"Anything that threatens the ability for the industry to grow and continue to have opportunities, we need to make sure that we're standing up and having our industry's voice and protecting these lands and the conservation and the access," Nicholson said. "So ultimately the decision was made to find a new home for the show, and we settled on Denver."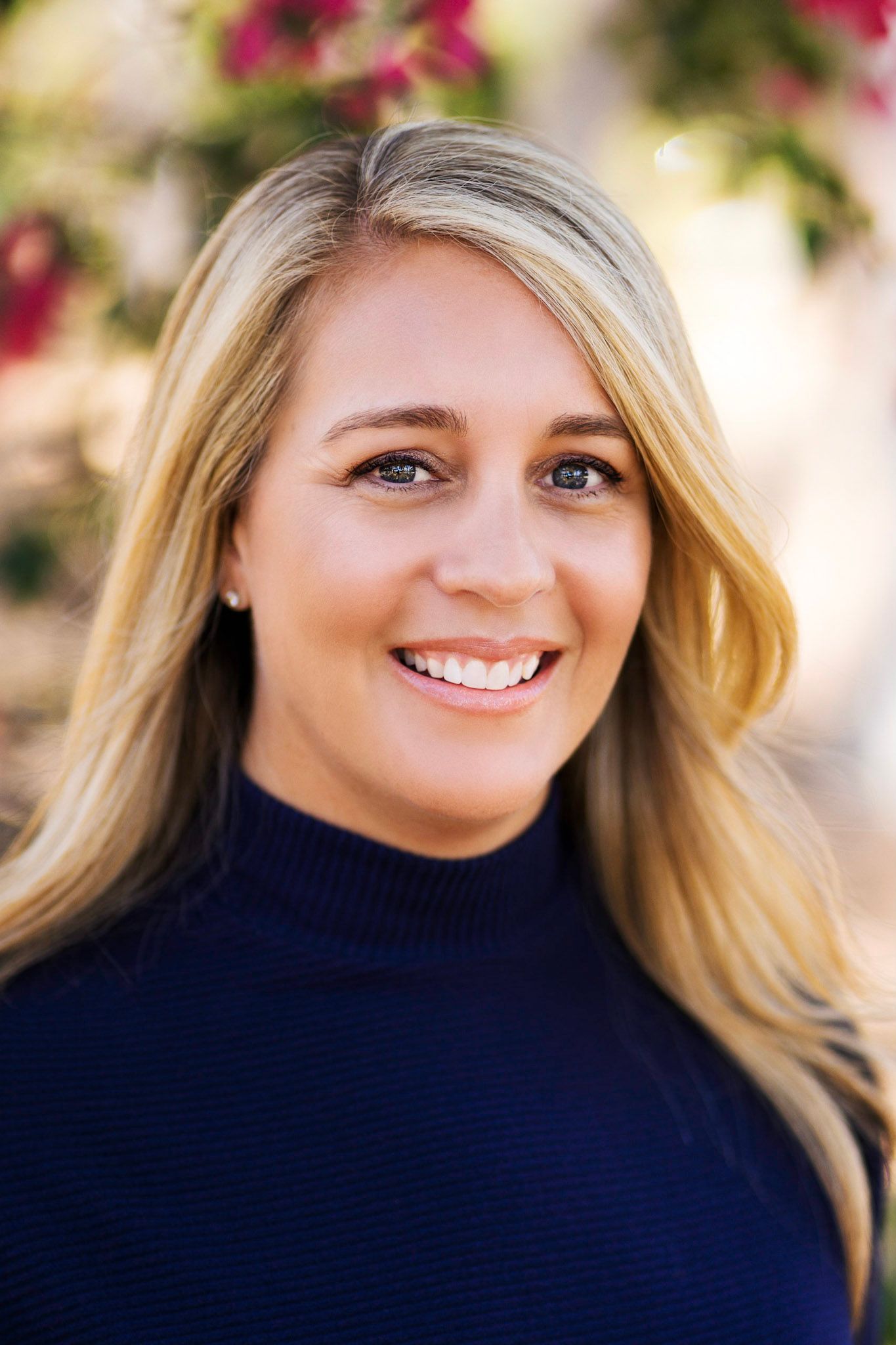 Last June, some 18 months before OR's contract was set to expire with Denver, however, the Outdoor Retailer team began "survey(ing) our customers around future dates and future locations."
"We were hearing continuous feedback that people really missed having the show in Salt Lake City," Nicholson explained. "There were a few other major points that were coming out that really [impacted OR's decision, such as] the ability to have demos and experiences around the show that we had not been able to create since we had moved to Denver."
In addition, OR was also clear in its press statement that feedback from its exhibitors and industry partners was not sufficient to return to Utah without change:
"It would be wrong for us to leave the way we did and simply go back as if nothing happened. In reality, leaving after 2017 has not brought the change we had hoped for, so we will push back, not pull back. We firmly believe that staying engaged and collectively contributing to the ongoing discussion, no matter how difficult, is far more constructive."

Regarding behind-the-scenes conversations between show management and representatives of Salt Lake City, Salt Lake County, the State of Utah, and Visit Salt Lake, Nicholson said:
"Ultimately, through those conversations what we heard was that the values that our industry cherishes with regards to public lands, and access, and climate, and sustainability, are aligned with a lot of the local officials. Mayor Mendenhall is very much a proponent for these things, and so in those discussions what we learned is that we're not that far apart, that we're actually closer. And through those discussions we were able to really speak to the importance of our industry having a voice and being able to work closely with state and local officials on making progress and having open dialogue,  ensuring that outdoor recreation is protected and is considered of high importance."
Nicholson also explained
"We were able to work alongside Visit Salt Lake to establish the 'Business with Purpose' (initiative) where we will be able to have folks from the industry, stakeholders that are part of our industry, participate in these bi-annual meetings that will address these concerns and be able to talk about the things that are important to the outdoor industry. … It's something that's being developed (and) created as a result of our desire for our community to have a voice."

---
Everything Considered, It's Still A Business.

During the roughly 4.5 years my colleagues and I led public relations activities for Nielsen Business Media for first one, then two, and eventually four of its different business-to-business trade shows between 2005–2010, we became quite integral to their operations, especially for various PR and marketing services.
At one point, about the time we started working with Outdoor Retailer, we were invited to participate in the process with the Nielsen team to evaluate potential market locations its annual Interbike event, the then-largest cycling industry trade show and conference in the U.S.

At the time, Interbike was held in September in the Las Vegas, Nevada metro, with a two-day demo days event held in Boulder City, Nevada, followed by a three-day trade show/conference held at a major resort property back in Vegas proper.
Although Interbike had been held in Las Vegas for many years, both the parent company and the OR team were genuinely interested in considering and evaluating every prospective major city in the country as a possible new venue for this annual event.
And so we went through that exercise, considering the ability of major metros to handle a multi-day event with 20,000 to 30,000 attendees, as well as handle a separate one- or two-day event with roughly 5,000 to 7,500 attendees where event guests would be able to test out new products in real-world settings.
In plain English, this demo area needed to be someplace where attendees could go to ride and test road, mountain, cruiser, and other bikes, a location that was not too far away from the convention center and hotels, yet had terrain appropriate for each type of ride.
At the end of the evaluation process, the decision was made to keep Interbike in Las Vegas.
But through this exercise we also came to realize that Salt Lake City had several advantages versus competing conference center cities, including
A short distance between the airport and downtown;
The short distance between the Salt Palace Convention Center and nearby options for demo day locations;
The lower-cost benefit of being a non-union city; and
The generally lower costs of conducting business in Salt Lake City versus many cities.
And although we were not, at the time, considering new potential venues for Outdoor Retailer, we soon realized that the same benefits that were applicable to Interbike were also applicable to Outdoor Retailer.
Simply put, Outdoor Retailer was already located in the best market in the country.

And its nearest competitor, location-wise (Denver, Colorado), would always have drawbacks versus Salt Lake City, drawbacks it would never be able to overcome:
Distance to/from the airport (7.5 miles vs. 25 miles);
Distance from downtown to a mountain demo days location (30–45 minutes vs. 2–2.5 hours); and
A right-to-work state/city vs. a union town.
Jumping forward to the present day, the amount of new hotel properties and rooms in Salt Lake City has grown significantly since mid-2017, making Utah's capital city even more desirable for conventions and events.
Additionally, phase one of the upgraded Salt Lake International Airport make it even more attractive than before.
And the expanded/extended TRAX Green Line from the airport to downtown Salt Lake City make it an intriguing ground transportation option for a number of Utah's visitors.
---
My Conclusion: Utah Is Still The Right Place.

Am I suggesting Outdoor Retailer/Emerald made a mistake to move Outdoor Retailer to Denver from Salt Lake City in the first place? Not at all.
There are times when political and/or social pressure is insurmountable. And I believe that was surely the case back in 2017.
But today, some five years on, there is no question in my mind that Outdoor Retailer is right to "come back home."
Clearly, all interested parties are better served by being together and working together.
And to that end, I extend my personal "good on ya" to OR/Emerald for recognizing and seizing the chance to have a proverbial seat at the table to represent the outdoor industry and have a hand in shaping approaches and policies that support and protect Utah's outdoors for all Utahns and its visitors.
To me, that's a good thing. For everyone.