It's 2018 and it has to be said: massage is now a basic, table-stakes startup perk. That's right, employers and HR departments — offering your employees massages has become as essential for recruiting and culture as a stocked snack room, big annual retreats, and kombucha on tap.
I know what you're thinking — "We're still recovering from our last annual retreat!" "Where in the world am I going to find a massage therapist who'll always come to us?" "HOW DOES COSTCO NEVER RUN OUT OF FOOD??" — but before you get all your feathers in a ruffle, rest assured that Silicon Slopes is home to a startup that will answer, at the very least, the second concern. That startup's name? Incorporate Massage.
Incorporate Massage makes onsite massages easy-peasy thanks to an on-demand, completely automated booking platform — which is their secret-sauce.
"You don't even have to talk to a salesperson if you don't want to," CEO and founder Amelia Wilcox promises. "If you want to work with any of our competitors, you're going to have this back and forth with calls and emails—you can't just say, 'I know I want someone here Friday, I just want to book it now.'"
Amelia also shared with me the range of massage services Incorporate Massage offers. "We do chair massages, like with Credit Corp here in Salt Lake. We just show up with therapists and massage employees at their desks, so they don't even have to get up and we bounce from station to station every five minutes. We do fully clothed table massages, which are like chair massages but lying down. We even do full services spas. For Intel, we've got six full service spas running across their campuses right now. We'll also do events and trade shows."
And don't worry, you don't have to sacrifice quality for convenience either. "We take care of our massage therapists, and that means we get the cream of the crop," Amelia says. "We're the only company that does what we do with W2 employees instead of 1099 contractors. We provide benefits, paid time off, education, and a real career path. It's really radical to the world of massage."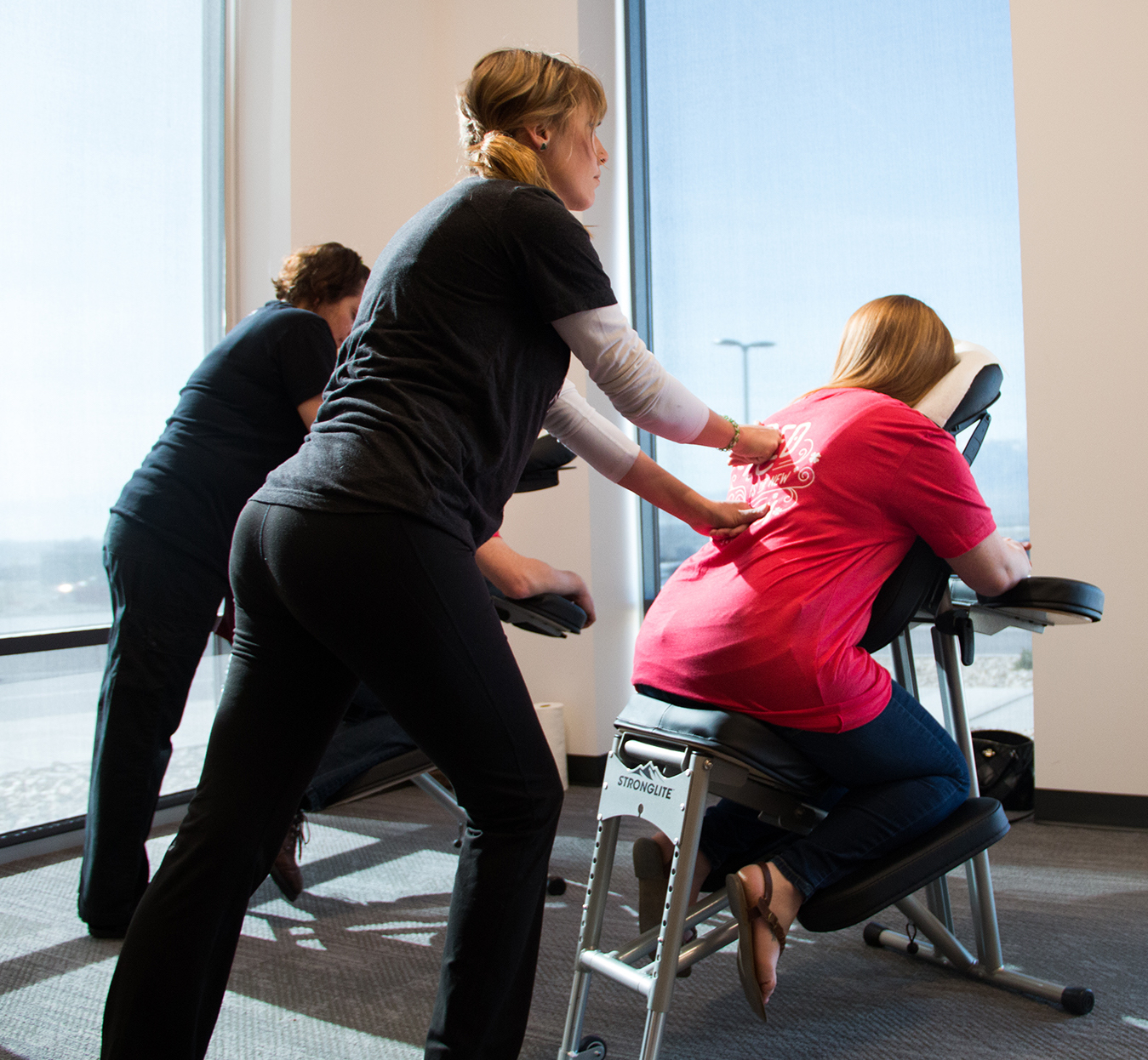 Amelia started Incorporate Massage eight years ago when she made the bet that corporate massage was going to be big. Straight from the histories of many successful Utah tech companies (like Qualtrics and Pluralsight, who happen to be past Incorporate Massage customers), she bootstrapped in the beginning, doing trade for everything including her logo and her website.
From there, business has just hockey-sticked. "Rio Tinto and Ray Quinney & Nebeker were my first clients. Now we work with companies like Entrata, Clearlink, and Younique, and a ton of big name clients, including HubSpot, Intel, and Walmart," says Amelia. "We've found our niche in the Fortune 500, because we're really good at multi-location companies that have a big national footprint and tons of employees. We can manage everything for them."
Finally, if you're looking for any more proof of Amelia's ability to read a market and the need for every company to offer massage to its employees (hint hint, Clint), look no further than Incorporate Massage's new fundraise.
"We just finished raising our angel round, and it was oversubscribed!" Amelia told me. "Every single quarter, we've added more new clients than we had total clients the quarter before. We also have incredible retention. People just don't leave once they start working with us — they really, really like us."
If you're interested in incorporating massage into your company perks or just learning more, visit Incorporate Massage's website.