Murray, Utah-based R1 RCM (NasdaqGS:RCM) is acquiring Atlanta, Georgia-based Cloudmed for $4.1 billion in an all-stock transaction that values the combined entity at over $13.67 billion*.
For the acquisition, R1 anticipates issuing ~138.4 million shares to Cloudmed shareholders (subject to closing adjustments).
Additionally and separately, R1 has entered into separate financial agreements with JPMorgan Chase Bank and Barclays Bank.
The first is a Debt Commitment Letter for $1.04 billion incremental first lien term loan with both JPMorgan and Barclays with a termination date of August 5, 2022.
R1 also entered into separate "best effort" agreements with JPMorgan and Barclays to obtain up to $1.1 billion in loans / revolving credit facilities.
---
Who is R1 RCM? And Why is it Acquiring Cloudmed?
Since its founding in 2003 as Acretive Health, R1 has grown to become one of the largest technology companies serving hospital networks and healthcare providers with "end-to-end revenue cycle management" products and services.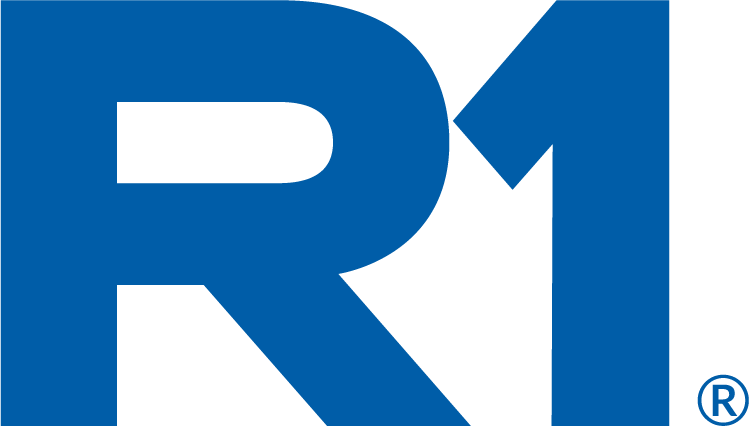 In fiscal 2020 (ended December 31), R1 generated revenue of over $1.27 billion and produced adjusted earnings before income taxes, depreciation and amortization (EBITDA) of $240.0 million.
However, according to the R1/Cloudmed Investor Presentation, fiscal 2022 estimated results are pegged at
$1.68 billion in revenue for R1 as a standalone entity, but
$2.12 billion in revenue as R1/Cloudmed combined, while
R1's estimated standalone EBITDA is slated at $395 million for FY 2022, but at
$671 million in estimated 2022 EBITDA as a combined entity.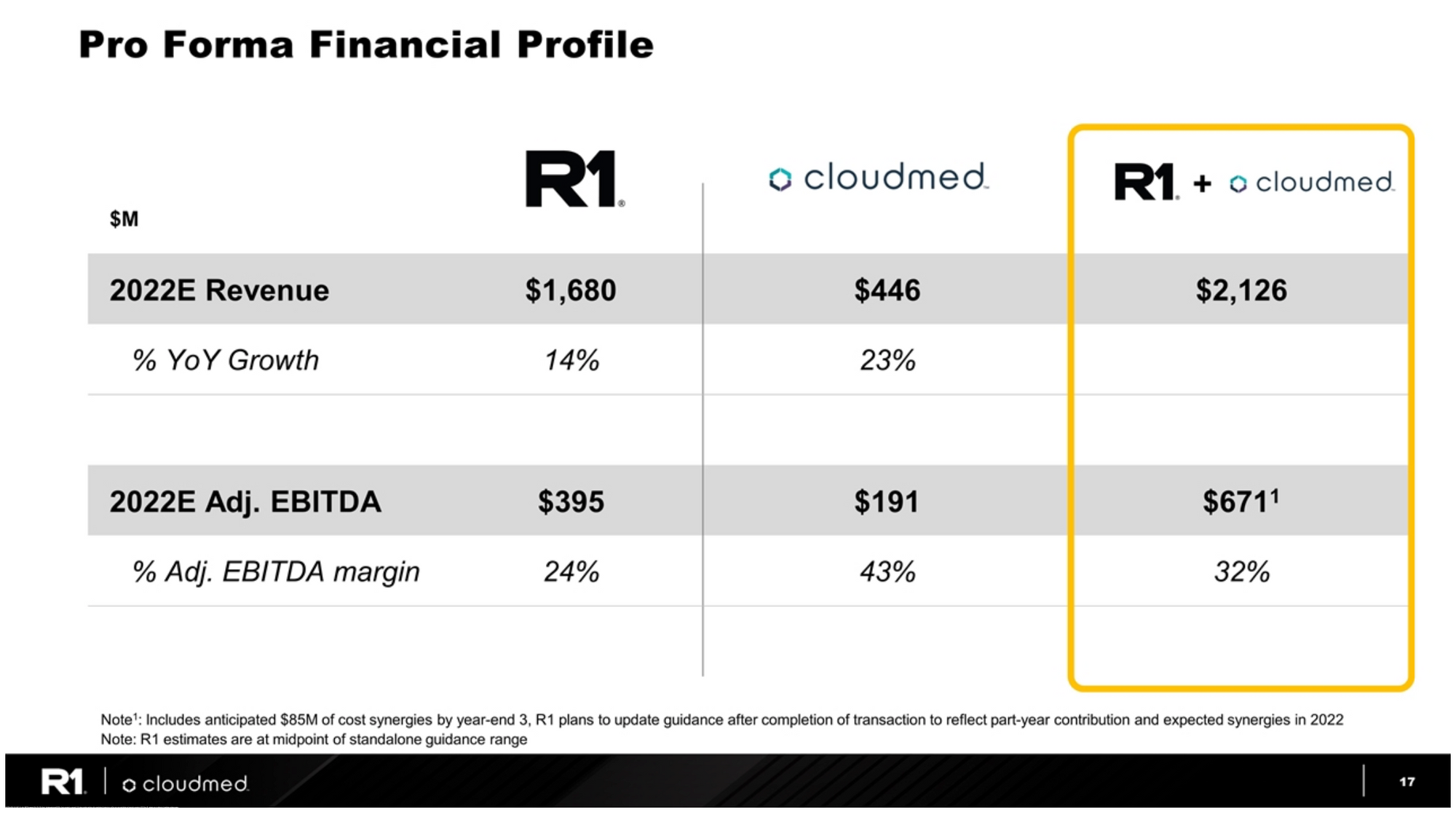 ---
What Do They Do
In simplest terms, both R1 and Cloudmed help healthcare providers of all types
Automate financial activities that are currently handled manually,
Eliminate mistakes in the process,
Identify and capture missing revenue,
Help providers more effectively and efficiently use personnel,
Improve employee satisfaction, and
Boost patient retention and revenue.
And although there appears to be some overlap between the two companies, the impact is expected to be minimal.
According to the R1 news release announcing the acquisition, Cloudmed helps its over 3,100 healthcare clients identify and capture over $1.5 billion annually in previously underpaid/unidentified revenue through its Artificial Intelligence powered platform.
Conversely (as shown in the video below), R1 implements something known as Robotic Process Automation to help it
Eliminate manual human processes with automated processes (like entering billing codes and their related data), hence
Allowing healthcare providers to better utilize their employees in delivering higher value services to patients, partners, and their work colleagues.
For example, at a product/service offering level, R1's Entri application is designed specifically to help healthcare organizations and providers simplify and improve the on-boarding processes for new and existing patients, in the three primary care settings:
Ambulatory (scheduled/unscheduled Dr.'s office, clinic, and/or emergency room visits),
Acute (surgical interventions), and
Post-Acute (post-surgery, recovery and rehabilitation).
In fact, R1 defines Entri as an
Intelligent Patient Access Solution.
---
Post-Acquisition:  Then What?
As might be expected, the acquisition is subject to typical regulatory and legal reviews. But the parties expect the acquisition to close before April 1, 2022.
Post-acquisition, R1's current CEO/President, Joe Flanagan, will maintain his role as CEO of the combined entity, with Cloudmed's current CEO, Lee Rivas, becoming President of the combined firm.
Additionally, three directors nominated by Cloudmed shareholders will join the new board.
In summary, R1's Flanagan described the acquisition this way:
"This transaction accelerates our strategy to build the most scalable, flexible, and integrated platform for the revenue cycle and consumer engagement in healthcare. Our combined solutions, including enhanced automation capabilities, will further transform the patient experience and drive continued improvement in our customers' financial results. I look forward to working with Cloudmed's CEO, Lee Rivas, and the entire Cloudmed team whose additive talent and expertise will help us continue to optimize outcomes for healthcare systems and create value for all our stakeholders."
Looks like the next several years could be quite interesting for the new R1 RCM / Cloudmed.
Good luck.
---
* – Post-merger, R1 shareholders will own 70% of the combined entity, with current Cloudmed holding the remaining 30% ownership. Hence, $4.1 billion/.3 = $13.67 billion for the combined entity.